Your birthday is approaching, and only one place can make it the most memorable celebration ever! Welcome to the Big Apple, where the dining possibilities are endless!
There's a reason why New York City is known as one of the most exciting cities in the world. With its diverse dining spots, entertainment options, and 24/7 energy, NYC is one of the best places to celebrate your birthday.
Yet, planning a birthday dinner is a feat that takes time and effort. Whether you add a theme to your dinner party or go for your favorite cuisine, we've got you covered with our 20 ideas for the best birthday dinner in NYC ever!
Themed Birthday Dinner Ideas
Adding a theme to your event can elevate your birthday experience and create lasting memories. You don't have to go all out and throw a full-on costume party; even something as simple as a tropical or retro theme will lift the energy of your gathering!
So let's make your dinner one to remember!
1. Retro Blast from the Past
If you're a fan of era-themed events and iconic characters like the Fonz or Marilyn Monroe, a retro diner theme party at one of NYC's best birthday party restaurants will transport you back in time to an age of sock hops and jukebox tunes.
Picture this: You and your friends gathering at the renowned Radio Room, nestled in RPM Underground, where the decor exudes old-school cool with its vibrant wall decorations and mood-setting lights.
As you settle into the semi-private space, the magic of the retro era envelops you. The menu comes to life with mouthwatering milkshakes, scrumptious hamburgers, and classic hotdogs reminiscent of the diners your parents or grandparents adored.
With space to accommodate up to 25 guests, the Radio Room offers the perfect setting for your milestone birthday or any celebration worth cherishing.
So, dust off your leather jacket or channel your inner pin-up persona, and get ready for a night of pure retro bliss in NYC!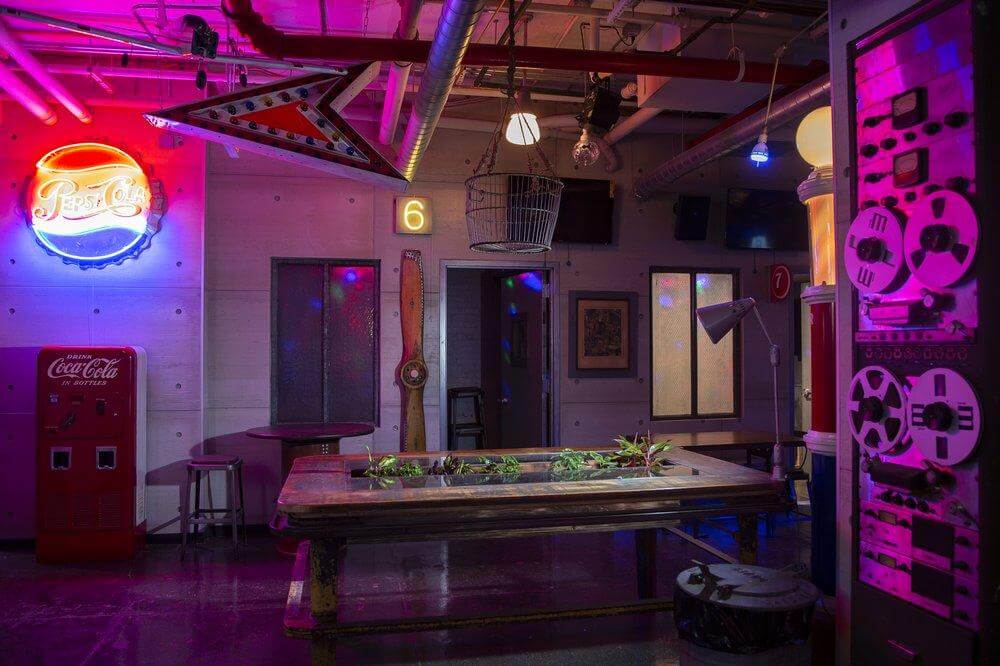 2. Embrace Boho Vibes
Bohemian-style dinner parties are perfect during spring or summer when you can enjoy the glorious outdoors. However, that doesn't mean you must limit your creativity to backyard ideas. The ideal location will easily give your party a touch of bohemian flair.
Let the Alice in Wonderland Room at Pekarna be the backdrop for your unforgettable boho soirée. This exquisite New American restaurant, cocktail bar, and event venue offers exceptional experiences for those seeking a magical boho-style dinner party.
With a venue that boasts a restaurant and a chic cocktail bar on the first floor, Pekarna NYC sets the stage for a memorable soirée.
As the evening unfolds, indulge in a delightful menu featuring Mediterranean mezze, tantalizing platters, and mouthwatering grilled veggie skewers. Sip on fruit-infused cocktails crafted with fresh and organic ingredients, adding to the wholesome boho experience.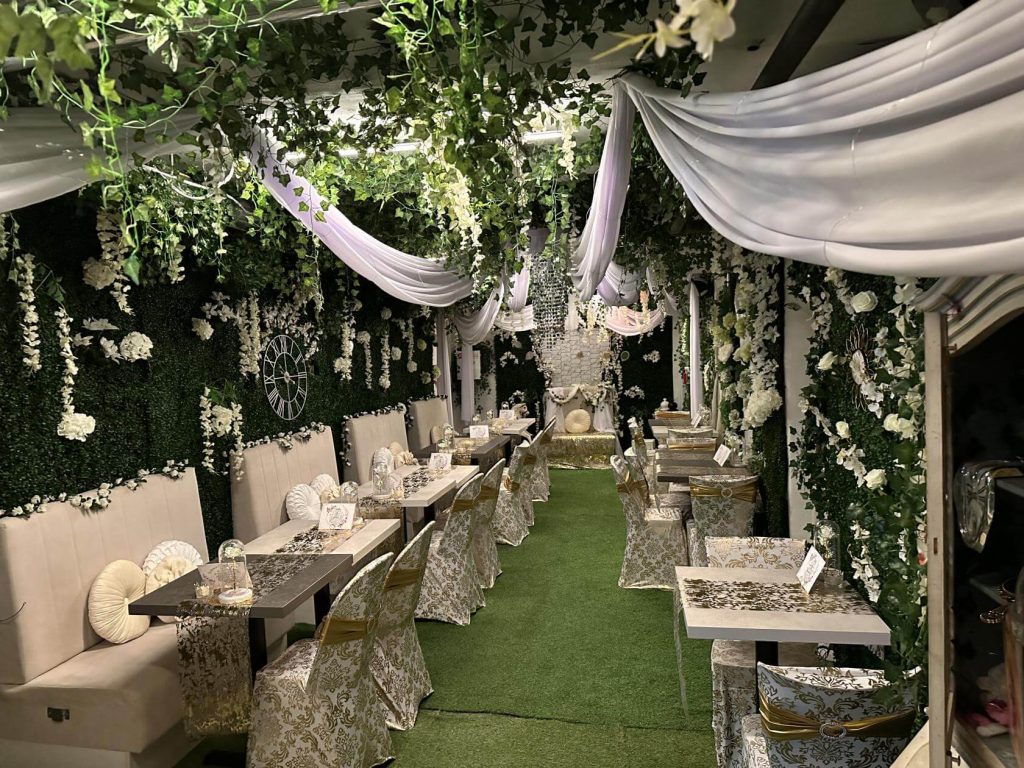 3. Tropical Escape
Escape the bustling city and indulge in a fantasy of relaxation on the stunning beaches of Seychelles right here in NYC with a Tropical Escape theme party at Bambina Blue's Backyard.
The breathtaking custom-designed 1,000 square foot backyard is a highlight of this venue, offering an inviting space for your guests to soak in the tropical surroundings and enjoy the fresh air. It's like stepping into a paradise oasis in the heart of the city.
Immerse yourself in the tropical vibes with vibrant party decorations, tables adorned with floral arrangements, and exotic fruits like pineapples and coconuts.
Serve tropical drinks and food like Nutty Hawaiian, Caribbean shrimp bowls, pineapple guacamole, aloha burgers, and lime cream pies to your guests, and watch them turn into gastronomes!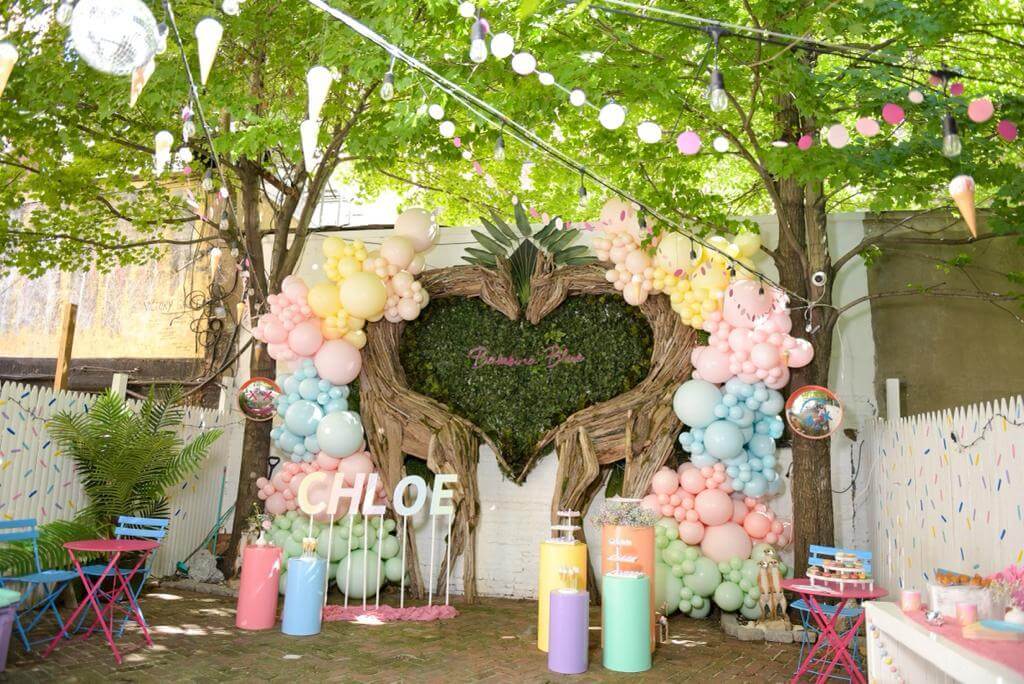 4. Murder She Wrote
Transform your birthday celebration into an exciting investigation that instantly turns your guests into detectives! Add a twist to your dinner party with a murder mystery. Host a DIY murder mystery, or let experts like Murder Mystery Dinner take care of everything!

The setting at Velvet Room at Velvet Brooklyn will add intrigue and charm to your murder mystery dinner. Regale your guests in the Velvet Room, a spacious private lounge that boasts exposed brick, impressive accent lighting, and luxurious red velvet accents.

During the dinner, give your guests hints to help them figure out who killed the celebrant. Could it be Mark, who coveted an extra piece of cake, or Jane, who seemed eager to leave early?
Get ready to unravel the mystery and create unforgettable memories as you embark on this thrilling adventure in the heart of the city that never sleeps, New York!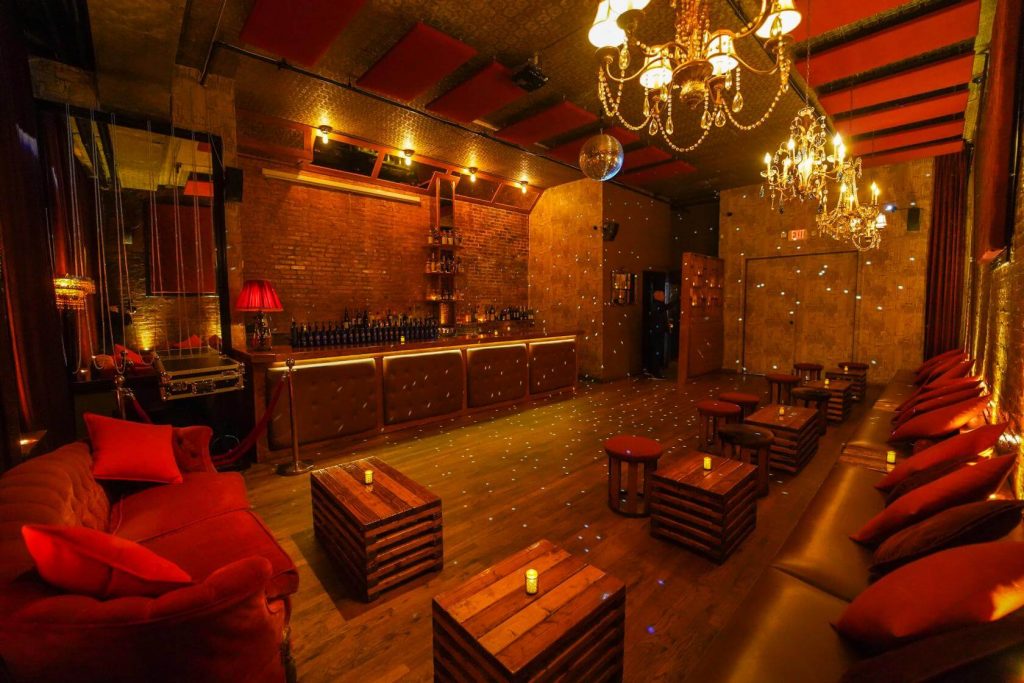 5. Go Hollywood Glam or Go home
Step into the opulence of Hollywood right here in the heart of New York with a glamorous Hollywood-themed party that will leave Tinseltown in awe! Get ready to dazzle the paparazzi with your sparkling smile as you treat yourself to an unforgettable night of glitz and glamor.
Zona De Cuba's Rooftop exudes the lavish vibes of Cannes, making it the perfect venue to host your Hollywood-themed extravaganza. Its expansive Rooftop of open-air splendor against the breathtaking backdrop of New York's iconic skyline will impress your guests.
Dress to impress, bask in the opulence, and let the magic of Hollywood take center stage at Zona De Cuba's Rooftop for a night of glitz, glamor, and unforgettable moments.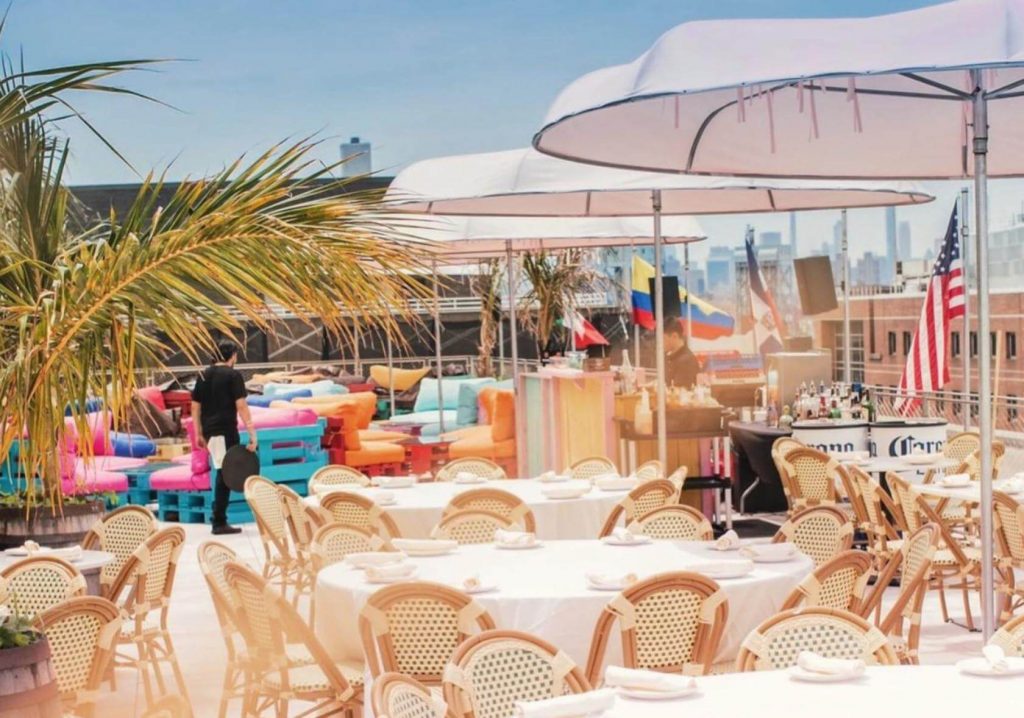 If you are fond of such themed birthday party ideas, take a look at our 18 Fun Dinner Party Ideas that will turn your party into an instant hit!
6. Broadway Show-Themed Dinner Party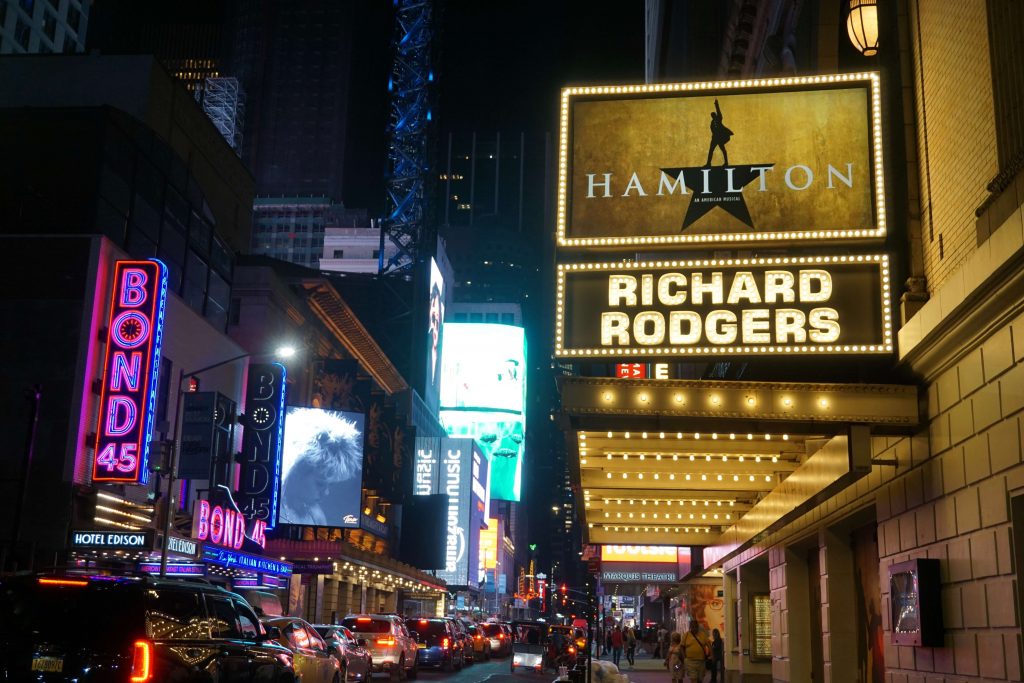 Bring Broadway glitz and glamor to your dinner party with a show-themed party. Host the event in a venue offering a stage or an area for impromptu performances.
Decorate the space with red curtains, sparkling lights, and Broadway-inspired posters. Create a menu inspired by iconic Broadway musicals, such as Chicago-style deep-dish pizza, New York cheesecake, and Sweeney Todd's meat pies.
Encourage guests to dress up in their best Broadway show costumes for the occasion!
Gourmet or Gourmand
There is no birthday dinner without food! Whether you are a gourmet and appreciate the finer things in life or a gourmand who would never turn down an extra slice of cheesecake, we've got your back with our ideas for a gourmet or gourmand dinner party in NYC.

With NYC's diverse culinary landscape, you can choose from a wide selection of restaurants to celebrate your special day in true gourmet or gourmand style. Embrace the city's flavors and make your birthday dinner an unforgettable feast for the senses!
7. Sushi Indulgence
Time to roll! If you are wondering if sushi is good party food, the short answer is yes. Sushi pairs well with drinks and desserts. Plenty of sushi combinations are available that make up for an interesting culinary discovery for all attendees.
Looking for your party spot? Indulge in a sushi extravaganza at Minami Lounge, a Japanese restaurant in the heart of NYC, offering a delectable selection of sushi, ramen noodle soup, poke bowls, BBQ grill, and much more.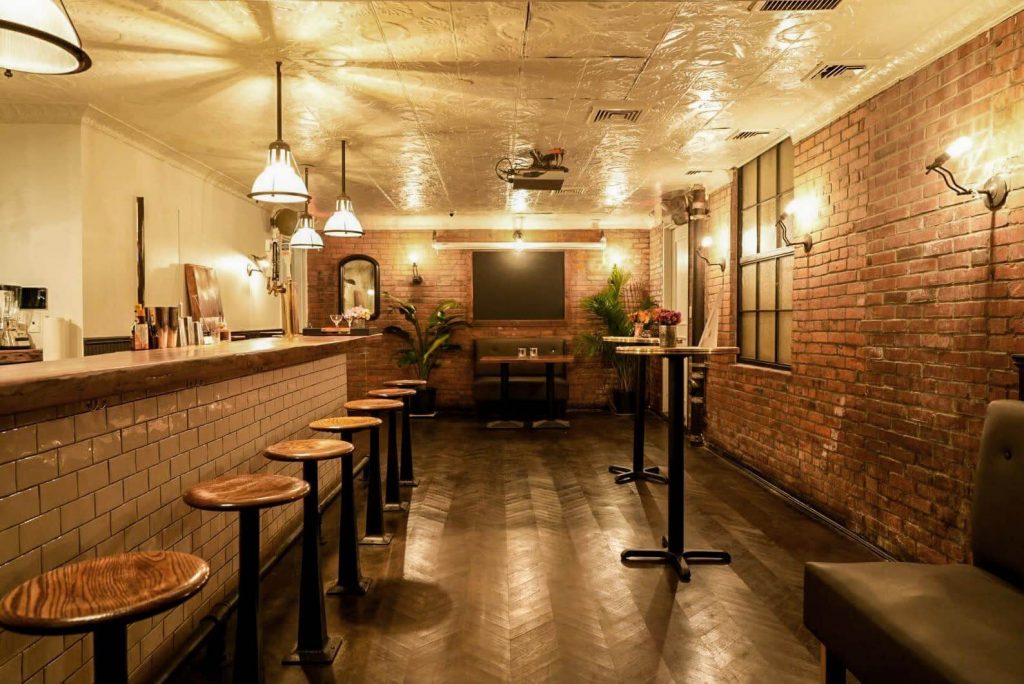 8. Potluck Private
One of the many advantages of hosting a potluck in NYC is having a buffet and tasting different food. Celebrate a potluck private birthday dinner in the heart of NYC at the enchanting Mediterranean Townhome Rooftop at Casa Duende.

Nestled in the tranquil oasis of the Lower East Side, this upscale venue offers a touch of Mediterranean charm that will transport you out of the city's hustle. Indulge in a buffet of diverse flavors, celebrating the diversity that NYC is renowned for.

Discover the joys of communal dining, embracing the NYC spirit of togetherness and culinary exploration, as you enjoy the warmth of Casa Duende's unique ambiance and create memories with friends and family.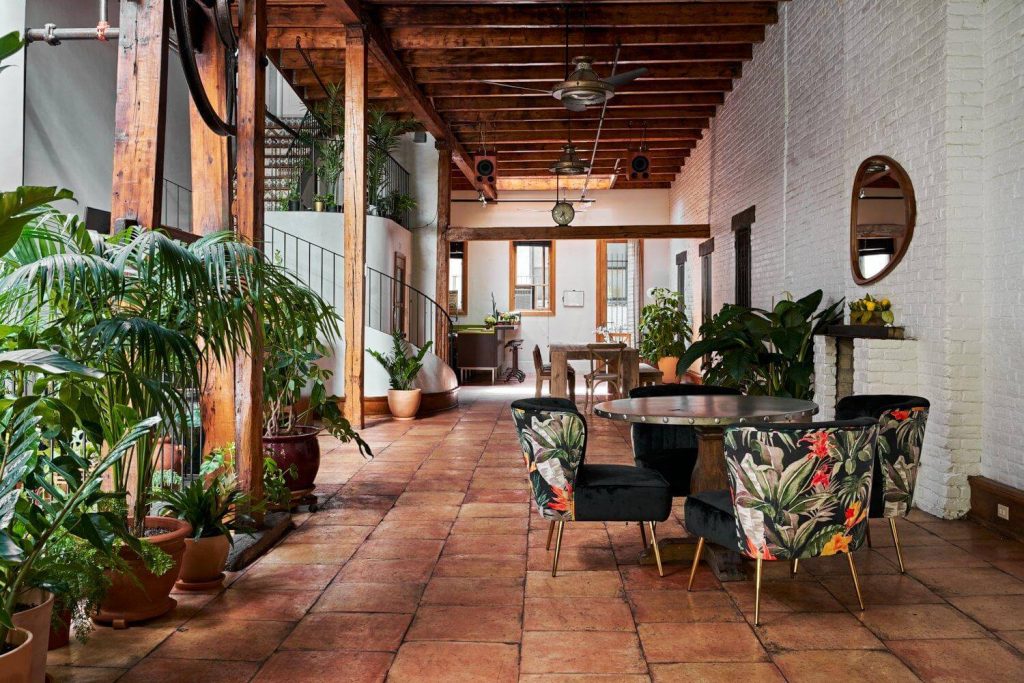 9. Breakfast for Dinner
Get bready for some breakfast at dinnertime!

Embrace the city's vibrant spirit and swap the traditional dinner meals for a delightful breakfast feast at the Private Large Table at Festival Cafe NYC. The signature large-style farm tables at Festival Cafe NYC are reserved exclusively for you and your guests, providing a warm and communal ambiance for your birthday affair.
Indulge in a breakfast spread fit for royalty, featuring fluffy pancakes, mouthwatering omelets, buttery croissants, delectable French toast, and refreshing strawberry smoothies.
As breakfast holds a special place in many hearts, this unique twist will surely delight your guests. Bon appetit!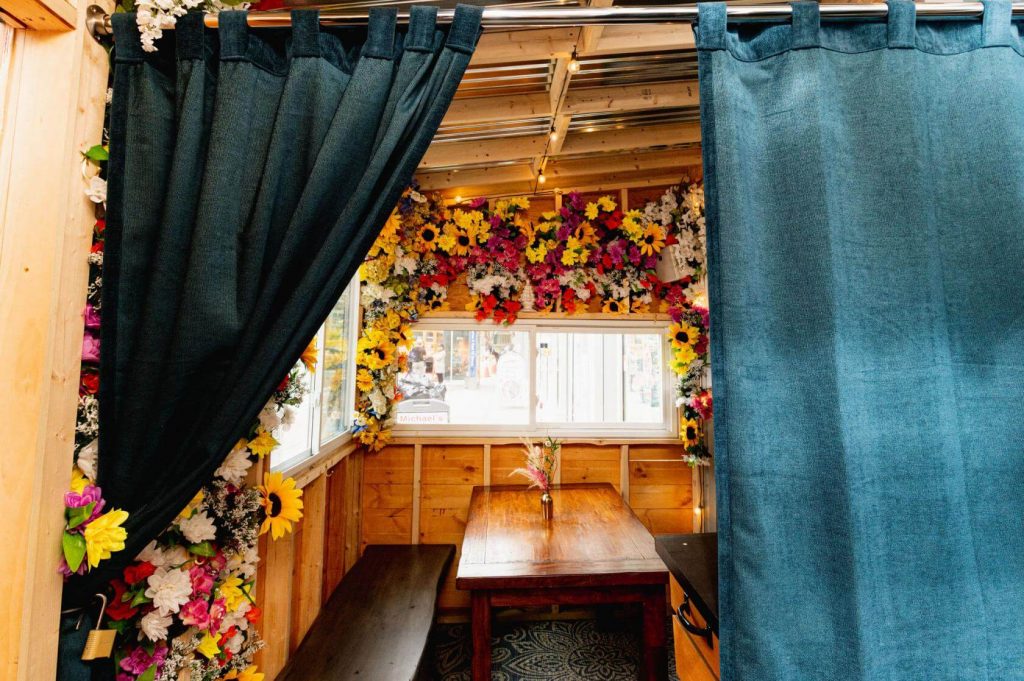 10. Food Tasting Trip
Indulge in an epic NYC food adventure for your dinner party! Dive into the culinary wonders of Chinatown with its bustling energy and diverse Chinese delicacies like dumplings and dim sum. Then, hop over to Chelsea, where the flavors range from mouthwatering gyros to delectable pizzas and the best-grilled food in Manhattan.

With a city brimming with foodie delights, you can pick any neighborhood, and make it your gastronomic playground for the night.

Eat, explore, and repeat, as you embark on a food-filled journey that will leave your taste buds singing! NYC, the ultimate food lover's paradise, awaits you and your friends.
11. Pizza Affair
Homemade pizzas hit differently. There is something about the effort and care in the making of a DIY pizza that makes it extra delicious.
NYC is the best place to try anything pizza, from pizza bagels to pasta pizza. There are plenty of places to try a slice, but hosting a pizza party at home where everyone gets to literally put their hands in the dough is entertaining and perfect for a fun birthday dinner at home.
If you're looking for the ultimate dining experience without the hassle of cooking, head to Mimmo's Brick Oven Pizza & Trattoria. With a Tuscan flare ambiance, Mimmo's will transport you to a small Italian vacation while you indulge in their specialty pizzas and rustic southern Italian entrees.
Let their service and decor make you feel at home as you escape into a world of delectable flavors and celebrate your birthday in style.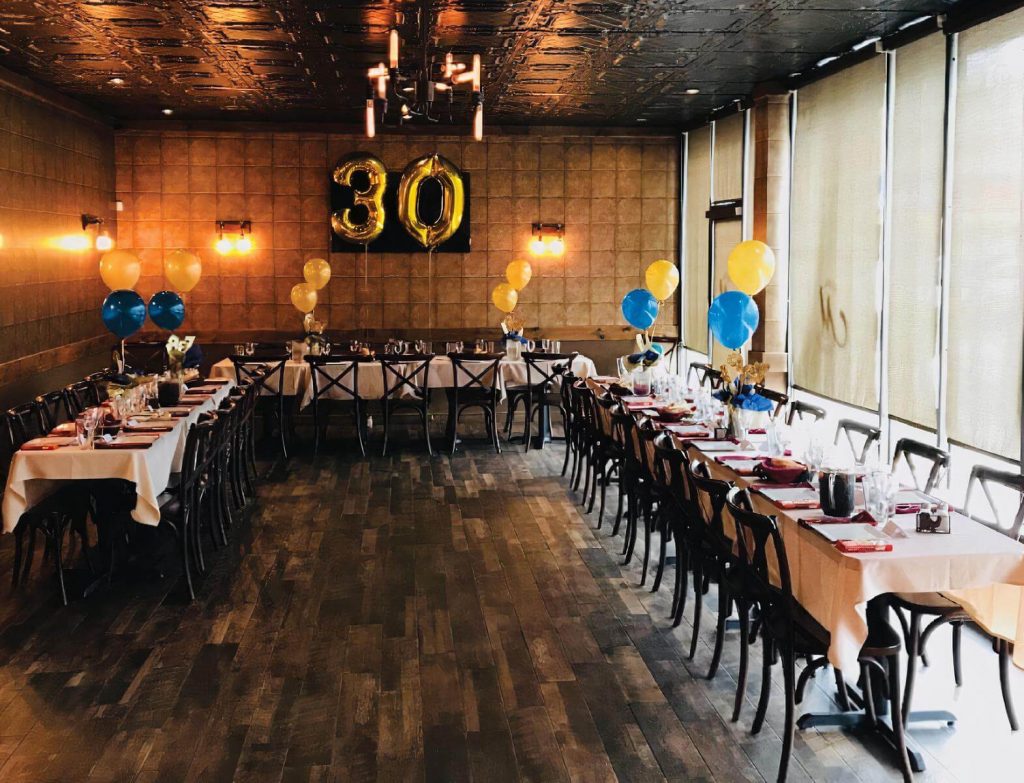 12. Vegetarian/Vegan Dinner Party
Indulge in a vibrant and healthy Vegetarian/Vegan Dinner Party that will delight your taste buds and nourish your soul.
Offer a delectable array of dishes like Ratatouille with seasonal vegetables, Vegan Stuffed Peppers with quinoa and roasted veggies, and a refreshing Vegan Caprese Salad with fresh tomatoes and dairy-free mozzarella.

Decorate the table with fresh flowers and set the ambiance with soothing tunes and candlelight. For a delightful and authentic Provençal experience with an abundance of vegan and vegetarian options, host your party at St Tropez SoHo.
Located in the heart of the vibrant SoHo neighborhood, this French restaurant and wine bar offers warm and cozy ambiance, along with a variety of plant-based dishes to savor. The restaurant's Provençal flavors and family-style cooking meant for sharing will make your dinner party a memorable and enjoyable affair.
Santé!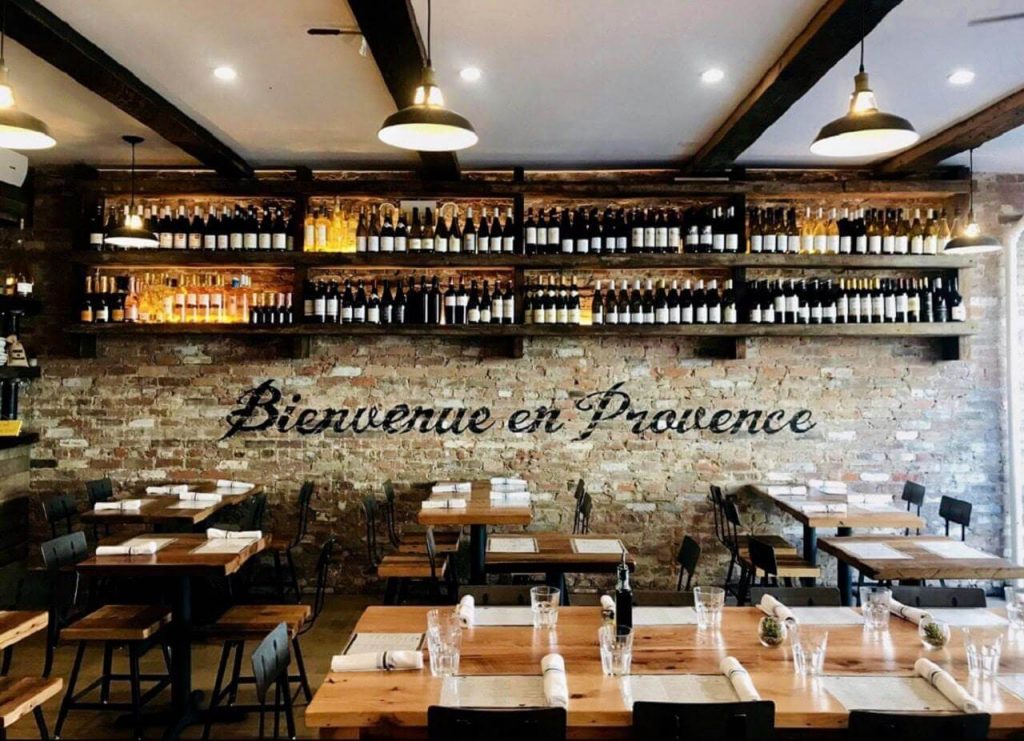 13. Banquet Feast 
Celebrate your birthday in grand style with a banquet feast that will leave your guests in awe.

In the heart of Brooklyn lies The Brooklyn Bank, a remarkable event venue with a rich history, now transformed into a unique setting for joyous celebrations.
Create an elegant dining area with a large table and exquisite tableware. Infuse the space with warmth and charm using soft lighting, candles, and fresh flowers, setting the stage for an unforgettable evening.
Delight your guests' palates with a diverse menu that includes bruschettas, cheese platters, truffle pasta, and succulent roasted chicken. As the banquet comes to a close, indulge in a delightful dessert table boasting an array of cakes, pastries, and refreshing fruit platters.
Raise your glasses to yet another wonderful year in the company of cherished friends and loved ones.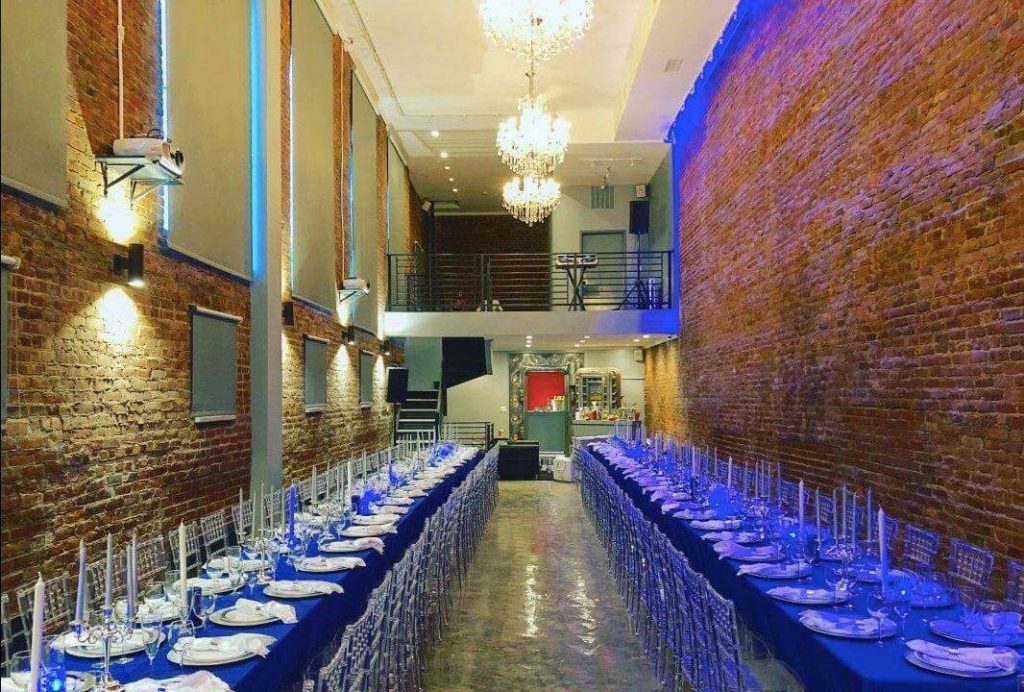 Fun & Creative Birthday Dinner Ideas
Get ready to celebrate your birthday with a splash of NYC flair and creativity! Host a dinner and dance extravaganza in a chic loft, sail off on a boat cruise under the iconic city skyline, or enjoy a delightful tea party overlooking Central Park. These unique and unforgettable ideas will infuse your special day with the unmistakable spirit of New York City!
14. Dine & Dance
Lose your blues. Everybody cut footloose.
Celebrate your birthday New York style with a dynamic Dine & Dance extravaganza! Head to the Back Lounge at Crystal Lake Brooklyn for an unforgettable 2-in-1 party. Indulge in a delectable dinner before hitting the dance floor to show off your best moves.
Whether you groove to salsa, bust a move with hip-hop, or sway to some smooth jazz, the choice is yours! Create a customized playlist or hire a DJ to keep the beats flowing all night long.
To add some extra flair, consider adding a theme or dress code to the festivities. Now turn up the music and let everyone show off their best moves in the vibrant heart of Williamsburg, Brooklyn.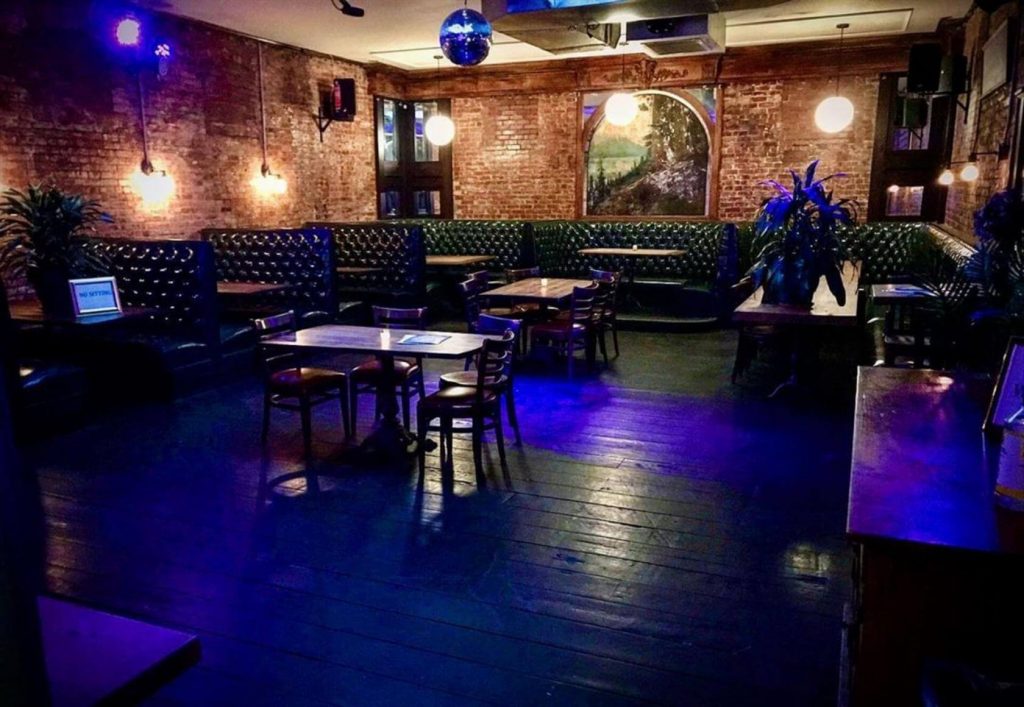 15. Tea Par-tea
Keep things simple by hosting a tea party in the evening. There is no way anyone could say no to you. After all, it's your birthday celebration.
Go for beautifully decorated tables with fine china tea sets and delicate teacups to serve the tea. Add a touch of sophistication with linen tablecloths and adorn the table with your favorite flowers.

You could indulge in an elegant and sophisticated tea party at The Flatiron Room @ Giorgio's of Gramercy, a classy Italian eatery in the charming neighborhood of Gramercy, where you and your guests can sip on exquisite teas and savor delectable tea sandwiches and sweet treats, all while surrounded by a timeless and opulent ambiance, making your birthday celebration an affair to remember.
Encourage guests to dress up for the occasion, and consider providing hats and fascinators for a beautiful evening.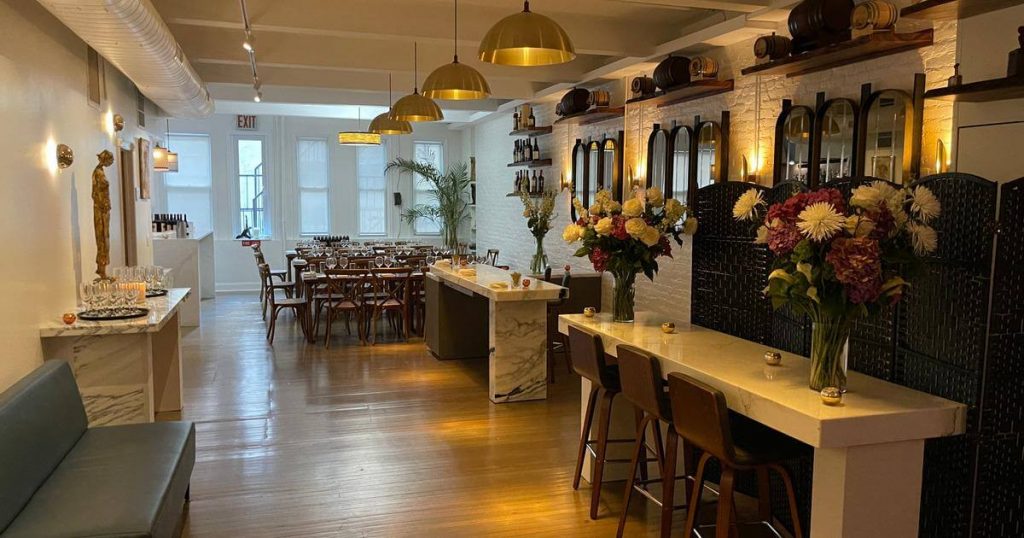 16. Party on a Boat
Celebrate your birthday somewhere particularly special. Throw a spectacular party by taking advantage of the unique setting offered by a boat or yacht.
The Jewel Yacht ensures an unforgettable celebration any time of the year. Work with an event manager to decorate the place with fairy lights and paper lanterns to add a magical flair to the evening.

Set up comfortable seating areas for your guests to relax and socialize while they enjoy the view. With two decks, full-service bars, buffet-style dining for up to 149 guests, and a capacity of up to 300 people, you're ready for the birthday bash of a lifetime!
Serve cocktails, mocktails, appetizers, and finger foods that are easy to enjoy while on the move. To complement the nautical theme, consider offering seafood delicacies like shrimp cocktails and sushi rolls.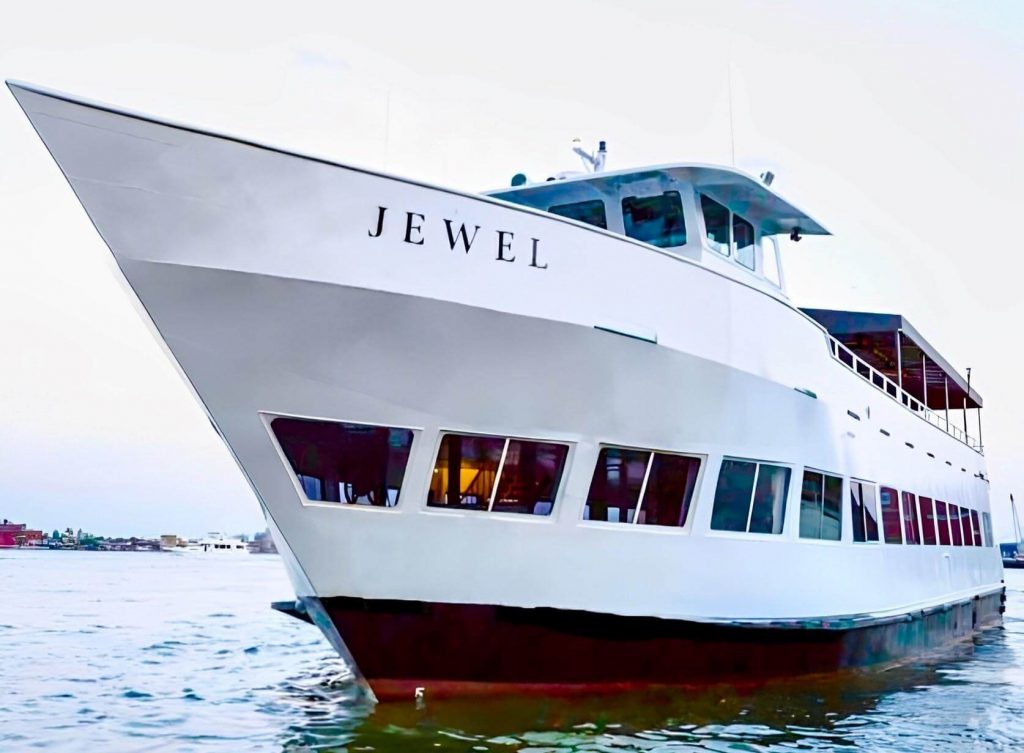 17. Dine With a View
There is no shortage of breathtaking views in NYC, so why not make the most of it while you're here? It doesn't matter whether you are a local or a visitor; Gotham always has plenty to offer in terms of stunning vistas.

Dine with a view like never before at the High Bar Rooftop at the DoubleTree in Times Square. This lovely venue offers stunning views of NYC's iconic Midtown skyline and the serene Hudson River.
Whether you're a local or a visitor, embrace the breathtaking vistas while celebrating your birthday or any special occasion. With spacious indoor and outdoor lounge areas, High Bar Rooftop provides the perfect setting for a memorable dining experience overlooking the city's landmarks.
If you're planning a birthday party for her, take a look at some other unforgettable birthday ideas here.
18. Watch Your Favorite Movie
Movie magic awaits at The Tasting Room at Wandering Barman! Celebrate your birthday dinner with an unforgettable cinema-inspired experience.
Host a birthday movie night featuring a classic NYC film like "Breakfast at Tiffany's" in this trendy indoor venue. Use the venue's large circular bar area to host an intimate movie screening with a projector. The venue's dimmable lights create the perfect mood for movie watching.
Immerse yourself in the world of cinema and enjoy your favorite film surrounded by friends in this chic and stylish setting. Let the movie magic begin!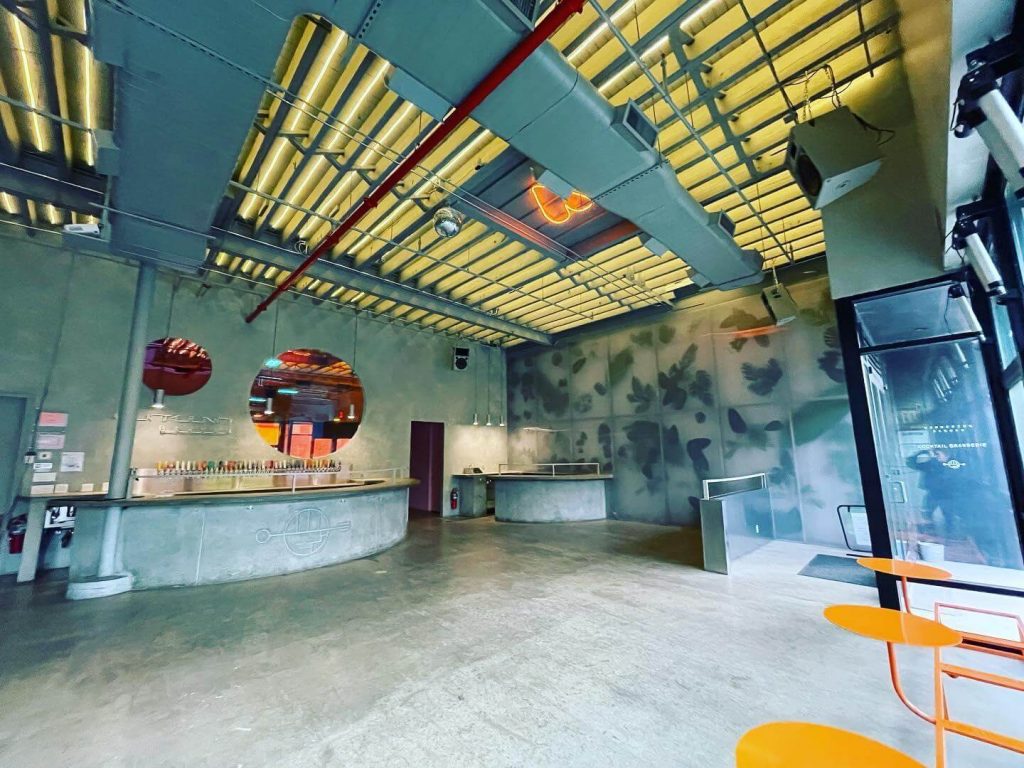 19. Enjoy the Night Sky
Host an enchanting stargazing dinner party with a panoramic view of the stars above. Surround the garden with gentle lanterns providing an ethereal ambiance without obscuring the celestial sights.

Embrace the charm of NYC's night sky at the Outdoor Garden of Sauced in Williamsburg, Brooklyn. Let Sauced's outdoor garden be your celestial oasis for an unforgettable celestial dining experience.

Serve a celestial-inspired menu with dishes named after stars and galaxies. Offer a variety of celestial-themed cocktails or mocktails to add to the magic.
As the night unfolds, guests will revel in the wonders of the cosmos while savoring a delightful meal under the starry NYC sky.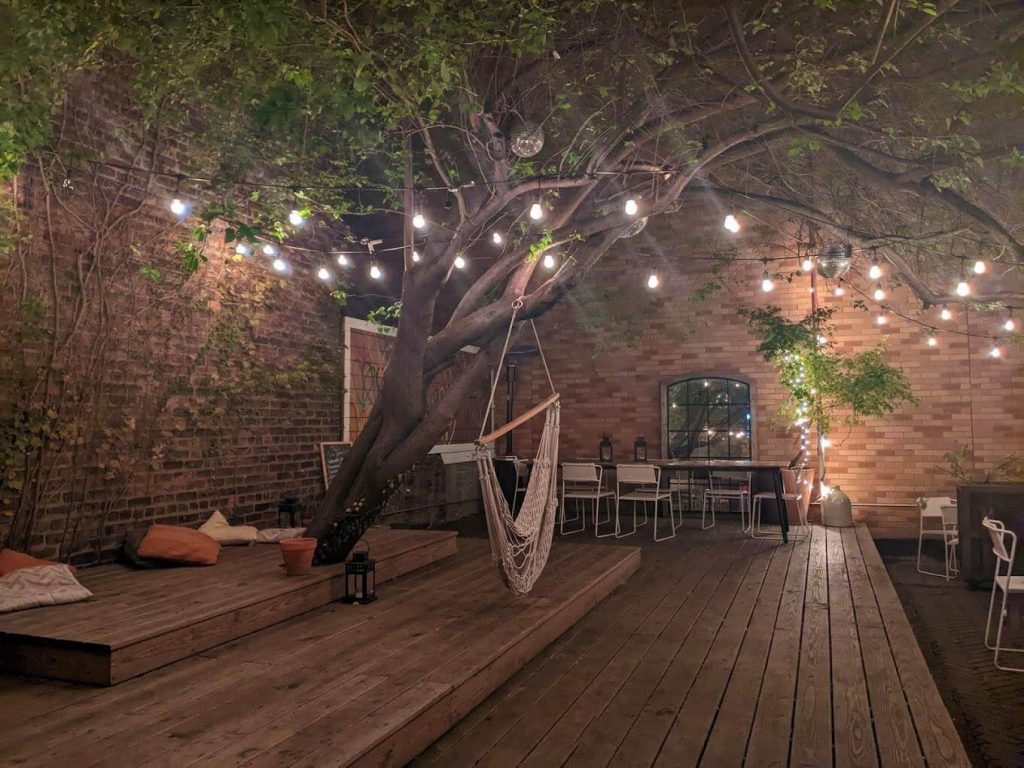 20. Around the World Food Festival
Embark on an epic culinary journey at the Grand Ballroom of Empire Steak House East with an Around the World Food Festival for your birthday. The Grand Ballroom's versatile event space is the perfect setting to set up food stations representing different countries, each offering authentic dishes from their respective regions.
Your guests will be delighted as they travel from station to station, savoring delicacies from Japan, Italy, Mexico, India, France, Greece, and beyond. From mouthwatering sushi to delectable pasta, flavorful tacos to aromatic curries, and divine pastries to savory souvlaki, this multi-course feast will be a true celebration of the diverse cuisines found in NYC and beyond.

It's a fantastic way to celebrate the beauty of NYC and you!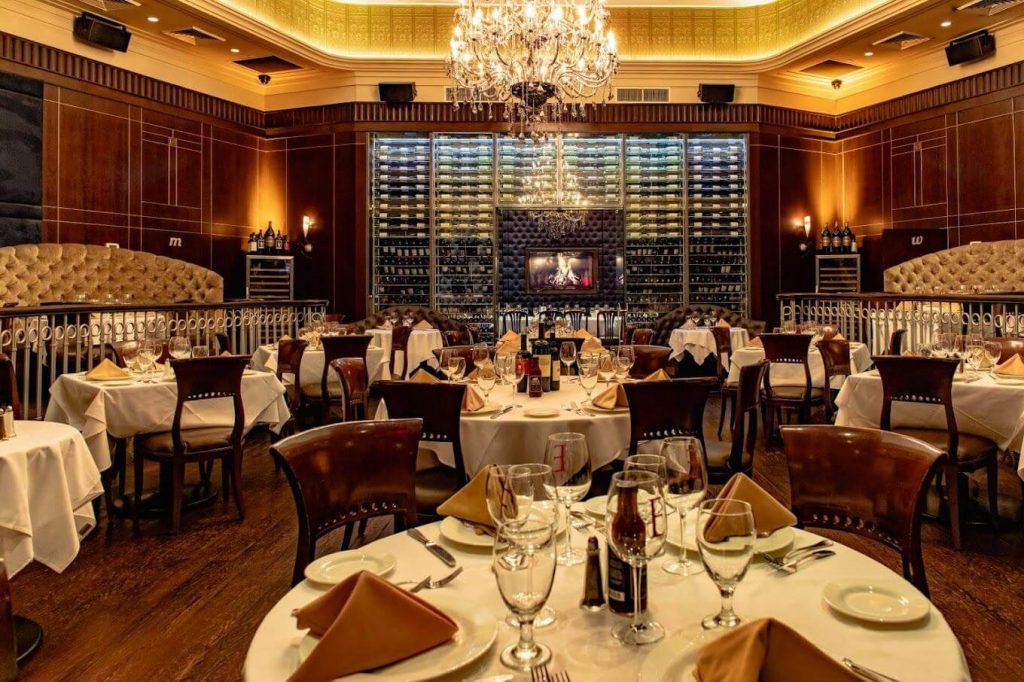 Conclusion
In the vibrant city of NYC, the culinary landscape is an ever-changing adventure, offering a plethora of dining possibilities to explore. With its diverse cultures and cuisines, the Big Apple sets the stage for unforgettable birthday dinner parties, ranging from themed extravaganzas to cuisine-inspired delights.

From hosting a rooftop soiree overlooking the iconic skyline to a cozy gathering in the heart of the city, each celebration can be personalized with a unique touch. Make the most of the melting pot of flavors and experiences that NYC offers, and make your special day a truly memorable occasion filled with delectable dishes and cherished moments.

Let the city's versatility be your guide as you embark on a lifetime of exceptional dining experiences!
FAQ
Where can I host a birthday dinner in New York City?
NYC is a big city where each neighborhood has its personality. Places like Harlem to the Lower East Side, Brooklyn Heights to Coney Island have plenty to offer in terms of character and diversity, so you can explore eateries in these locations. You will undoubtedly find something that suits your birthday dinner requirements in these places. If you are looking for something to impress your guests, check out restaurants and venues in areas around The Statue of Liberty, the Empire State Building, Central Park, St. Patrick's Cathedral, or Grand Central Station, where you can enjoy landmarks and city attractions after or before the party. Either way, you will have plenty of options for eateries and entertainment to host a successful party.  
What are some excellent birthday dinner party ideas in NYC?
Hosting a birthday dinner party in NYC can be simple. If you want to keep it low-key, you can plan an intimate dinner party at home with your closest friends and family members. If you're going to have a bigger party, you can rent a private space at a restaurant or a club. You can also host a themed party and ask your guests to dress up accordingly. Other great ideas include a rooftop party where you and your guests can enjoy the beautiful skyline or a garden party in Central Park where you can have a late-night picnic with your guests. Whatever you decide to do, make sure to enjoy your special day!
What is the easiest way to travel around NYC?
If you are a visitor to the Big Apple, traveling by subway is the easiest way to get around the city. Riding the subway is convenient and instantly gets you to your destination. If you are local, you don't need much guidance, but if you are new to the city and wish to select a convenient venue for you and all attendees, look at this list of NYC neighborhoods with easy commutes to Midtown.