Opt For a Smaller Wedding
According to the wedding blog, Bridestory, in their 2018 report on weddings in Singapore, Indonesia and Malaysian, 28% of respondents' weddings had only 50-100 guests. Of course, traditional large weddings of 100-300 still dominate the scene (49.2%), but the number of smaller weddings has undoubtedly grown in recent years. Let's take a look at some of the reasons behind this shift.
Interestingly, whatever the size, according to Bridestory's report, most wedding expenses are covered by the Bride and Groom. And it is a sad fact that this cost can be a heavy burden on young couples who are just starting out professionally and personally. Budgets for a married couple, in general, can be weighted heavily in areas such as living expenses and planning for children – not to mention other costs such as vacations and entertainment.
While a costly and large wedding can have unexpected benefits in terms of gifts, monetary or otherwise, this can be a risk for couples who are still trying to establish a sound financial footing.
This is why many couples are opting for smaller, and cheaper weddings. For an average affordable wedding in Singapore, for example, couples reported to Bridestory that they spent around 150 SGD per guest. Based on these figures, a wedding for 50 could cost an engaged couple approximately 7,500SGD, and for 100 guests 15,000 SGD.
This is a significant cost saving compared with a larger wedding for 500, which could potentially set a couple back 75,000 SGD. A wedding of this size could make a significant dent in any budget and credit card.
Smaller weddings are not only more affordable; they are also a lot less stressful in terms of organisation and planning. By choosing a smaller-sized wedding, you have already reduced the number of guests, the cost of catering and the number of vendors you will need to hire. Are there specific ways to save on this kind of event? Yes. Let's talk about the crucial decision you should make to ensure that your small wedding will be a stress-free, and less expensive, experience.
Choose a Cheaper Wedding Venue
Your wedding venue will eat up most of your wedding budget – totalling at about 40% of total costs. At such a high percentage, it is clear that by saving on your venue costs you will already be on your way to a manageable wedding budget.
Restaurants and cafes are great places in which to host affordable weddings for up to around 100 guests, give or take a few. They are also excellent for saving on costs. These venues come with a lower price tag. Consider if your favourite dining establishment suits your sense of style and ask about a booking. Check and see if they have wedding packages. Just be sure to agree ahead of time on all the small details that might cost you extra later. For example, if you are allowed to use an outside caterer, you should double-check that there are no surcharges.
You can also consider an outdoor event if the weather is not too steamy. Beach clubs, gardens, terraces and parks can be booked for private events. If they are dry hires, you may need to hire tables and chairs, etc. but be creative in your approach, and it shouldn't be too expensive. For food, a great caterer can bring their own kitchen or grill and a standing bar.
Another way to save money is to provide an open bar with beer and wine only, you might also offer a cash bar that lets your guests cover the costs of their own drinks.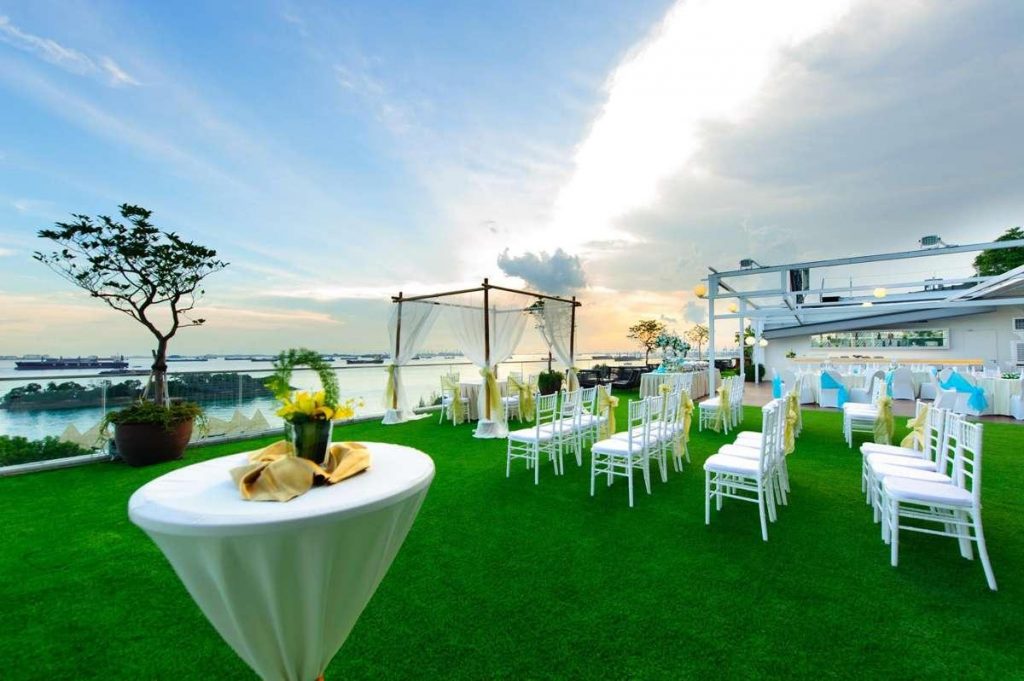 What about the extras?
A venue is one of the most substantial items on a wedding budget – but it is by no means the only cost. The dress, photography, flowers, cake, etc. – can all add up very quickly. The best advice we can give you is to make sure that you stay within your agreed-upon budget.
Look at items that are priced within your price range and don't indulge in wishful thinking. When you know what your real range choices are, you are much more likely to choose within them. The most important thing is to be happy with your selection.
Enjoy your big day!
Just remember that you are there to celebrate with your family and friends. And there is no surer way to feel the post-wedding blues than to return from your honeymoon to a mountain of debt.
---
---
---
You might also like