What's the craic? You'd better be planning a party, because St. Paddy's Day is coming up soon! March 17th is the day to celebrate the heritage, culture and traditions of Ireland, whether you have some Irish blood in your veins or not.
Need some additional inspiration? No worries, it's much easier to find than the pot of gold at the end of a rainbow! We've got plenty of fun and charming St. Patrick's Day party ideas for adults and families alike. Do you want to celebrate with a cold pint of Guinness or an all-green mocktail? No matter your preferences, there's plenty of ways to bring your party to the next level!
Our Favorite St. Patrick's Day Party Ideas
☘️ 1. Attend a Saint Paddy's Parade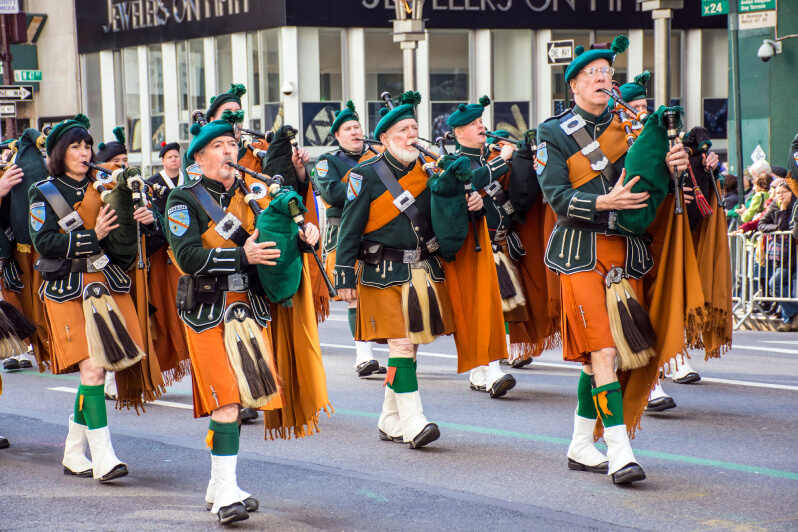 Dating back to 17th century America, St. Patrick's Day parades are a widely loved tradition! There are huge happenings in Chicago and New York, and in other parts of the country and beyond! Just invite your friends for a pre-party, throw on your best green clothes (you don't want to get pinched, do you?) and go have some fun on the streets!
There's no parade planned where you live? No problem – organize your own mini-procession. You can invite everyone to dress up and bring some Irish joy into your area! Just make sure you're not going against any local ordinances. Leprechauns may love mischief, but your neighbors probably not so much!
Useful Irish phrase: Gabh mo leithscéal (excuse me), to make your way through the crowd politely!
☘️ 2. Watch a Parade at Home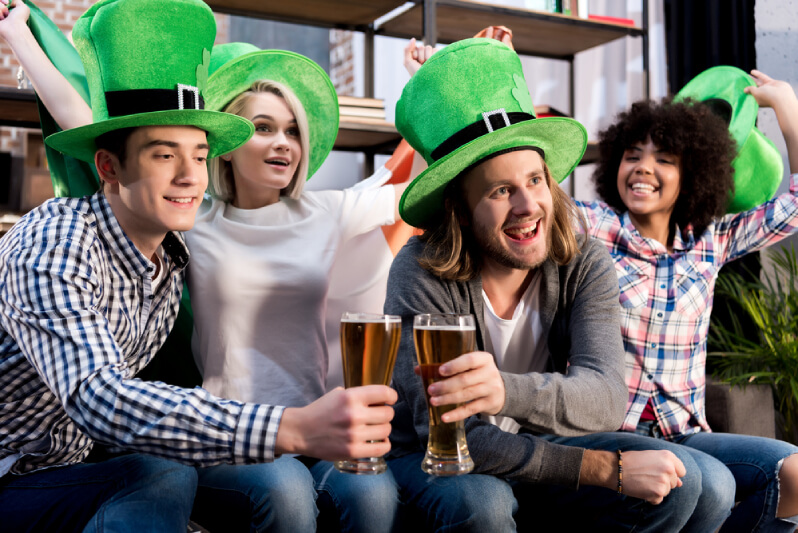 Don't feel like standing around in a crowd? You can watch a parade live stream at your very own house party. It's the perfect St. Patrick's Day party idea for introverts! Just invite a few of your closest friends over or even celebrate by yourself, whatever floats your boat. Don't forget to pull a pint of Guinness (or any other drink of your choice) for your evening at home and you'll be all set!
Useful Irish phrase: 'Dia dhuit' (hello), to greet everyone coming to your streaming party!
☘️ 3. An Irish Pub Crawl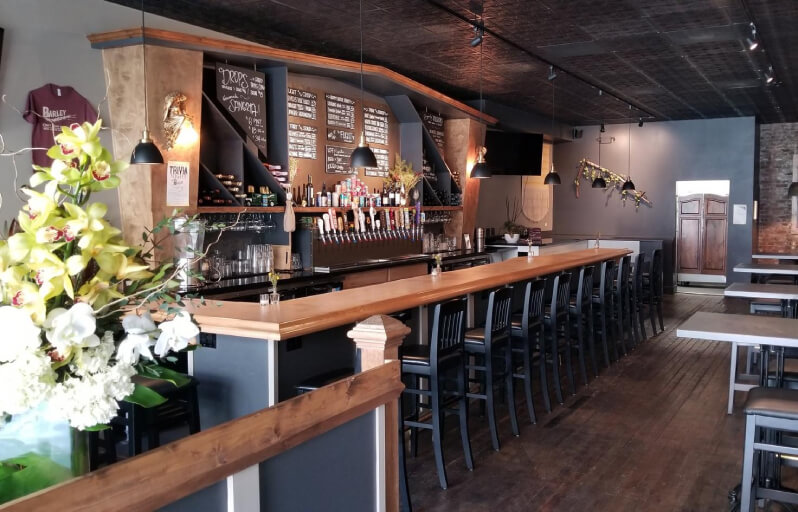 Nothing combines a party and celebrating Irish traditions better than a pub crawl! Find the best pubs and bars in your area and plan an ale-filled route. Drinking dens tend to be filled to the brim on St. Patrick's Day, so consider renting out a space just for your group! This way you'll be sure there's enough room to drink, gossip, and get ready for your next stop. Sláinte!
Useful Irish phrase: Déan deifir! (Hurry up!), to say when you have to rush to that next bar before it closes!
☘️ 4. St. Patrick's Day Pub Quiz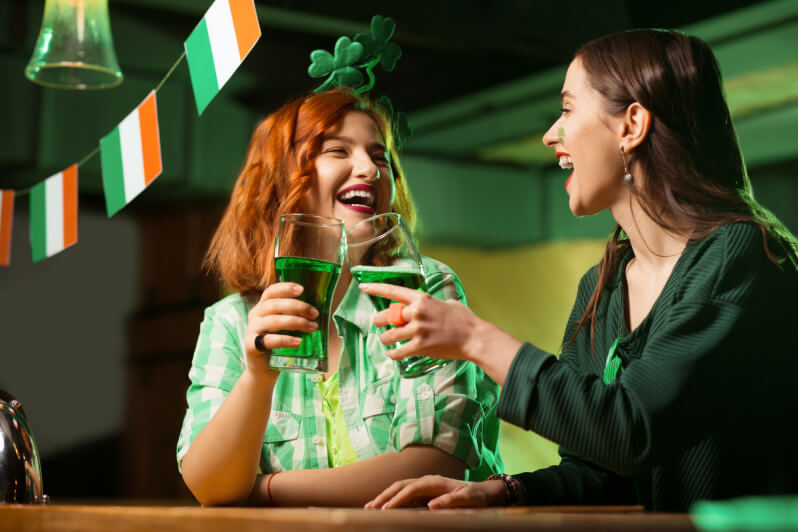 Check how much you know about this special holiday with a pint in hand! Pub quizzes are a fun way to compete with your friends, enjoy some delicious drinks, and learn some trivia. Just find an Irish or St. Paddy's-themed trivia set and let the games begin. You can easily organize a trivia night at home or rent a suitable venue on Tagvenue.
Need to spend the day at home but still want to compete with your friends for the title of St Paddy's expert? Check out our virtual St. Patrick's Day trivia offer!
Useful Irish phrase: Fíor (true) and bréagach (false), to say when you're running a quiz!
☘️ 5. An All-Green Party
Everything (and everyone) has to be green! It's easy to coordinate this kind of party – just set a dress code and raid the stores for some emerald decorations! If you're feeling crafty, you can go for a DIY option and show off your artistic skills. Finish off the look with some green LED lights and your St. Paddy's Day party is complete!
Don't feel like putting in all the effort by yourself? Book a fantastic party venue through our platform. You'll surely find something that fits the shamrock aesthetic!
Useful Irish phrase: Uaine (green), to easily describe everything in the room!
☘️ 6. Leprechaun Party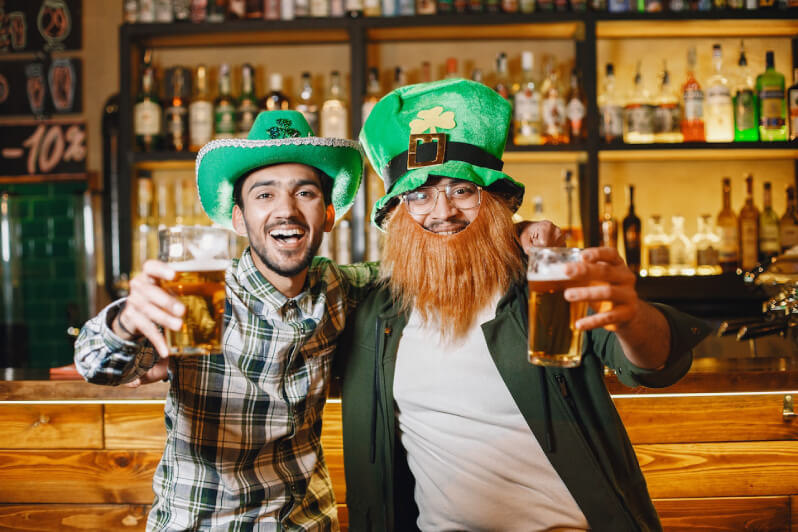 Grab your green hats and coats and get down to some mischief! Both kids and adults will enjoy dressing up as those small green fellows. Just make sure you put out some leprechaun bait, we've heard they get grumpy when they are hungry! You can plan some leprechaun-appropriate games and activities such as a prank contest! A leprechaun-filled party is never boring!
Useful Irish phrase: Hata deas (nice hat), to compliment everyone's costumes!
☘️ 7. St. Paddy's Potluck Party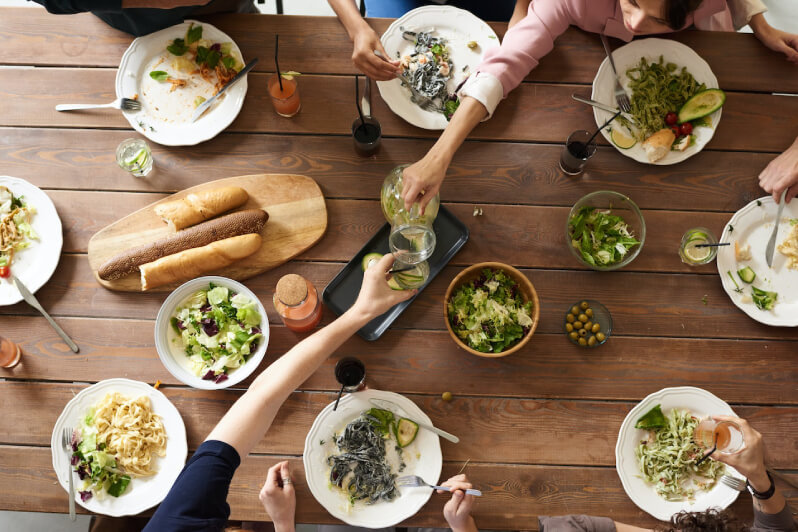 While we're on the topic of everything green, why not take it all a step further and make sure all the food is on theme too? Ask everyone to prepare some delicious green grub, or give your guests a bit more freedom and see what themed snacks they come up with! Pot of gold savory muffins or rainbow treats, there are more possibilities than pints of beer drunk on St. Paddy's Day. Well, we might be overstating a bit, but you get the gist!
Useful Irish phrase: Tá sé go hálainn (It's delicious), to say when praising everyone's dishes!
☘️ 8. A Traditional Irish Feast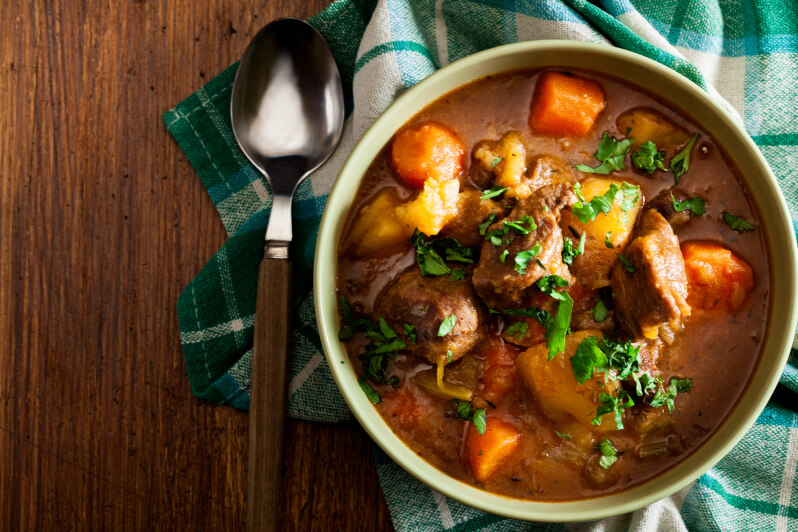 If you find that the light-hearted approach to St. Paddy's Day food is a bit too cheesy, why don't you look into some traditional Irish recipes? The day is about celebrating Ireland's culture, and the cuisine definitely counts! After all, another name for the holiday is the Feast of Saint Patrick. If you enjoy hearty dishes and lots of potatoes, you'll fall in love with it! There's much more to discover than just corned beef and cabbage.
Don't feel like doing the cooking by yourself? There might be some restaurants serving Irish cuisine in your town, you never know! Renting a private dining room is a great idea if you want to take your St. Patrick's Day dinner to the next level.
Useful Irish phrase: Bain taitneamh as do bhéile! (Enjoy your meal!), to say before you dig into all that delicious grub.
☘️ 9. The Rub of the Green Cocktail Party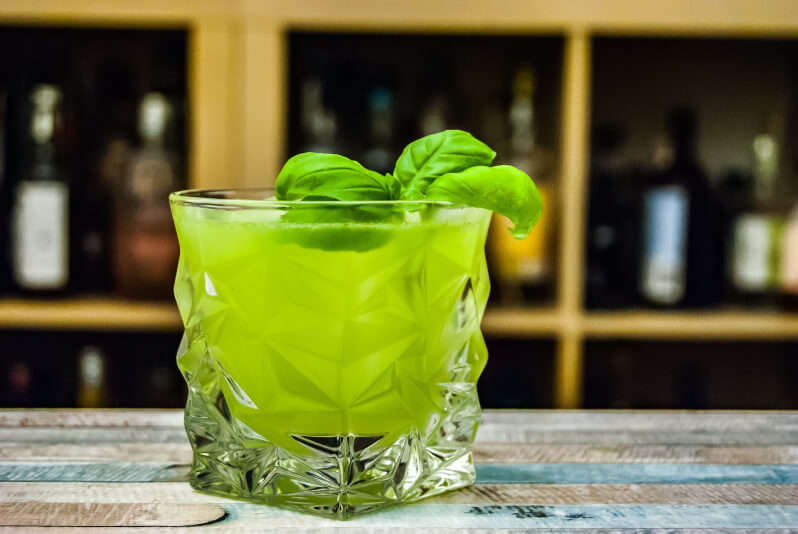 We've got some more great St. Patrick's Day food and drinks ideas! Cocktail parties are a fantastic way to celebrate this boozy holiday. Preparing some green beverages is a great way to turn any party into a St. Paddy's Day party. Just make sure you add some mocktails into the mix too, or you might get a bit too langered!
Useful Irish phrase: Sláinte (cheers), to say when clinking glasses!
☘️ 10. Irish Beer or Whiskey Tasting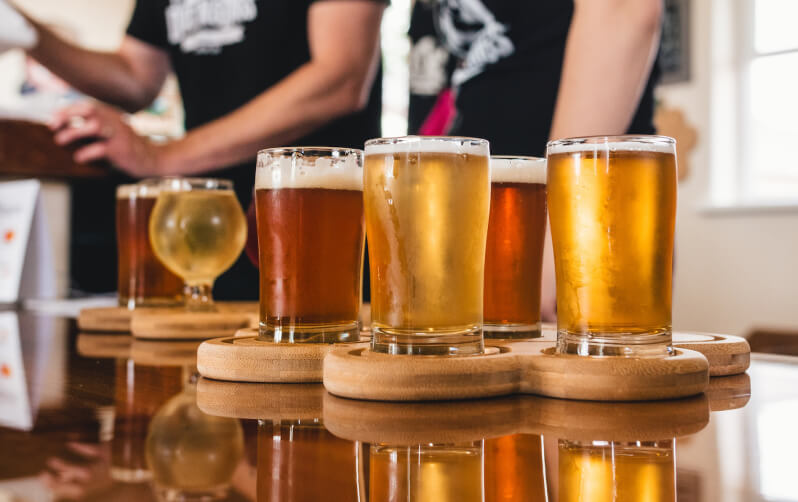 Are you more of a Guinness or Jameson person? No matter which famous drink is your favorite, you can celebrate the Emerald Isle by taking a sip of a range of Irish beverages! Gather your friends for an at-home sipping session or book a tasting experience at a bar, if you want to go all in on March 17th!
And did you know you can even organize a remote whiskey tasting? It's a great idea if your drinking mates happen to be out of town for St. Patrick's Day!
Useful Irish phrase: Cúpla pionta (a couple of pints), to say when someone asks how much beer you've had so far (it doesn't have to be completely true, no worries!)
☘️ 11. Learn an Irish Dance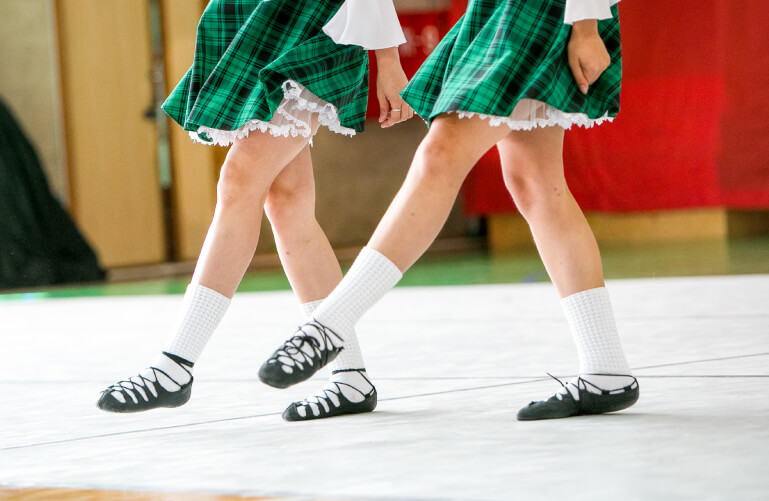 Traditional Irish Step Dancing is a great way to connect with the Emerald Isle and show some appreciation for its culture. It's also extremely fun! Learning the basics of Irish dancing makes for an exciting group party activity that everyone can enjoy. And what better time to do that than on St. Patrick's Day?
If you want to impress your guests, consider renting a professional dance studio! We've heard that booking a suitable venue for your St. Paddy's party brings you the luck of the Irish, even if you don't have any emerald blood in your veins!
Useful Irish phrases: Maith thú! (Well done!), to say when you are in awe of your friend's dancing skills!
☘️ 12. Irish Karaoke Night
Are you more into U2 or The Pogues? Ireland has given the world more amazing music than you might think. Test your singing skills and knowledge of Ireland's biggest hits at a Saint Paddy's karaoke night! All you need is a cheap karaoke microphone and a good playlist to sing along to. But remember – you can always go all out and rent a karaoke room for the party!
Useful Irish phrase: Is breá liom é (I love it), to say after an especially good performance!
☘️ 13. St. Patrick's Day Game Night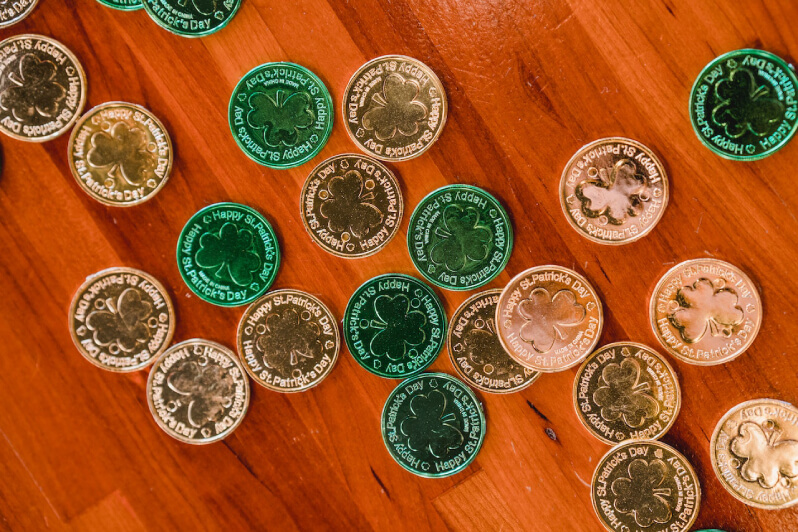 Staying in for a relaxed game night might not seem like a classic St. Patrick's Day celebration, but do we have to stick to the stereotypes? Let everyone else party until dawn and drown the shamrock, while you cozy up and play some themed games! You can look for some adult-friendly St. Patrick's Day bingo and other fabulous party activities. We're sure you'll find something for yourself!
Useful Irish phrase: Comhghairdeas (Congratulations), to say when you're definitely not a sore loser!
☘️ 14. Learn Some Irish
Learning the language is a great way to connect with your Irish heritage! Irish is a beautiful and unique language that has persevered despite many difficulties. Why not show it some love and learn some Gaelic basics? It's a great element to add to your St. Patrick's Day party, especially if you want to become more mindful of what you are celebrating!
Useful Irish phrase: Is fearr Gaeilge briste, na Bearla cliste (Broken Irish is better than clever English), to justify why you want your guests to learn Irish with you!
☘️ 15. Pot O' Gold Scavenger Hunt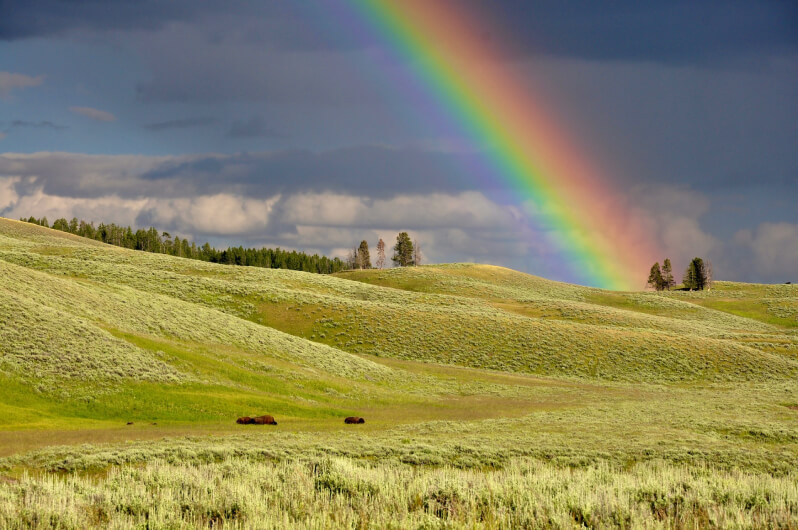 Is it really Saint Patrick's Day if you're not looking for the pot of gold at the end of the rainbow? Scavenger hunts are a fun activity for adults and kids alike! It takes a bit of preparation to create the clues and set everything up, but it's really worth it! There's plenty of tutorials on how to organize a scavenger hunt that will lead you through all the steps stress-free.
Make everyone look for the treasure the leprechauns have hidden and lead them along the rainbow! Will they find gold coins or just a bag of Lucky Charms? It's up to you to decide! All we know is that this legend seems to be tailor-made for a scavenger hunt.
Useful Irish phrase: Ór (gold), to shout when you've found the treasure!
☘️ 16. Irish Movie Marathon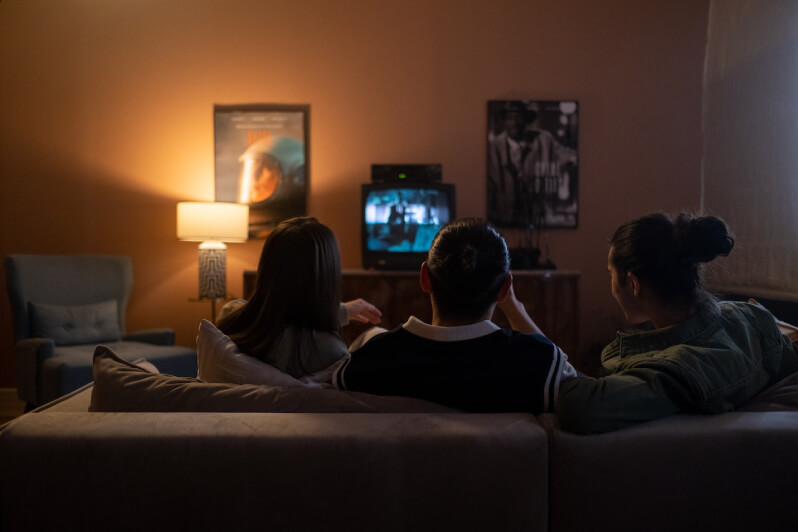 The selection of movies (and shows!) you can pick from doesn't seem to end! You can go for a serious dive into Ireland's history and politics, like Hunger, or the binge-worthy series Normal People, and everything in between! There is also The Banshees of Inisherin, the recent Oscar-nominee that fans of dark tragicomedy will certainly love. We can even excuse the horrific Hollywood-Irish accent this one day of the year! (Matthew Goode in Leap Year, we are looking at you!)
Simply pick something to watch – make sure it's enough to keep you entertained all evening – and grab some snacks and drinks! If you are the 'go big or go home' type, rent a screening room at a cinema. Just make sure they serve Guinness!
Useful Irish phrase: Tá leadrán orm (I'm bored), to say when you want to skip to the next movie already!
☘️ 17. St. Paddy's Photo Booth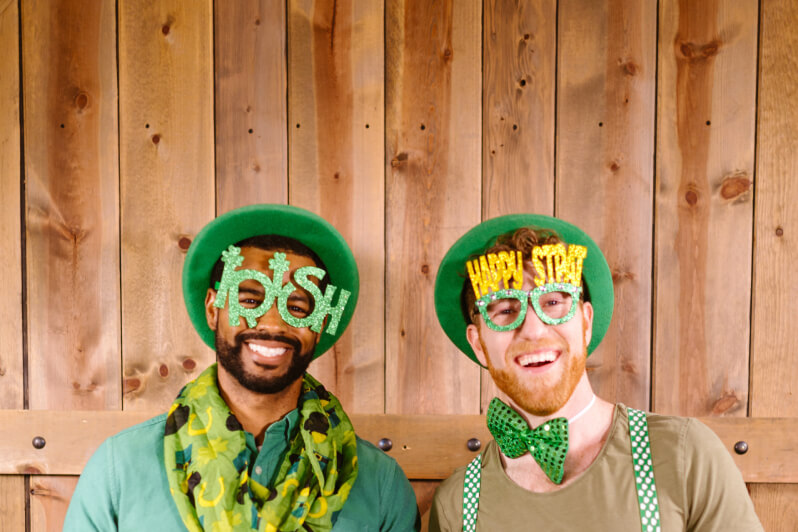 Let's be real for a second – we all want to have some good photos from the party! Setting up a photo booth doesn't have to be difficult. Just throw in some funny leprechaun headwear, four-leaf clovers, and a fake pint of beer (you'll want to save the real ones for drinking, not posing). You can even go all out and decorate the booth Irish tavern-style. The comments section under your selfies will be green with envy!
If you don't want to rent professional photo booth equipment or risk allowing your langered friends to play with your gear, how about getting a disposable camera? They are affordable, fun, and perfect for parties!
Useful Irish phrases: Go raibh maith agat (thank you), to say when someone has taken the millionth photo of you already (they deserve some praise)!
☘️ 18. Limerick Contest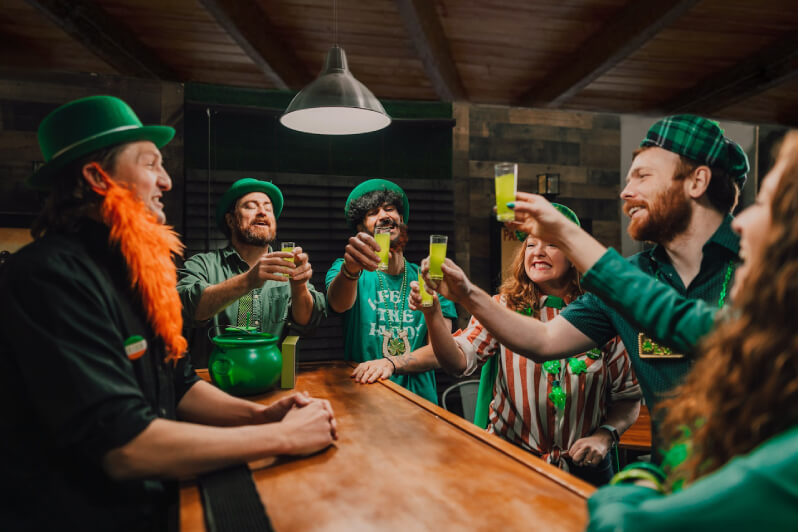 Spice up your St. Patrick's Day party with an exciting limerick competition! Ask everyone to practice reciting a rhyme or two, we're sure the night will be filled with laughter and good times. Bonus points if each person writes their own limerick!
Useful Irish phrase: Adh mor ort! (Good luck!), to say to the next contestant!
Notes from the Leprechauns
Are you ready to celebrate all things Ireland this St. Patrick's Day? You definitely won't run out of ideas now!
March 17th is the day to show some appreciation for Irish traditions and heritage, but it's also a day to have fun! Your celebration doesn't need to be elaborate to match the spirit of St. Patrick's Day. Here's a quick checklist of things that make a St. Paddy's Day party really special:
💚 Something green – Just adding a green element or two to the decor, food, or outfits can enhance the real feel of St. Patrick's Day.
💚 Something lucky – Not to be superstitious, but an element of luck surely can't hurt, right? Look for four-leaf clovers, wear a shamrock on your shirt or just pour yourself a bowl of Lucky Charms!
💚 Something Irish – You don't have to make everything authentically Irish, but it's good to include at least something connected to the Emerald Isle! Play some Irish music, learn to céilí dance or cook an Irish dish, it's up to you!
Even if you are stuck at home on March 17th, you can still have plenty of fun. Whether you are looking for ways to celebrate with your remote team or friends who live in another city, check out our favorite ideas to celebrate St. Paddy's Day virtually!
FAQ
Why should I celebrate St. Patrick's Day?
Great question! St. Patrick's Day might have started as a religious feast day, but nowadays it's much more than that. From its history and heritage to exciting traditions and delicious cuisine, St. Paddy's Day celebrations highlight this amazing Emerald Isle. You don't have to be Irish or have Irish ancestry to have fun on this special day!

Throwing a St. Patrick's Day party is a great idea for people of all ages and backgrounds. It's a day to have fun with your friends, show appreciation for the traditions, and drink plenty of booze, if that's your cup of tea. Another great reason to celebrate on March 17th is the opportunity to learn more about Ireland's rich culture, whether it's through listening to some traditional music, taking part in a themed quiz, or learning how to tap dance! 
Can you celebrate St. Patrick's Day at work?
We say you can and should celebrate St. Paddy's at your workplace! You can bring some festive elements into the office and make everyone feel the Irish spirit on this one day of the year. Some of our favorite ideas include organizing a desk-decorating contest, setting up an all-green dress code, and sharing some non-alcoholic green drinks.

Consider asking everyone to bring some green baked goods and snacks for lunch, we guarantee you they'll be more than happy to skip the microwave meals and sandwiches in favor of emerald cupcakes! You can also put on some traditional Irish music in the background to make the day at the office flow by in a more upbeat atmosphere. If your workflow allows, look into some St. Patrick's Day-themed team-building games and activities. You will even find some fabulous options for remote teams!
What are some ideas for St. Patrick's Day party favors?
Stuck on what to put into the St. Paddy's Day goodie bags? We have some ideas! You can create a simple pot of gold inspired gift for your guests by putting some chocolate coins into a jar or fabric bag. Another great idea is to create all-green snack bags: just combine some green candy and throw in a green apple for a healthy element!

If your guests are the crafty kind, especially kids, consider printing out a free leprechaun figure template on some good-quality paper, it will give everyone a well-appreciated follow-up activity for after your party! For those with a green thumb, throw in some shamrock seeds that will make their lawn go from drab to fab.