Raising a Virtual Pint: 10 Unique Ideas and Activities to Celebrate St Patrick's Day
Published on 23rd February 2023
Virtual events
›
Raising a Virtual Pint: 10 Unique Ideas and Activities to Celebrate St Patrick's Day
St. Patrick's Day is just around the corner, and it's time to get your Irish on! Whether you're a leprechaun at heart or just looking for an excuse to let loose and have some fun, there are plenty of unique ideas and activities to help you celebrate in the remote workplace.
As one of the most beloved holidays in the Irish and Irish-American communities, St. Patrick's Day is a time to celebrate Irish culture, history, and heritage. The world turns green, and everyone gets to be an honorary Irishman. It's a day for having a great time, sharing laughs with loved ones, and participating in festivities. So, grab your shamrocks, put on your best green gear, and get ready for a day of merriment and mischief. Here are some ideas to help you raise a virtual pint and make the most of this festive celebration with your remote team.
Hosted St. Patrick's Day Virtual Activities for Remote Teams
Let's face it, planning engaging and interactive virtual activities can be a daunting task, especially when everyone is working from home. Luckily, there's a pot of gold at the end of the rainbow: a virtual team-building company can help you save time and plan a flawless St. Paddy's Day virtual event that your team will love. Grab your shillelagh and explore some hosted St. Patrick's Day virtual activities that will have your team feeling connected, no matter where they are.
Pricing: from £16/$19 pp
Group size: 8-500
Duration: 30-60 minutes
Virtual St Patrick's Day Trivia is the perfect activity to boost employee morale and spread some Irish cheer! The professional host will make sure that the mini-games are jam-packed with fun and excitement, covering various topics like Irish culture, music, artists, and the origins of St Patrick's Day. Your remote team will have the opportunity to show off their skills in every round, whether it's their pop culture expertise, drawing abilities, or historical knowledge. Grab your headphones and don't forget to wear green to ward off any pesky leprechauns!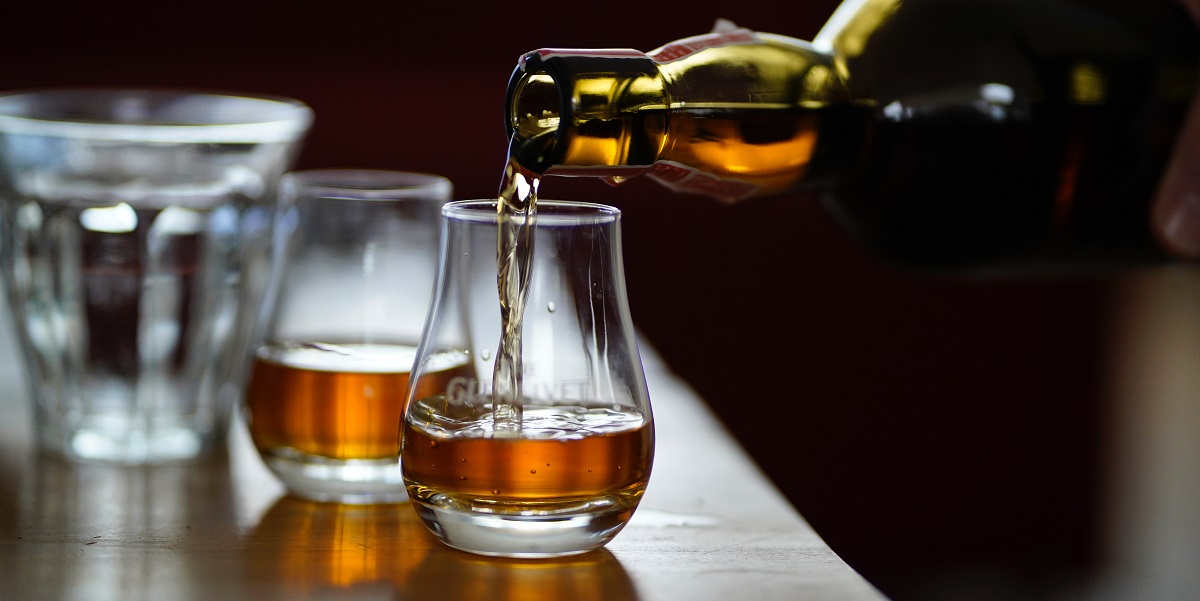 Pricing: $ 100 per person
Group size: 2 to 50
Duration: 60 minutes
The Whiskey Tasting experience highlights the craftsmanship and artistry of small-batch whiskey producers and supports their independent businesses. This interactive and educational experience is perfect for teams looking to explore the distinctive tastes of whiskey and strengthen their bonds. The event is led by professionally certified hosts who are enthusiastic about sharing their knowledge and stories. Participants will use tasting techniques, custom digital materials, and hands-on approaches to gain insight into this complex and fascinating alcoholic beverage. Grab a virtual glass, support small businesses, and enjoy some amazing whiskey!
Pricing: £400/$510
Group size: 2 to 100
Duration: 80 minutes
Whacky Wager Betting is a unique way to add some excitement to your St. Patrick's Day celebration. This virtual betting extravaganza will have you on the edge of your seat as you place your bets on a variety of live races, games, and contests. With the special virtual bucket coins, forget about cash and focus on the fun. From Lego coaster races to head-to-head competitions, this night of betting madness has it all. Plus, with breaks in between races to socialize and enjoy your favourite tunes, it's the perfect way to bond with your colleagues.
Pricing: from £30/$36 pp
Group size: 2 to 1000
Duration: 3 hours
Looking for something fun and creative to try out? Try your hand at our online bunting making and have a blast connecting with your colleagues.
Whether you don't know Anna or Vicky from the other team, our bunting class will help you get to know each other within an hour. Participants will collaborate as a group while working on an elegant string of bunting made of beautiful fabrics tailored for any occasion. The colour scheme, theme, and event can be fully personalised as per your St Patrick's Day requests. Make your home office space or party venue stand out with a unique string of decorative bunting, personalised to commemorate the upcoming St Patrick's Day!
Fun & Engaging Ideas to Celebrate Virtual St Patrick's Day
While we may not be able to gather around and celebrate the patron saint of Ireland in person, let's not let that dampen our spirits. We, remote warriors, have the advantage of exploring innovative ways to make this year's St. Patrick's Day a memorable one. Raise your glass of green beer and buckle up for some fun-tastic ideas that will bring your team together, without having to leave the comfort of your own home office. Let's give our remote workplace a touch of Irish luck and make it a celebration that will leave everyone green with envy!
5. Virtual Irish Dancing Class
Pricing: On request
Group size: 6 to 90
Duration: 45 minutes
Whether you're a seasoned pro or a complete novice, the Virtual Irish Dancing Class is the perfect opportunity to learn a few basic steps and burn off some energy. You can hire a professional dancer to lead the class or follow an online tutorial, adding to the excitement and challenge of the event. Either way, you'll find yourself swept up in the rhythms and beats of Irish music, tapping your feet and feeling the energy of the dance.
6. Virtual Irish Food Tasting
Tantalize your taste buds and bring a little bit of Ireland to your remote workplace with a Virtual Irish Food Tasting! Each employee can prepare a traditional Irish dish, such as Shepherd's Pie, Corned Beef and Cabbage, or Irish Soda Bread, and share their recipe with the group. It's a great way to showcase your cooking skills while learning more about Irish culture and cuisine. It's the perfect opportunity to share stories, laughs, and delicious food, all while celebrating St. Patrick's Day.
7. St. Patrick's Day Bingo
St. Patrick's Day Bingo is a lively and interactive activity that is perfect for bringing your team members together while indulging in some St. Patrick's Day-themed fun and games. Each square on the bingo card is filled with a St. Patrick's Day-themed activity or task, ranging from dressing in green to singing an Irish song, allowing everyone to get creative and showcase their skills. As each employee takes turns calling out the numbers and completing the tasks, you'll find it's easy to bond and connect, even while working remotely.
Creative & Easy Activities to Engage with Your Remote Team
Whether you're looking to add a splash of green to your virtual holiday happy hour, or just looking to keep your team entertained with some creative and easy activities, we've got you covered. From shamrock crafts to green cocktails, there's something for everyone in this post. Put on your greenest attire and let's dive into the world of St. Patrick's Day festivities!
8. Limerick Contest
Limerick Contest is a great way to bring some good old-fashioned Irish fun and humour into the remote workplace. This light-hearted and engaging activity is perfect to showcase your team's creativity and humour while celebrating St. Patrick's Day. Each employee can take turns reciting their favourite limericks, offering up their best jokes and clever wordplay. From bawdy to silly, the limerick format is perfect for unleashing your inner comedian and getting the entire team laughing. And with the added challenge of delivering the limerick with style and panache, this contest is sure to bring out the best in your team's performance skills.
9. Greenest Workspace Contest
Greenest Workspace Contest is perfect for getting your team members excited and involved while showcasing their creativity and love for all things green. The contest is simple — each employee gets to make their workspace as green as possible. This can involve adding plants, and decorations, or even dressing up in green, allowing everyone to showcase their unique style and creativity. And the best part? It's easy and fun, requiring nothing more than a little creativity and some enthusiasm.
Bonus Suggestion
10. Virtual Pub Crawl
Are you missing the camaraderie of a good old-fashioned pub crawl? Fear not, because, with the Virtual Pub Crawl, you can enjoy all the fun and excitement of a night out on the town from the comfort of your own home. This highly entertaining and interactive activity is perfect for St. Patrick's Day and will allow you to bond with your colleagues in a new and unique way.
The Virtual Pub Crawl works just like a regular pub crawl, with employees taking turns leading the group to a "new bar." Only in this case, the bars are the participants' homes, and everyone gets to show off their favourite room or drink recipe. This is an excellent opportunity for everyone to get creative and showcase their favourite beverages and spaces, adding to the fun and uniqueness of the event.
Of course, no pub crawl is complete without some lively conversation and laughter. You can share jokes and anecdotes, play games, or simply catch up with each other while enjoying the drinks and tours. And with everyone in good spirits, you'll find it's easy to bond and get to know each other better, even from a remote location.
Virtual St Patrick's Day FAQs
What is virtual St Patrick's Day?
Virtual St. Patrick's Day is the celebration of all things Irish in the digital realm! This festive occasion is a shamrock-soaked extravaganza that has become all the rage in recent times. It's a celebration of the patron saint of Ireland, where people from all over the world come together to raise a glass, share some craic, and revel in the Emerald Isle's rich culture and history.
What are the best ways to celebrate St Patrick's Day remotely?
Firstly, why not organize a virtual pub crawl? You can sample different drinks from various locales while enjoying some lively conversation and maybe even some virtual karaoke. If you're feeling crafty, have an online DIY party and make some St. Patrick's Day decorations or homemade Irish soda bread. You can share recipes, show off your creations, and maybe even learn a new skill or two. If you're looking to get a little more active, why not try an online yoga session inspired by the rolling hills of Ireland? You can don your finest green activewear and sweat it out with your fellow Irish enthusiasts. And let's not forget about the music — St. Patrick's Day is nothing without a good old-fashioned singalong.
How can virtual St Patrick's Day activities help my team bond?
Virtual St. Patrick's Day activities are a great way to inject a bit of humour and lightheartedness into your work environment. They offer a chance to break away from the monotony of the day-to-day and engage in some good old-fashioned fun. But more than that, virtual St. Patrick's Day activities provide an opportunity for your team to work together and collaborate in new and exciting ways. So why not give it a go? You might just be surprised at how much your team can achieve when they're having a bit of fun. Who knows, maybe you'll even find your pot of gold at the end of the rainbow — in the form of a happier, more productive team.
When can I host an online St Patrick's Day celebration?
The answer is simple — anytime is a good time! Whether you're looking to build culture, onboard new team members, connect with a team in Ireland, or just have some good old-fashioned fun, there's never a bad time to celebrate all things Irish.
How can I plan a virtual event for my team?
If you're feeling crafty and have a bit of spare time on your hands, you might want to consider planning a virtual event for your team on your own. You can create a theme, come up with some fun activities, and even put together a digital gift bag for your team members. Just be sure to keep in mind that DIY virtual event planning requires a bit of time, effort, and creativity, and may not be suitable for those who are short on time or in need of professional expertise.
Alternatively, if you're looking for a hassle-free and professional experience, you might want to consider enlisting the help of a virtual team-building company. These companies specialize in creating unique and engaging virtual experiences for teams of all sizes and backgrounds. They can handle everything from event planning and logistics to facilitation and post-event follow-up, allowing you to sit back and relax while they do the heavy lifting.