Top 21 Virtual Halloween Party Ideas for Work + Free Halloween Templates
Published on 1st November 2022
Virtual events
›
Top 21 Virtual Halloween Party Ideas for Work + Free Halloween Templates
With many offices adopting a virtual or hybrid work environment, organising your usual Halloween Scavenger Hunt at the office or a Trick or Treat. Luckily with virtual Halloween parties, you can easily host a spooky Halloween party with remote colleagues in any location. Virtual Halloween party games and activities are an effective and unique way to encourage a sense of unity  and celebrate the 31st of October in scary style. 
There are tons of ways you can make Halloween special for employees despite the distance, so take a look at our collection of creative ideas, activities and games to ensure that you and your team enjoy a memorable Halloween party this year!
Fun and Lighthearted Virtual Halloween Activities for the Office
Planning a successful Halloween party for your remote team is a lot of work. However, with a little bit of help from your virtual party planners, you can forget about party planning dread and hop on the fun bandwagon with your peers! While most people love a creepy activity on Halloween night, you might want to skip the goosebumps and chills and keep things  on the lighter side. A fun and lighthearted virtual Halloween activity will be far more inclusive and engaging for those who are not horror buffs. So skip the fright, and plan something light this Halloween!
Pricing: starting at $65 pp
Group Size: 6-200
Duration: 60-min
Why visit a haunted house when you can decorate your own and then devour it? (insert evil laugh) A Haunted House Decorating Class is the perfect team-building activity to help your team get to know each other this Halloween. This decorating class is not only about creating something tasty and pretty, it will help participants learn something useful while providing instant stress relief too! With kits delivered to everyone's doorstep, this Haunted House Decorating Workshop is every foodie and Halloween buff's dream. It's time to work your magic!
Pricing: starting at £16/$20 pp
Group Size: 6-400
Duration: 60-min
Which one of these is a treat? Witch's brew, ghouls, or goblins?
Things are about to get spooky and humorous with Spooky Team Quest, a spooktacular Halloween Trivia game crafted with team building in mind. This Halloween experience features 6-7 Halloween-themed mini-games such as Fact Matching, Pictionary, or Trivia and is fully hosted by a professional emcee. Test your employees' wits with this interactive Halloween trivia game while they compete against each other in small groups. Spooky Team Quest has all the things you need for a successful virtual Halloween party at work, from candy corn to Beetlejuice songs! Our vetted emcees will ensure that everyone has a heck of a time! With a dedicated event producer at hand and customisable options, Spooky Team Quest is a Halloween favourite!
3. Halloween Costume Contest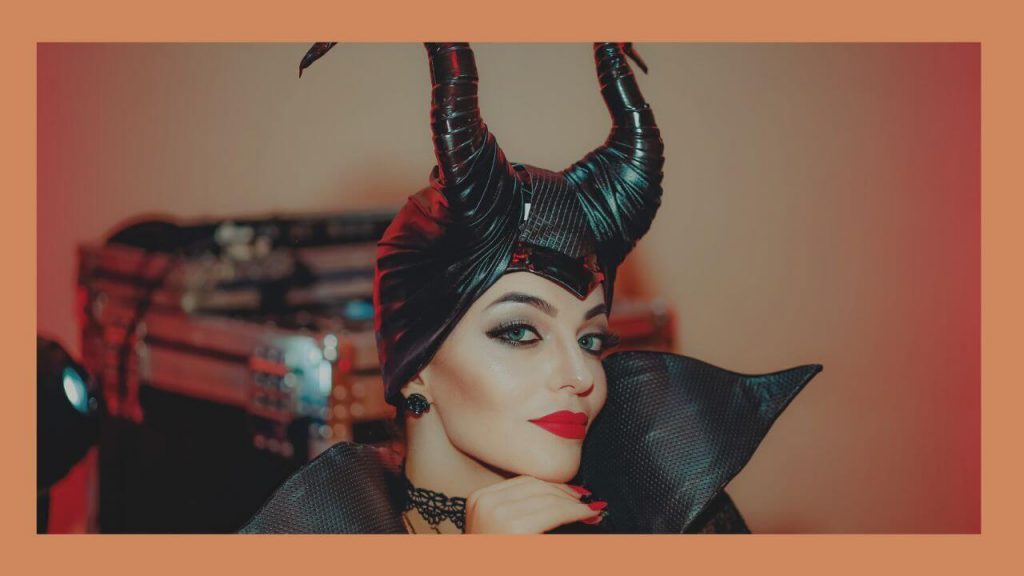 Pricing: free
Group Size: Any
Duration: All day
If there's one thing we all love about Halloween, it is the dressing up part! So whether you love goofy costumes or elaborate ones(we're thinking Heidi Klum here!), a Halloween costume contest is something that you simply can't skip! Ask your colleagues to come up with their best costumes and give away prizes for specific categories such as the most original, the most unique, the creepiest, and the funniest, that way you'll get most people involved and encourage them to dress up for the occasion!
Pricing: from £18/$25 pp
Group Size: 5-500
Duration: 30min -1 hour
Skip the tricks and show some appreciation to your employees this October by treating them to some Halloween goodies. The Halloween Pack is all you need to get your creep on. You get to choose from three different packs that include unusual snacks like Italian Cheese Pita and various beers. To turn your office Halloween into a grand celebration, have Halloween cocktail boxes sent to everyone, hop on Zoom, play some Halloween tunes, and watch your team have a ball!
5. Halloween Karaoke Party
Pricing: Free
Group Size: No limit
Duration: 1 – 3 hours
'This is Halloween, this is Halloween. Everybody, make a scene'. Some may love and some may loathe karaoke nights, but after a couple of drinks, your employees will have no trouble unleashing their inner Beyonce! Use Watch2Gether to set up your virtual karaoke bar. You can make the event more interesting by adding your crew's favourite Halloween tracks to the playlist! Now it's time to scare or impress your mates with your singing! 
Here are two of our favourite Halloween Karaoke Playlists to get you started:
6. Pumpkin Carving
Carve-carve baby! What's Halloween without pumpkin carving? Pumpkin carving is a family-friendly event that is perfect for getting your employees' kids and partners involved in a fun Halloween team-building activity. Pumpkin carving doesn't require prior experience and can be taught by anyone in your group. Designate your virtual pumpkin Halloween host and watch the magic happen!  Working with your hands is an excellent exercise to promote mental well-being and a great way  to unwind after a day of work! Host your remote Halloween festivities via Zoom where you can both chat and see everyone at the same time! You may also send the required supplies to everyone and hold a Halloween Most Gorgeous Gourds Contest during your party. 
Do you want your pumpkin carving experience to be extra special? Check out Maniac Pumpkin Carvers for a pumpkin-licious event!
7. Wine and Candy Pairing Experience
Halloween is about the tricks and treats; however, considering your employees' workload, you might want to skip the tricks this season! Host a devilish wine party and pair it with your employees' favourite Halloween snacks! Swap the cheese for Skittles and Pumpkin Pie Bites and pair them with a bottle of fine wine. You may even opt for a fully hosted wine experience and keep your treats next to you throughout the event. Don't forget to ask everyone to get the snacks ahead of time or order them some unique Halloween treats from Amazon. Glow-in-the-dark sticks – optional!
8. Tarot card reading
It's time to unveil your bright future! Virtual tarot reading is a super original activity to treat your team to something truly magical. It's recognised by many as a great mindfulness tool. So, hire a tarot reader for your employees to help them discover something new about themselves. The tarot reader will dedicate time to each participant and have them pick three different cards representing  their past, present, and future. The symbols on the cards are then interpreted. While tarot reading might not be a hundred percent accurate, it will certainly provide your team with insights for self-development and get them in the holiday spirit! 
9. Spooky-tasty Cooking Show
 'Me Want Cookie! ' Wondering what monsters eat? Cookies, of course! We're talking about delicious Halloween cooking here! Order some Halloween cookie cutters for your people and start cooking together! You can download a simple cookie recipe, share it with participants, and get on an online platform together to start your Cookie Monster adventure! Don't forget to send the ingredient list and have the cookie cutters delivered on time! And if the monsters chase you, just throw a cookie at them! (trust us, it works!)
10. Party Monsters
Time to shake a leg and embrace your inner Michael Jackson. Show them your killer moves while dancing to your favourite Halloween tunes. As long as you are playing classics like Iggy Pop's Monster Men to fantastic movie soundtracks like Thriller Night or Beetlejuice, hosting a free virtual Halloween dance party won't cost you anything and it's a guaranteed exercise to get everyone's blood pumping! It's a great Halloween activity for your employees' mental and physical health. Get everyone involved by creating a list of their favourite songs and simply play the music on Zoom when the time comes. You can use the screen sharing feature to share audio on Zoom via Spotify as well. Simply open Spotify and play your songs! Time to dance your little hearts out!
Check out some of the best free Halloween playlists on YouTube:
11. Halloween Home Office Decor Contest 
Crank up your team's creativity by throwing a Halloween Home Office Decorating Contest. Although carried out virtually, this Halloween activity will get your team busy coming  up with great Halloween decorations and turning their home offices into a dreamy or horrifying scene where they carry out their wicked deeds aka work! Pick a theme such as a movie or an era to create the most unique space ever. Set up a deadline and an award for the top three most original or spookiest working spaces where you wouldn't dare step.
Creepy Halloween Office Party Ideas
Let's skip the treats and jump right into the hair-raising stuff! Being part of a creepy Halloween activity is a lot less scary when done together. Whether it's a horror movie night, a virtual escape room, or a murder mystery game, your team will certainly feel braver when tackling their fears together! So, here are our top terrifying Halloween office party ideas:
12. Horror Movie Marathon
A spine-chilling movie night is a surefire way to get everyone at work in the Halloween mood. Not only will employees discover each other's movie preferences but they'll also get to share their fears! All they need for this event is a platform like Netflix Party or Metastream where they can gather and watch the best Halloween movies of all time! Don't forget your Halloween munchies! Wondering what to watch?
Here's our Top 8 Halloween Movies for a thriller night:
13. Haunted House Show and Tell
Can you hear the door creaking? Haunted House Show and Tell is a creepy and entertaining activity to discover eerie places together. Nobody will label you as a scaredy-cat after this brave experience! You may even ask the haunted house fans at work to visit one of their favourite spooky homes and take you all on this journey! All you'll have to do is pick a time and date and make sure that your host has a stable internet connection and their ghostbuster gear on! Here's a list of the most popular haunted places in the UK and here's another list of famous haunted houses in the U.S. If you're working with an international team, this event will certainly be a lot more educational and culturally rich!
Looking for a professional host for this virtual Halloween activity? Check out this Halloween walk-through guide to book your g-host!
14. Swap a Horror Story Party 
Everyone enjoys a good horror story. Although your team might be physically apart, a horror story-sharing party might be a good way to get friendly conversations started. Ask your team to set the mood by lighting up some candles in their room and decorating their space for this virtual experience. Alternatively, you can consider a virtual campfire for a more immersive experience. Decide on the number of stories you want to share depending on how many people will attend the event. Ask your guests to come prepared to share a ghost story or read a horror story to the group. It can be anything from Poe's The Fall of the House of Usher to a made-up story. The aim of this exercise is to share horror stories and then lighten up the mood with the participants' thoughts and some jokes! If you're hosting a large event, you can simply designate one or a few storytellers while the rest sit and listen!
Virtual Halloween party games don't have to be a burden for HR managers and leaders. Hosted-murder mystery games are fuss-free experiences where you won't have to lift a finger and can fully partake in the event. Murder mystery games are known for being effective in promoting team collaboration and cooperation, these Halloween games can be hosted at any time of the year to increase employee engagement and improve morale.
Take a look at our top 3 picks for your Halloween gathering.
Pricing: £600/$815 pp
Group size: 8-20
Duration: 105-min
Enter the spine-chilling world of Jury Duty where your team acts as online jurors to determine whether the culprit has been falsely accused or not. Participants will decipher puzzles, and gather clues to work out the case and solve the crime. A man was found dead and you have only 105 minutes to bring justice to the victim. Employees will collaborate and immerse themselves in a Halloween game like no other where they have to navigate the investigation world, interrogate a live suspect and crack the case. Jury Duty is an award-winning 'whodunnit' that will simply blow your guests away!
Pricing: £30/$42 pp
Group size: 6-35
Duration: 75-min
Plymouth Point is a hair-raising Halloween party game for teams. You've probably already heard of this masterpiece as its been praised by countless sources. This hunt-a-killer game involves finding Ivy, who has mysteriously disappeared. You join the Residents Watch emergency meeting to discover some clues and leads about Ivy's disappearance. Full of twists and deceits, Plymouth Point is ideal for bringing your team together this Halloween as they unravel mysteries together. Will they bring Ivy back home or is it too late to save her? Find out what happened to Ivy in this 75-minute Halloween crime adventure!
Pricing: £16/$20 pp
Group size: 4-32
Duration: 60-min
We all love a good old fairytale on Halloween except that this isn't your ordinary bedtime story! Closer to the Grimm brothers' Hansel & Gretel grim version (excuse the pun!), this murder mystery game will intrigue your team and keep them on the edge of their seats till the last minute. Enter the eerie world of the Black Forest where Hansel and Gretel have disappeared. They were last seen at the crone's house. Could they be the next victims of the witch's cauldron? Work your magic and bring Hansel and Gretel back home! Participants will love the detailed graphics of this game where everything can be explored. Hansel & Gretel is a great Halloween game to awaken childhood memories and encourage creative problem-solving with your colleagues.
Running away from your work responsibilities can be loads of fun until you find yourselves stuck in a virtual escape room on October 31st! Only by putting your brilliant ideas together, you can escape from  being trapped in a room full of ghouls, monsters, and more on Halloween night! Halloween virtual escape room games are designed for team-building experiences that focus on problem-solving and brainstorming. They are not only ideal as a Halloween game but also at any time of the year!
Here are our top 3 picks for a spooktacular Halloween party:
Pricing: £21/$24 pp
Group size: 2-200
Duration: 90 mins
Here comes the long-awaited Halloween Dinner at the prestigious Hogwarts School of Witchcraft and Wizardry! Once every year, Hogwarts hosts its annual Halloween dinner party for all students; however, this time something's different- the dining hall is guarded by 'Nearly Headless Nick', a mischievous ghost who won't let anyone enjoy the delicious gummy worms and pumpkin bread! Teams get to play as Harry Potter, solving puzzles and finding a creative solution to Nick's mischief to get into the dining hall. Hurry up before the apple pies are turned into stale bread!
Pricing: £38/$50 pp
Group size: 10-600
Duration: 60-mins
If you're anything like us, you probably hate the idea of being locked in a basement! Luckily this time, you're locked in with your colleagues in a virtual basement. However, if you don't find a way to get out of this sinister place, you might soon be trapped for the rest of your days. Basement Escape is a Halloween activity that will put your team's survival skills to the test and help you discover your team's strengths and weaknesses. Fully hosted by an entertaining emcee, Basement Escape is sure to get your adrenaline pumping this Halloween!
Pricing: £16/$20 pp
Group size: 4-32
Duration: 60 mins
Another basement… another mystery for you to solve. It's the year 1984, you're set for your weekly session of Catacombs and Creatures when you realise that the Catacomb Master has vanished. You have an hour to find out what happened to your friend before it's too late. Wondering why your team will love this Halloween team-building activity? Participants will be transported to a mythical world and travel to the 80s in a flash. With its impressive illustrations and a gamemaster with fantastic story-telling, this mind-boggling virtual escape room game will certainly delight your team!
Virtual Halloween Games for Work with Free Templates
You don't have to break the bank to host a fantastic virtual Halloween activity. With our free Halloween game templates, you can create your customised Halloween activity for work and have a blast! 
17. Halloween-themed Icebreaker Questions
Onboarding some interns this autumn? Why not welcome them with a Halloween-themed icebreaker exercise? Icebreakers are perfect for discovering some fun stuff about new and former employees! Halloween is a great opportunity to discover the fears, likes, and dislikes of new joiners. Moreover, it's an enjoyable and original Halloween activity that will allow employees to relax and enjoy Halloween at work for a little while! You can come up with your own Halloween icebreaker questions or simply use our free template below for your convenience! 
18. Halloween Movie Edition Trivia Night
Halloween movies are great, but trivia questions based on movies are even better to test your team's pop culture knowledge. Our 13 questions are meant for a quick trivia round with your team. We recommend carrying out this exercise in smaller groups of 3 to 5 so that everyone gets the chance to participate. Use our free Halloween Trivia template for some inspo and add your own terrifying questions to the list!
19. Virtual Halloween Scavenger Hunt 
Halloween virtual games can take your usual Halloween trick or treat to the next level. So why not take advantage of online platforms to make the most of your Halloween virtual party? Virtual scavenger hunts are entertaining and easy-to-host activities that are typically carried out during team-building events. A Halloween-themed scavenger hunt is a unique twist on your traditional treasure hunt and is a surefire way to revive team spirit. Feel free to share our ready-made template with your colleagues or create your own. For more free scavenger hunt templates, head to our blog post!
How to get started:
Pick a time and date for the scavenger hunt.
Choose a convenient online platform such as Zoom or Google Meets.
Designate a host and the amount of time to complete the scavenger hunt. (30 minutes is ideal)
Use breakout rooms for teams to split into smaller groups and collaborate.
Motivate your employees by adding a spooky prize to the contest!
20. Virtual Halloween Bingo 
A Halloween Bingo Party is ideal for all group sizes. With virtual cards, you won't even have to print out the cards, simply randomise the squares and send a different card to the players. We made a template for you to share with your team. To play the game, pick a convenient time and date for everyone. We advise splitting larger teams into smaller groups so that there's more interaction among the participants. Participants have to back up their choices when filling up the spaces. Don't forget to set some rules before playing, particularly for those who have never played the game before.
Here's our free Halloween Bingo Template for you to share with your crew!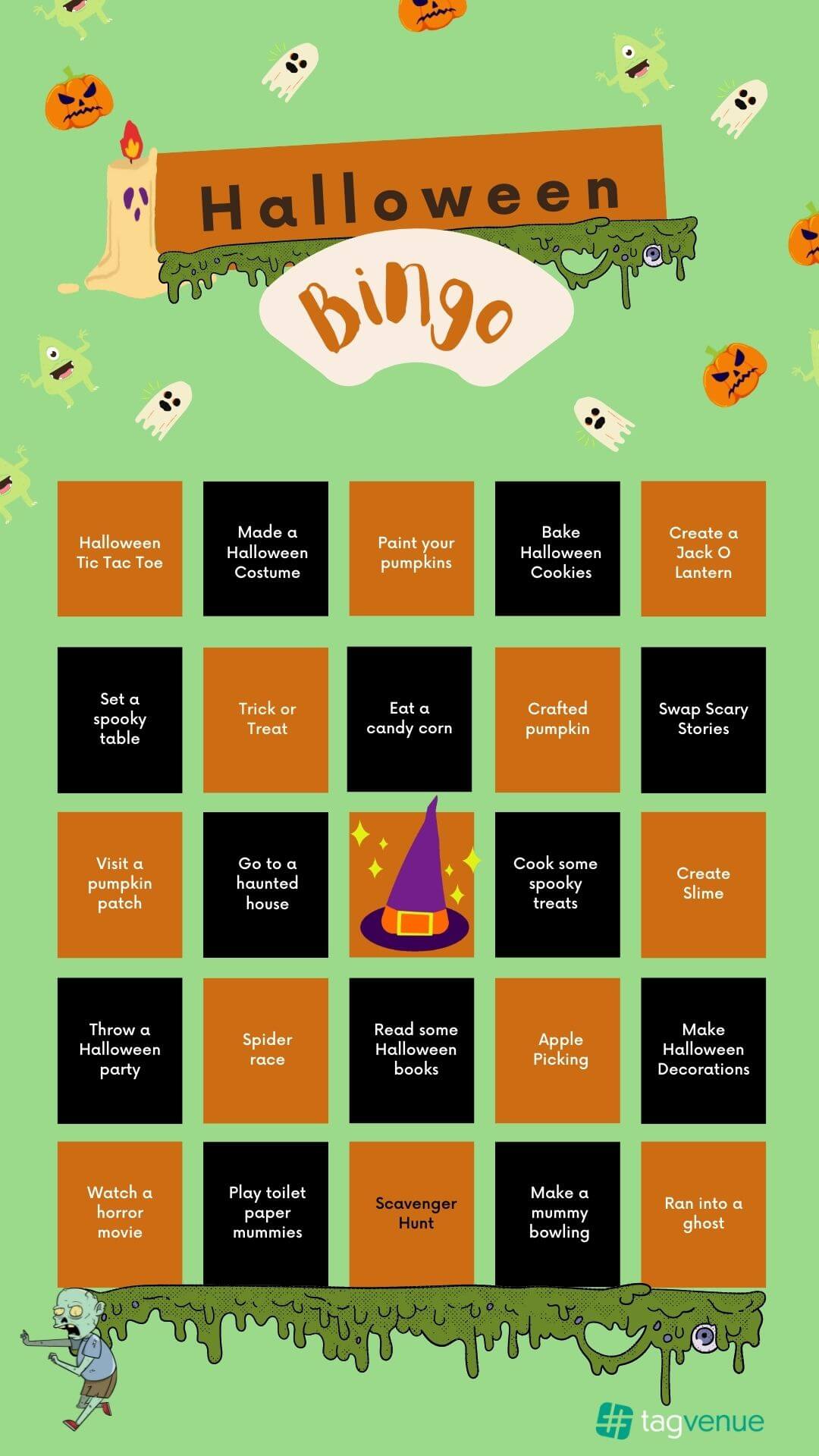 21. Free Halloween Zoom Backgrounds to get your creep on
Last but not least, are some Halloween backgrounds that you can add to Google Meet or Zoom throughout October to bring the festive spirit to your virtual office. To add them to your preferred platform, simply click on the arrow on the video icon and choose the virtual background option from the pop-up. You can choose from among the available options, upload ours or create your very own on Canva and, voila, you're all set! Halloween Backgrounds are an easy, fun, and free way for you to celebrate the holiday, it's also a fail-proof way to bring some fun to the office without forcing anyone to engage in an activity that they might not want to. However, we recommend using this opportunity to engage your employees and add some life to your remote office! 
Final Thoughts
Remote work has certainly changed how we organise our office celebrations. This change has led to a positive rise in virtual activities and games that are perfect for ensuring that remote employees can enjoy social interaction despite the distance. Virtual Halloween Activities and Games are effective for boosting employee engagement and building a happier team. Whether you decide to host a creepy Halloween activity like a murder mystery game or a lighthearted one such as a Haunted House Decorating Class, we recommend planning the event at least one or two months in advance so that everyone has sufficient time to prepare for the event! 
We wish you a spooky and convivial Halloween! Fangs for reading!
FAQs: Virtual Halloween Party Ideas for Work
What are Virtual Halloween Party Ideas for Work?
Online Halloween Party Ideas are simply activities and games that can be carried out on a virtual platform for remote employees. They can be anything from pumpkin carving to Halloween-themed Trivia. These Halloween activities aim to bring your team together to celebrate a well-known and loved holiday. It's important to remember that some employees share different cultural views regarding Halloween and may not want to engage in some activities. The best way to make sure that everyone engages in the experience is to select an activity that suits everyone such as a Halloween trivia, murder mystery game, escape room, or haunted house decorating class.
How can virtual Halloween games and activities help my team bond?
Halloween is all about having fun with your family, friends, and colleagues. While a virtual Halloween party may be slightly different from an in-person one, virtual Halloween activities and games are a must for remote teams that need connection and social interaction. These activities and games facilitate communication among colleagues and help them discover interesting facts about each other. In addition, these games and activities also help in building a cohesive team through creative problem solving and collaboration.
Where can I host a Virtual Halloween Party for Work?
You can use any regular platform. You may host your online Halloween party on platforms such as Zoom, Google Meet, Skype, or WebEx. Remember to plan at the earliest as the capacity of every platform differs from another. You can easily host a virtual Halloween scavenger hunt, Halloween Bingo party, and Halloween-themed trivia on platforms like Zoom for up to 1000 participants. If you're hosting the event on your own, don't skip the Halloween-themed backgrounds for the ultimate holiday vibe.
What are some free virtual Halloween activities that I can host for my team?
Take a look at our free Halloween Icebreaker Questions, Halloween Bingo Sheet, and Halloween Scavenger Hunt Templates for some inspiration. You may personalise your own games and use our free blank templates. All you have to do is share them with your colleagues and connect on a platform to play the games. You may even come up with your own murder mystery script for the occasion or simply host a Horry Storytime where employees share their creepy experiences or a made-up story with each other. Whether you're self-hosting a virtual mixology party or a virtual Halloween scavenger hunt, make sure to plan at least a month and get some colleagues involved in the party planning process!
How can I host a Halloween Zoom Party?
It all depends on whether you're planning a fully hosted virtual party or organising your very own. First, you will need to choose your Halloween activity and decide on a date and time that works for everyone. It is recommended that you host the event for no longer than two hours  so as not to bore or exhaust your guests. Send your invites to the guest once the date is confirmed. Add a Halloween-themed background to your Zoom activity and ask everyone to dress up for the occasion and get ready to PAR-TAY!