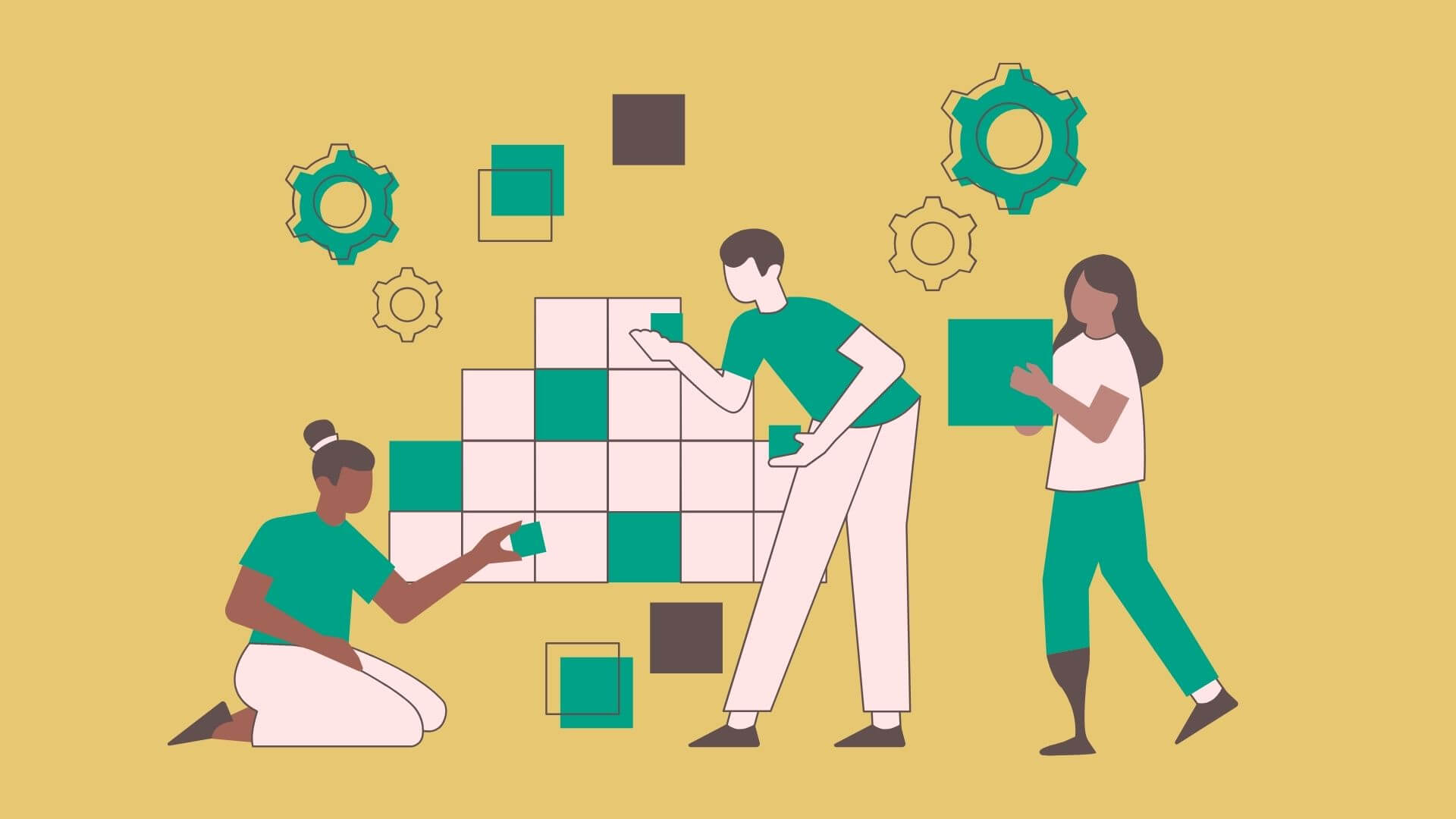 21 Professional Development Activities and Ideas for Hybrid Teams in 2023
Published on 6th December 2022
Virtual events
›
21 Professional Development Activities and Ideas for Hybrid Teams in 2023
Professional development is the ongoing process of learning and acquiring skills, with employee career advancement being the primary goal. Professional development can be anything from public speaking training to a diversity and inclusion workshop- these activities serve as a means for employees to improve their job performance through learning.
According to Slack, employees given professional development opportunities have higher job satisfaction, are more engaged and therefore more productive at work.
In this article, we discuss the role and importance of professional development, then activities and ideas that business owners, team leaders, and HR managers can implement in their company.
Discover our Learning and development activities
What is professional development?
Professional development sounds like a serious term, and although it refers to broadening an employee's career opportunities and fueling growth, it mainly focuses on the continued training and learning of an employee regarding their career. Professional development aims to keep employees updated on current trends and equip them with new skills and knowledge to advance in their professions. Professional development is not limited to certifications or licensures; many other activities and ideas can help employees develop.
Why is professional development important?
Employee development not only empowers employees or boosts employee morale, but it allows your staff to hone their skills and talents through new knowledge. When providing employees with new abilities, companies also lower their turnover rate. Businesses with higher employee morale will likely invest time and money in learning and development strategies. Other than that, it makes room for career advancement and helps your staff become quick learners and key performers. Investing in outcomes directly linked to business performance ensures that your employees will be vital long-term contributors to your company's success. In short, employee development helps boost business competence and increases employee loyalty and motivation.
Ideas and Activities for Professional Development
There are numerous ways for employees to develop themselves professionally, from self-learning to regular workshops. We've compiled a list of ideas and activities that could be useful when planning your professional development strategy.
Virtual Professional Development Workshops (Hosted)
You might be thinking that professional development activities are hard to host but it's not! There are many virtual workshops on Tagvenue Virtual to promote career growth within remote or dispersed teams. Hosted workshops means all employees can skip the preparation, attend the workshops and learn something new together.
Let's start with a creative one: visual thinking. People who are visual learners typically recall an idea better when it is presented with visuals like signs, symbols, and keywords. Wordy ideas can be easily forgotten, but visualising them helps the message stick. Visual Thinking workshops emphasise the use of straightforward diagrams to structure and present ideas. Visual thinking is a communication technique that fosters innovative problem solving and improved presentation abilities. Such workshops are great for new joiners and leaders alike.
Some are born leaders. Others require a gentle push. Successful leaders inspire their followers, whether it's by their actions or words. Employees can benefit from leadership exercises that help them discover and capitalise on their individual leadership styles. Leadership skills can be practised. Hone your employees' leadership strengths by helping them become leaders in their fields and beyond. By learning how to handle leadership challenges and understanding their strengths through well-crafted activities, employees can better manage themselves and others.
Leadership Incubators are excellent for tapping into female talent. Pink Careers says more than 50% of women find it hard to see themselves as leaders. Leadership incubators are 6-month-long programs where women learn everything from building a personal brand, to managing people and mentoring others. Carried out on a monthly basis, participants get the chance to grow their leadership skills through executive coaching, guided worksheets, on-the-job assignments, and more. Depending on your budget, you can either attend an intensive online leadership workshop once every quarter or help your female talent embark on an intensive leadership program of 6 workshops!
Professional development is not only about how to be the best at your job but also about creating a happy and healthy work environment for your employees. The term burnout is often confused with stress; however, burnout is more like the culmination of stress. Therefore, HR managers and leaders must keep track of their workforce's mental health to ensure they don't burn out or become disengaged at work.
Burnout management workshops focus on providing your team with the right tools and resources to prevent eventual burnout. By learning the causes of stress and burnout and adopting the right practices, employees improve their performance and contribute to a healthier work environment.
Personal branding is key to your employees' professional development. Personal branding is all about setting yourself apart from the rest and learning about tapping into your greatest asset: You! Personal Branding workshops help employees learn about themselves and discover how to present themselves, communicate assertively and take control of their careers. In addition, these workshops focus on practical leadership strategies that empower your team for long-term professional success. By teaching your employees how to leverage their personal brands and maximise their management skills, you ensure that you're building a resilient workforce, ready to take up new challenges.
Professional development is not limited to management and leadership issues. It also includes other aspects of employee development, such as diversity and inclusion. While everyone knows that diverse and inclusive workplaces tend to outperform competitors, many don't understand what a diverse and inclusive environment is and how they can promote these values inside and outside the workplace. This Diversity, Equity, and Inclusion Workshop carried out online helps foster a more productive environment and happier employees as they acquire skills and learn new terms and concepts that will help them enhance their interpersonal skills and help colleagues from minorities feel more valued and respected at work.
Similar activities: LGBTQ+ Allyship Workshop, Diversity and Inclusion Consulting
Read more about LGBTQ+ activities that you can include in your professional development strategy.
Easy-to-implement Professional Development Ideas
When you're a startup or a team of only ten people, it is challenging to invest in professional development workshops or invite a guest speaker to your company. From presentations to book recommendations, we've come up with different career growth ideas for you to implement at work through presentations, guides, books and daily learnings.
6. Conflict Resolution
Remember that unresolved conflict with Sharon in March 2020? If you do, you might consider a conflict resolution workshop. Conflicts are inevitable when employees work towards a similar goal. By organising a conflict resolution workshop or regular presentations, employees are prepared to effectively handle conflicts and resolve differences positively. Conflict resolution workshops are excellent for helping employees understand the root of conflict and learn how to prevent a situation from escalating into a full-scale problem.
But hey, you don't have to splurge on a conflict resolution workshop to get started, check out some of these books to add to your office library.
Difficult Conversations, Bruce Patton, Douglas Stone, and Sheila Heen
Crucial Conversations, Joseph Grenny, Kerry Patterson, Al Switzler, Ron McMillan
Getting to Zero, Jason Gaddis
The Power of Conflict, Jon Taffer
7. Performance Review
Performance appraisal, performance evaluation, or however you may call it, is typically something that employees dread. The pressure is real on both sides. Line managers are required to proceed with tact, while employees are fearful of negative feedback. When you're tennis buddies, it can be tough to comment on your colleague's performance. Performance review workshops, training, and presentations equip managers with the required skills to perform those dreaded employee evaluations.
Wondering how to proceed? Check out this free guide by the University of San Diego to help you craft a successful performance evaluation workshop. Don't forget to adjust it to your employee's needs.
8. Presentation Skills
Ah, you're probably thinking not again. Presentations are often perceived as a waste of time. Yet, confident presenters can wake you up from your midday snooze with their charisma and brilliant presentation skills. If you want your employees to acquire the presentation skills that will leave everyone impressed, focusing on presentation skills is your best bet. No matter which line of business you're in, presentations are bound to take place, so why not hold a workshop that your employees will find helpful?
To help you get started, share these tips from Carmine Gallo, a famous keynote speaker, with your staff!
9. Mentorship Program
Mentorship programs are popular in renowned companies like Accenture, where they integrate mentorship into their buddy system. New joiners are guided to develop as much as they can during their first months at work. Mentors can help employees in many different ways. They can support staff in their professional development, guide them and help them build a professional network. The most successful mentorship programs allow employees to develop long-term relationships with their mentors.
Learn more about impactful mentorship programs here.
10. Clear Communication
Whether you're working in a remote or hybrid environment, there's bound to be a communication gap among your employees. For corporate companies, it can be hard to keep track of who needs support to improve their communication skills. Therefore it's a good idea to introduce the need for clear communication at the earliest of an employee's career. It can be done by offering some notable communication skills books or by conducting quarterly training sessions. Whichever you decide to choose, make sure to measure the progress and results of your investment.
Here are some brilliant communication books you can include as employee gifts:
Effective Communication at Work, Vicki McLeod
Words that Work, Frank Luntz
Digital Body Language, Erica Dhawan
Simply Said: Communicating Better at Work and Beyond, Jay Sullivan
11. Emotional Intelligence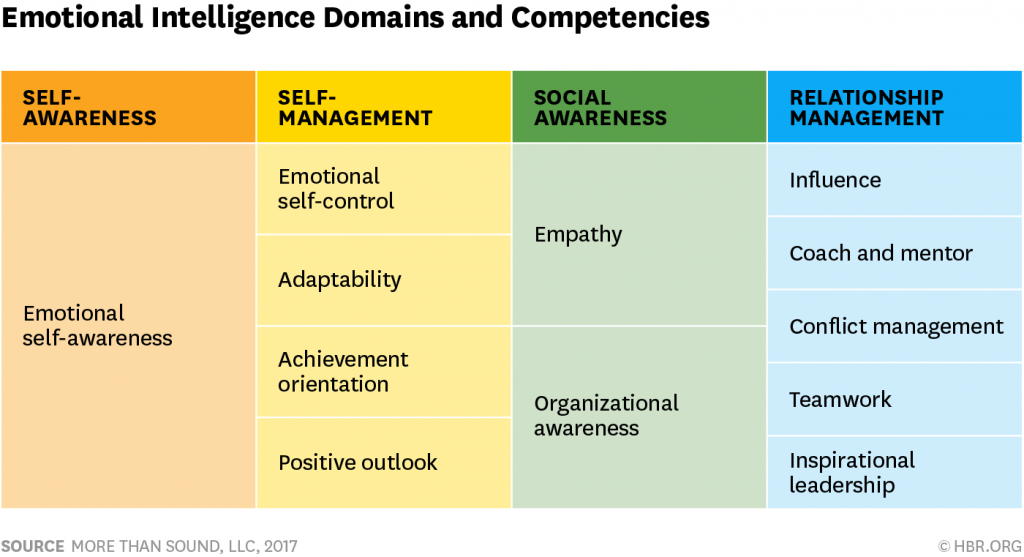 According to this source, managers and leaders with high emotional intelligence inspire and motivate others. Although emotional intelligence is a term that gets thrown around a lot, many employees are not aware of its significance. Emotional intelligence workshops and training are designed to help people regulate their own emotions while understanding the feelings of others. Emotional intelligence activities help employees build healthier work relationships, reduce team stress and improve employee morale.
Check out some emotional intelligence activities that you can implement right away.
12. Feedback Workshop
Most employees have a love-hate relationship with feedback. When it's all positive, they tend to love it, but we can't say the same thing about negative feedback. Fortunately, feedback workshops and training help employees understand how to deliver feedback without hurting their colleagues or even which words to use when formulating their feedback. For example, at Tagvenue, we recently had a virtual feedback workshop with Patrycja Szostakowska, an expert in People Management, who taught us how to paraphrase and prepare for feedback. Such workshops are guaranteed to help managers and new employees to receive and share feedback more effectively.
13. Myers Briggs Self Discovery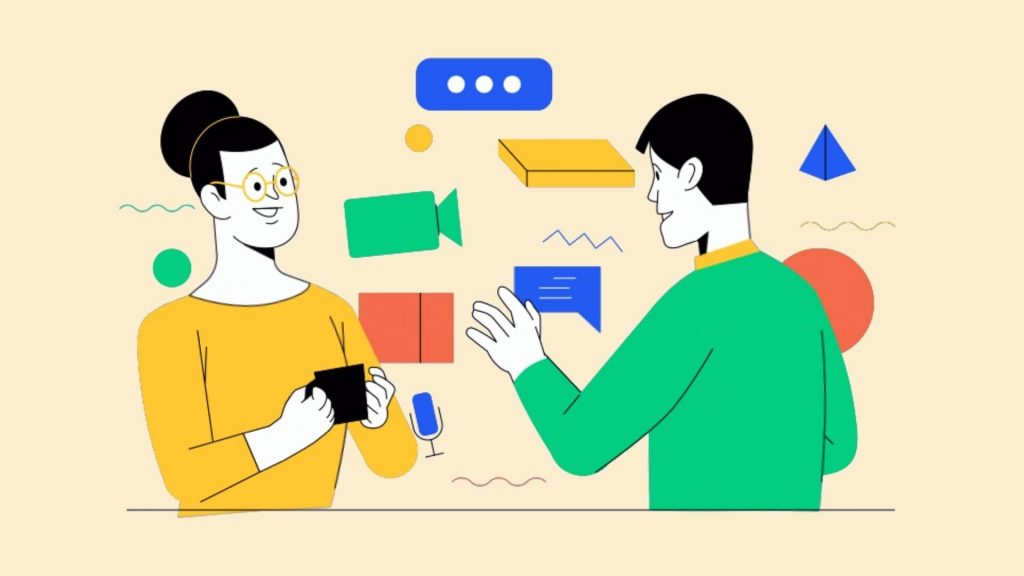 Are you an introvert or an extrovert? How do you gather information? These are some common questions during a typical Myers-Briggs Test. Though many workshops can help your employees identify their work personalities and environments in which they are likely to thrive, you can also carry out a DIY Myers-Briggs self discovery at work.
This works best if you have someone with a background in psychology or an expert at work. as they can interpret the results for your team. Myers-Briggs tests not only help employees gain insight into what energises or drains them, but they also help people use this new information to improve their professional lives.
Learn more about Myers Briggs Self Discovery here, and here's a link to a free test.
14. Public speaking
Fear of public speaking is nothing new. While there are many excellent orators worldwide, for many of us it can lead to anything from a quivering voice to paralysing fear. Investing in public speaking workshops or training can help employees overcome their fear of public speaking and even excel at it. You may even introduce a weekly public speaking meeting where employees talk about their passions or job. In addition, learning how to speak in public helps employees deliver impeccable speeches and appeal to others in the company.
Watch Simon Sinek's take on Public Speaking here.
15. Effective Meetings
It can be tough to run effectively in-person or online meetings, particularly when you're new on the job. People tend to shy away from conducting meetings as they have to answer questions, make sure that the content is relevant, and that their message is being delivered. It can be stressful for even the most outgoing employees. Effective meeting training, courses, and workshops all focus on these:
Meeting with purpose
Setting an agenda
Determining the roles of all attendees
Identifying the causes of ineffective meetings
Learning about meeting 'hijackers' aka the ones who ruin your vibe
Concluding a meeting
Following up after the meeting
Here is a course on Planning Effective Meetings offered by Google.
16. Team Focus
Team focus workshops, training, or courses focus on strengthening teams. These help team leaders improve their relationships within their teams. Attendees get to identify potential gaps, clarify their team goals and reiterate the team's mission and vision.
By understanding the needs of the team and establishing a direction for them, employees can not only function better when working in groups but also feel more engaged as they identify their roles and how they can contribute to the overall success of a project. Team Focus can also take the form of weekly meetings, where teammates discuss their current pain points, ideas, and successes. Check out how GetYourGuide carries its team focus days here.
17. Storytelling
In business, storytelling refers to using human connection to persuade an audience to accomplish the desired action, such as purchasing a good or service. Stories unite people and are a practical approach to increasing trust within an organisation. Brands such as Nike and Dove excel at storytelling. Storytelling techniques can help employees connect with their audience and tap into their needs and desires. In addition, it helps build relationships with customers while showcasing your product or service.
Here are a few books on storytelling to get for your staff:
Unleash the Power of Storytelling, Rob Biensenbach
Sell with a Story, Paul Smith
Stories that Stick, Kindra Hall
Building a Story Brand, Donald Miller
18. Teamwork Activities
Teamwork is critical to professional development as it enhances creative and critical thinking skills, promotes collaboration, and encourages effective communication. It doesn't have to be limited to everyday office business, it can be cultivated through various interactions. Whether through a brainstorming session or virtual team building activities, the aim is to promote collaboration and exchange and improve employee morale and engagement. Team-oriented activities benefit any organisation, irrespective of its size.
Read more about remote team-building activities in our post.
19. Onboarding
Although onboarding may seem like a natural part of a business, onboarding trends are constantly changing, meaning that you have to keep up with market trends, and employees need to build long-term relationships with new joiners. Through training or online onboarding courses, HR managers can tap into their organisation's and employees' needs through training or online onboarding courses and structure better onboarding processes.
Here is a list of books on onboarding:
The First 90 Days, Michael Watkins
Effective Onboarding, Norma Davila and Wanda Pina-Ramirez
Onboarding: Getting New Hires Off to a Flying Start, Christian Harpelund and Morten T. Højberg
Read our onboarding tips for remote employees.
20. Negotiation Skills
Do you prefer to act clueless and adopt the Columbo approach, or would you rather play the bad cop? Successful negotiations help you forge stronger relationships, which is a key factor in business success. Negotiations deliver long-lasting, high-quality solutions as opposed to poor, transient ones that don't meet the needs of either side. They also help businesses avert issues and confrontations in the future. Negotiation skills training, programs, and workshops help employees learn and develop techniques to become powerful negotiators, which can largely benefit your business.
Learn more about the importance of negotiation techniques.
21. Talent Management
Using talent management, employers may find and develop a workforce that is as productive as possible and likely to stick around for longer. When deliberately put into place, this process can help the company perform better overall and maintain its competitiveness. Talent management programmes focus on identifying your business needs, attracting and retaining top talent, employee development, employee evaluation, and retention- all of which can help your employees grow and flourish.
Tips on how to integrate professional development at work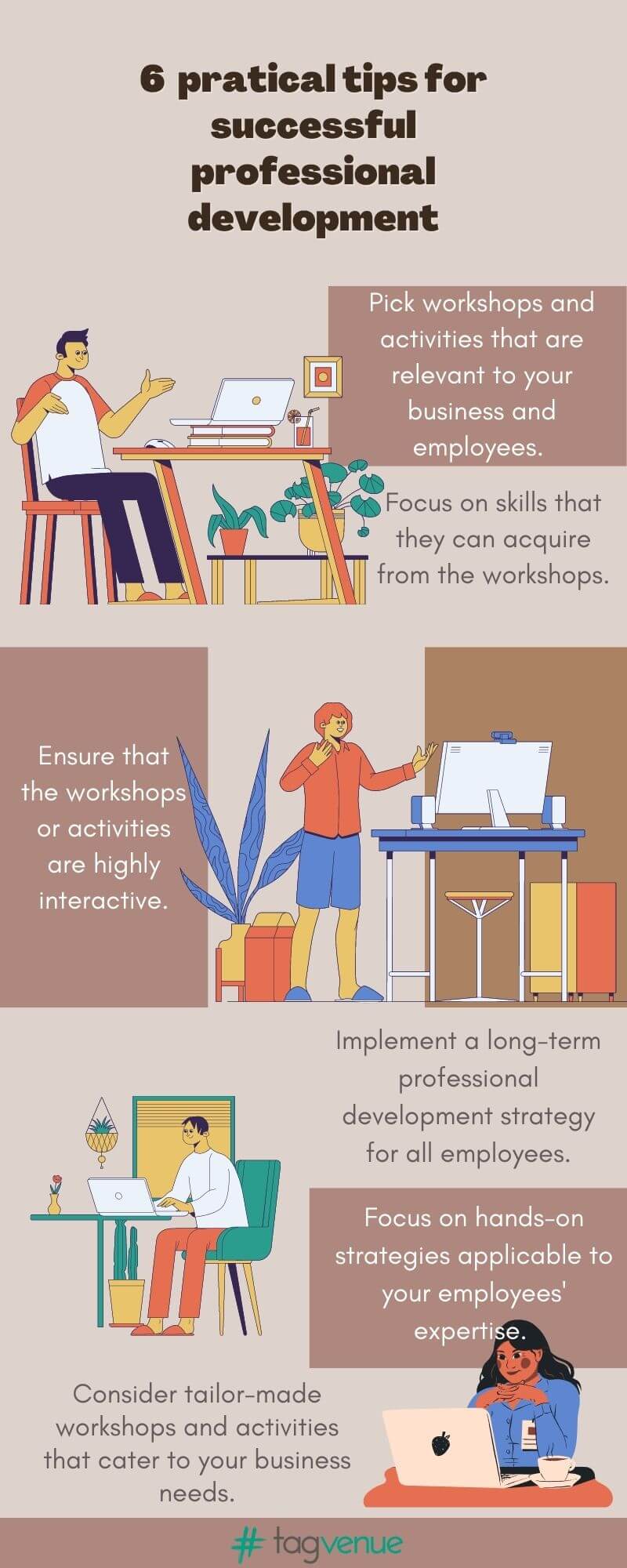 Professional development is most effective when integrated into people's daily work. Employees can make the most of career development by giving employees more control and offering flexible learning opportunities.
Consider using e-learning platforms and e-courses such as Udemy courses to make learning and workplace training more convenient, particularly for remote teams. Online learning makes it easier for your staff to learn at their own pace and anywhere they want to.
Capitalise on team collaboration platforms such as Slack, where teams can easily communicate and learn from each other daily. Encourage using these platforms to share industry knowledge and business insights.
Online surveys are an HR manager's ally. To lead others also means to learn from them. Conduct regular employee surveys to identify your employees' needs. Encourage feedback to understand what could be improved whenever offering a workshop or training. Professional development is not a one-off activity and needs continuous evaluation for you to tailor opportunities that help your employees thrive.
Embrace failure. Ensure that workers are aware that failing is not only acceptable, but also the norm. Encourage team members to see these situations as an opportunity to grow to remove the stigma associated with failure. Risk-taking will then be more prevalent among people.
Discover our learning and development activities.
Conclusion
Companies that invest in employee development tend to have higher employee engagement and better job satisfaction. Professional development opportunities should be part of a company's strategy to bring long-term results. From lunch and learns, online workshops to mentorships, there are many ideas and activities that can help employees learn and grow. Think about your past experiences and how you and your staff learn best.
Carry a survey and identify their current career development needs. By assisting your employees in choosing a career path, you can increase employee morale, and foster employee loyalty. In addition, a proactive approach to your staff's professional development enables you to have candid conversations about how each person feels about their work and how you or the person sees them developing within the organisation.
Professional Development FAQs
Can professional development activities take place online?
Yes, with the popularity of hybrid and remote work, more and more workshops and activities are hosted on online platforms such as Zoom and Google Meet. These not only facilitate communication but also enhance participation when the cameras are turned on and tools such as 'Raise a Hand', and 'Present Now' are used. Online workshops also allow participants to have lifelong access to resourceful material. Teams can brainstorm ideas and interact with each other despite the distance.
Should my company invest in professional development activities?
Yes! Companies that invest in employee development have a competitive advantage as they have the right skills and knowledge to face market challenges. Employee development also boosts employee morale, increasing employee loyalty and countering employee turnover.
How can I hold professional development workshops for my staff?
We recommend starting with a survey or having one-on-one meetings with your employees if you're a small company. It's essential to determine what areas need improvement to pick the suitable professional development activity for your employees.
What are professional development ideas?
Professional development can be anything from formal training to fun team-building activities. Their main objective is to upskill your employees and help them achieve their full potential. Take a look at our ideas and activities above for some inspiration.
What are some excellent professional development activities and ideas for work?
Good professional development activities and ideas for your employees include talent management, onboarding, negotiation skills, team building, public speaking, visual thinking, leadership development, and diversity and inclusion workshops, among others.