Top 17 Virtual May Team Building Activity Ideas
Published on 20th April 2023
Do you ever find yourself struggling to find new activities for your remote team building sessions?
You're about to be free from that problem, at least for the upcoming month! May is filled with fantastic excuses – ahem, special occasions – to organise fun and engaging events. The benefits of team building are unquestionable: this practice helps your virtual colleagues to cultivate healthy workplace relationships, work on their communication skills, and build trust. Additionally, it's a huge mood booster!
Without further ado, let's get into it! Discover the best virtual May team building activity ideas and keep your eyes peeled for a special calendar at the end of this article.
1. Celebrate Asian American and Pacific Islander Culture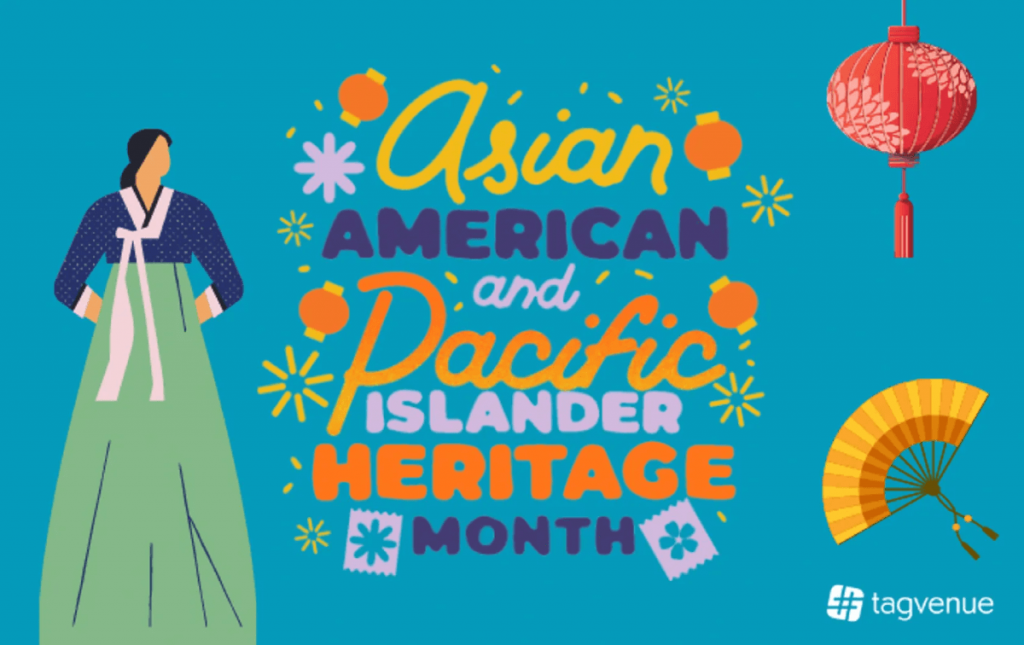 AAPI Heritage Month takes place annually in May and is dedicated to recognizing the culture and achievements of the Asian and Pacific Islander population in the US. It's a great opportunity to broaden your teams' horizons, build on inclusion in the remote workplace, and acknowledge your AAPI colleagues. Explore the best AAPI Month activities, including trivia, workshops, and cooking masterclasses to celebrate this unique demographic!
When? The entire month
2. Prioritise a Healthy Mindset
You understand the importance of mental well-being among your employees, but do you put enough emphasis on it? If not, National Mental Health Month is the right moment to change that! Some of the most effective virtual mental health awareness activities include stress and burnout management workshops, honest one-on-one conversations, and light-hearted fun to ease the stress.
When? The entire month
3. Recognise Your Hard-Working Employees
You might know a few different ways of describing the first  of May: May Day, International Workers' Day, and Labour Day. While the origins of this day have various political associations, you can treat it as a day to give back to your employees with employee appreciation gifts! Some of the most popular choices include:
When? May 1st
4. Attend a Virtual Concert
You might all live a bit too far apart to go hit up a concert venue together, but you can still treat your colleagues to a live gig together… virtually! For National Concert Day, discover the amazing world of live streamed concerts. This team building activity is a great way to have some light-hearted fun together and prompt plenty of music-inspired conversations!
When? The first Tuesday of May
5. Celebrate Mexican Culture at the Workplace
¡Viva el Cinco de Mayo! What better opportunity to learn something new about Mexico's culture and heritage, taste traditional dishes and break the ice than on this vibrant holiday? Depending on your teams' development goals, you can organise an online DEI workshop, host a laid-back DIY activity, or engage in a fun game of trivia and team building with our Cinco de Mayo Trivia!
For more exciting and colourful ideas, check out our Virtual Cinco de Mayo blog post!
When? May 5th
6. Learn to Craft Delicious Drinks
Raise your hand if you love a good drink! National Beverage Day is the right time to learn how to make scrumptious cocktails, and what better way than with a Cocktail Gameshow? Your remote team will be shaken up with new cocktail recipes and fun minigames. Who is your office's hidden mixology talent?
When? May 6th
7. Virtually Sweat Together
Put your gymwear on, it's National Fitness Day! Physical fitness goes hand-in-hand with mental well-being, productivity, and a positive approach to life and work. By funding a Pilates Class For All Levels for your employees, you can show that you care about their health while also boosting performance. Plus, working out together strengthens bonds and creates fun memories. The benefits just won't stop coming!
When? The first Saturday of May
8. Become Virtual Tourists
Travel the world without leaving your home office for National Tourism Day! You and your team have an excellent opportunity to take a trip around the world with Amazing Race, our online globetrotting experience. Virtually visit the world's most famous landmarks, overcome challenges that fuel effective teamwork and communication, and broaden your knowledge of this beautiful planet! 
If you're looking for an alternative, take your team on a Barcelona Virtual Tour. The enthusiastic host will make you fall in love with the city, we promise! Caution: you might get pressured into organising an actual team getaway in the City of Counts after this event!
When? May 7th
9. Find the Best Poet On the Team
Edward Lear, who popularised the limerick, was born on the 12th of May. Now, you can celebrate Limerick Day with a special contest! The rules are simple: every employee writes and recites their own limerick. It's a great way to introduce a healthy element of competition into your remote workplace, which studies have shown can boost engagement.
When? May 12th
10. Make Your Own Hummus
Ah, hummus. The mouthwatering creamy dip that pairs perfectly with practically anything. Did you know there's an International Hummus Day to celebrate this universally loved dish? We think it's the perfect excuse to learn how to craft the best homemade hummus with your virtual teammates. This healthy dip will fuel your team's spirits and productivity!
When? May 13th
11. Take a Virtual Museum Tour
If you are looking for ways to boost your teams' understanding of art, history, or practically any other topic, International Museum Day is the ideal excuse! There's a whole range of museums that offer online tours and exhibits, so pick something that will benefit your colleagues the most and celebrate.
When? May 18th
12. Become a Virtual Millionaire
Want a light-hearted virtual team building event for May? We've got you covered! While actual gambling is not an activity we'd recommend, you can go for a bit of innocent fun on Be a Millionaire Day. The entire office can indulge in a remote Casino Night experience or bet on the best horse At The Races!
When? May 20th
13. Follow In the Steps of a World-Famous Detective
Now, it's your business to know what other people do not know! It's Sherlock Holmes Day, so put your detective hat on and solve some online murder mysteries! Pick and choose from a variety of themes and activities, including some of our favourites:
Unlike Sherlock Holmes, you'll be a whole group of genius minds! Join forces to work out the mystery and boost your problem solving skills!
When? May 22nd
14. Organise a Fun-Filled Virtual Scavenger Hunt
Online scavenger hunts are a quick and easy way to build bonds and break up the workday routine. You can check out our blog post on the best virtual scavenger hunt ideas for the workplace, including some fun hosted activities, as well as free DIY suggestions! And why would you take your team on a hunt this May? To celebrate Scavenger Hunt Day, of course!
When? May 24th
15. Sip, Savour, and Strengthen Your Bonds
National Wine Day: The time to let your team build strong relationships in a relaxed environment (and taste some vinos)! You can discover bespoke pairings at the Virtual Cheese and Wine Tasting or Pop the Bubbles to try the best champagne and prosecco of your lives.
When? May 25th
16. Unleash Your Team's Creative Potential
Creativity is crucial in the workplace. According to Entrepreneur, it can make your remote team more innovative, adaptable, and productive. Sometimes you need to let your colleagues indulge in a bit of art to boost their workplace performance! And what better time to do it than National Creativity Day? Some of the top creative activities for virtual teams include:
Zoom crafting party.
Online improv workshops.
When? May 30th
17. Take a Deep Breath
Celebrate National Meditation Day in the remote workplace! An Online Mindfulness Meditation Session, led by a professional teacher, can enhance the team's well-being, relieve stress, and promote a healthy work culture. 
When? May 31st
Conclusion
Maintaining a healthy, positive atmosphere in a remote work environment is not an easy task, but regular team building activities are a great way to achieve it. May brings a range of special occasions you can celebrate with remote events and bonding sessions, you just need to make the most out of it!
Keep track of all the virtual May team building opportunities with our calendar and don't miss a beat:
FAQs
What are some popular activities for virtual team building in May?
Some of the most popular activities for virtual teams in May are educational and cultural workshops for AAPI Heritage Month. The beginning of the month is filled with team building sessions centred around Mexican culture to celebrate Cinco de Mayo. Additionally, many remote companies decide to host mental health and well-being activities for their employees in May.
How often should I organise virtual team building activities?
Team building at remote companies should be held at least a few times per year, for example one every quarter. However, we encourage you to host such events as often as possible, as they support the development of trust and communication, and boost the morale within your team. Depending on your team, budget, and time allocation, you might want to schedule at least one team building activity every two months.
Why are remote team building activities important?
Remote colleagues often have limited opportunities to interact, so it's crucial to provide them with activities where they can collaborate and communicate, especially outside of their regular teams. Team building activities can boost morale and engagement while allowing your employees to bond in an informal environment. Furthermore, they are a unique employee benefit that can make workers want to stick with your company, improving loyalty!
What are some budget-friendly virtual team building activities to host in May?
If you want to host a remote team building session on a budget, you've got plenty of opportunities! You can explore the world of games to play on Zoom, including many cheap or completely free activities. Organising a book club, a themed discussion, or movie night is another cost-free way to bring your employees closer. Virtual pictionary and bingo are just a couple more easy DIY games for virtual teams. You can even make your own cards to make the activity more personalised!
How can I organise a team building activity online?
Before you start planning the event, decide whether you want to do it DIY-style or get the help of a remote team building company. If you choose to do it by yourself, start with a detailed plan and budget, ask another team member for help, and gather all the resources you need. Then, you can start crafting the activity itself. However, throwing a hosted activity is much easier! If you choose Tagvenue Virtual, you can use our enquiry form or email us at events@tagvenue.com and you'll be in contact with us soon!