Welcome to our virtual pride activities category page, where you'll find fun experiences and educational workshops to celebrate Pride Month at work. Our activities are designed for everyone, regardless of your gender or sexuality. Choose from a range of experiences- learn about the history of the LGBTQIA+ movement, test your knowledge with Pride Trivia, enjoy a game of Drag Queen Bingo, or create your own Pride bunting. Our virtual pride activities are crafted with remote and diverse teams in mind. So, join us in celebrating diversity, inclusivity, and love. Let's create a safe and welcoming environment for everyone!
Discover top Virtual Pride Month activities
Sorry, we couldn't find any events matching your criteria.
Please try changing your filter options or contact our knowledgeable customer service team.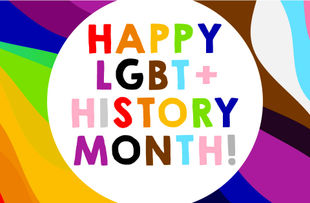 LGBT History Month Bingo
LGBT History Month Bingo is your perfect opportunity to learn more about the history of the LGBT+ movement and its amazing icons. Join us for a night of fun, facts, and fabulousness! Book today!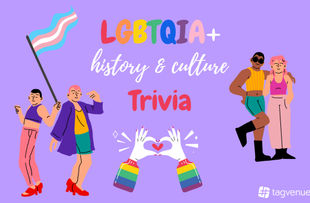 LGBTQIA+ History & Culture Trivia
Introducing our groundbreaking product, the Virtual LGBTQ+ History Trivia and Mini-games! Together, let's recognize how far we've come and continue championing inclusivity for all. Book now.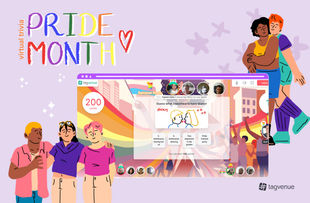 Pride Month Virtual Trivia
Host a Pride-themed trivia match featuring LGBTQIA+ pop culture and historical questions in our all-time favourite game, Team Quest. Celebrate the community's beauty and learn new facts!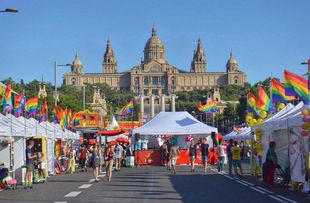 Virtual Pride Tour in Barcelona
Experience a virtual team-building event hosted by a fun LGBTQ+ guide and explore Barcelona's Transgender Summer House, Lesbian Kiss Mural, Rainbow TownHall, and Gay beach. Enjoy games, trivia & more!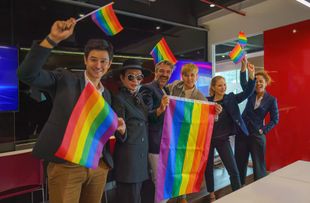 LGBTQ+ Allyship in the Workplace
Join a virtual workshop to learn about inclusive language and important concepts, free of judgment. Gain knowledge on how to avoid offensive questions, raise awareness for marginalized groups.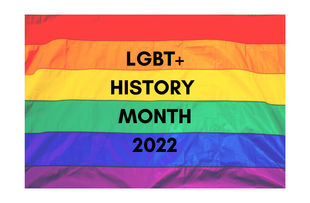 LGBTQ+ History Workshop
Join us to learn about LGBTQ+ history and hear personal stories. Expand your awareness, become an ally, and empower others in a safe, uplifting environment.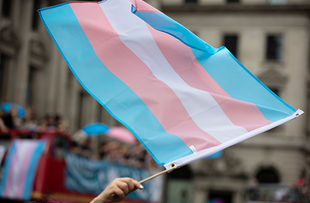 Trans Visibility and Allyship Workshop
This seminar promotes allyship and inclusion in the workplace, covering the Transgender experience, struggles & milestones. Learn inclusive language and increase understanding in a safe environment!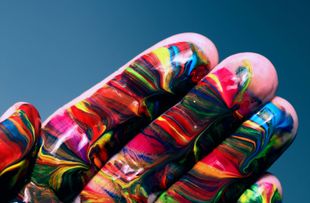 Pride Painting Class
Book our virtual pride painting class today and experience the joy of creating something beautiful while celebrating LGBTQ+ pride!
Explore other Virtual Team activities
Trusted by countless happy teams across the world
FAQs
Why are virtual Pride events important?
Virtual Pride events provide a way for LGBTQ+ individuals and allies to connect and celebrate, even if they cannot gather in person. They also help to raise awareness and visibility for LGBTQ+ issues and provide a platform for education and advocacy.
What are some of the best virtual Pride events?
There are many types of virtual Pride events, including live performances such as Drag Queen Bingo, workshops, virtual Pride tours and Pride Trivia. Some events may be geared towards specific audiences or topics, such as youth, trans individuals, or LGBTQ+ history. If you are looking for an inclusive experience for all, we recommend our Pride Trivia.
How can I support virtual Pride events?
You can support virtual Pride events by attending and participating in them, donating to LGBTQ+ organizations, and spreading awareness about the event through social media or word of mouth.
How can I make the most of a virtual Pride event?
To make the most of a virtual Pride event, be sure to engage with the content and participate in discussions or activities. You can also connect with other participants and speakers through social media or other digital platforms.
What should I wear to a virtual Pride event?
You can wear whatever makes you feel comfortable and proud at a virtual Pride event. Some people choose to dress up in colorful or flamboyant outfits, while others may wear a rainbow pin or shirt to show their support.