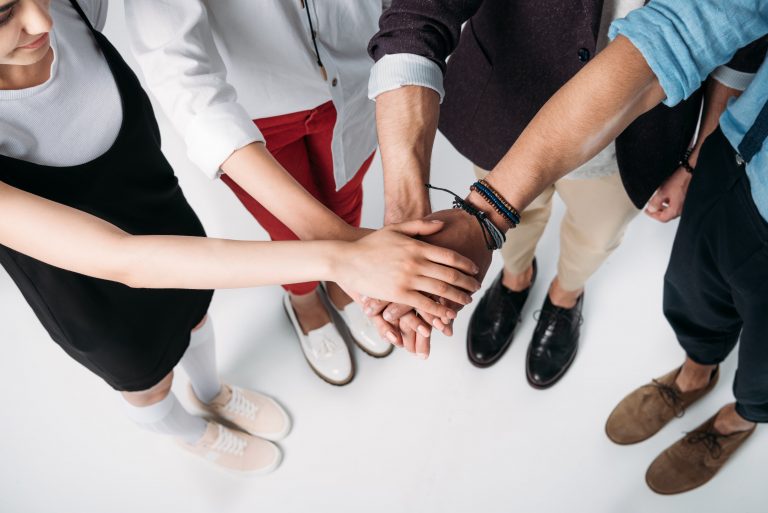 7 Best Ways to Build Trust in Remote Teams in 2021
Published on 1st October 2021
Trust is the basis for an efficient and positive work culture. Employee motivation, productivity, energy and so much more, is built on trust. If there is no trust in your remote team, it will be much more difficult to successfully collaborate with your colleagues and achieve your goals.

Unfortunately, trust is on the decline everywhere we turn. In 2016, PwC conducted a CEO survey which showed that 55% of CEOs think that a lack of trust in their companies was a threat to their growth, but, at the same time, most of them were doing very little to reverse this trend. The main reason for this was claimed to be their lack of knowledge about the topic and the fact that they simply weren't sure where to start. If you are seeking to instil a sense of trust among your team, you should not repeat their mistakes. Instead, you should understand the importance of trust and learn the strategies that can help you build trust among your teammates.

According to the Edelman 'Trust Barometer', one in three employees don't trust their employer. The issue becomes even more complicated with teams that are geographically dispersed. However, to have a successful remote team, it's crucial to build a positive and trustworthy environment for each team member to succeed. In this article, you will have a chance to read about the value of trust in the workplace, its importance for the success of your business and discover ways that can help you build trust in your remote team.
What is trust actually?
What exactly does the term 'trust' stand for? There is no one definition of trust, but when we refer to it, we mainly mean a few things: a sense of security and confidence, as well as being treated fairly, with respect.
Types of workplace trust:
There are two types of trust in the workplace: practical trust and emotional trust. Practical trust can be earned by showing up on time, getting work done, meeting deadlines and proving yourself to be reliable. It's important to mention that this type of trust is the most fundamental and basic. If you don't possess it, your team is in big trouble, and it will result in a lack of communication, a lack of accountability, and micromanaging.
Emotional trust comes down to many things as well: feeling respected, generous listening, networking and building mutual respect. The biggest (and most satisfying) sign of emotional trust in the workplace is when people believe that you're on their side. Successful leaders display higher levels of emotional trust, so if you're a manager of some sort, you should definitely consider working on this skill.
Trust is something that you can nurture, encourage intentionally, and, most importantly, increase. So no more excuses against creating a positive and trustworthy environment in your organisation!
Why is building trust in the workplace so important?
If you're still wondering why you should care about trust in your workplace, let us resolve any of your doubts! Below you will find a bunch of reasons why you, as a leader (but also as an employee – it's a team effort after all), should care about building trust in your workplace.
Trust improves teamwork and collaboration. A large percentage of employees are still working from home, which is one reason why communication between coworkers may suffer. Make sure there is open and honest communication in your team! Don't forget to frequently communicate the company's core values and goals to your employees.
Trust improves efficiency, engagement and productivity. According to Gallup's workplace research, 'if employees feel they can't trust the people running their companies, then more than productivity will suffer.' In fact, 96% of engaged employees said they trust their management, while only 46% of disengaged employees feel the same.
Trust improves decision-making. Trust can't work only one way. It's important for employees to have trust in their superiors and leaders, and for managers to trust their teammates. When such synergy occurs, leaders are more likely to give their employees more responsibilities and empower them to make serious decisions, and employees will have the confidence to make them.
Trust decreases stress and burnout in the workplace. According to a 2017 scaled US study, people at high-trust companies reported 74% less stress and 40% less burnout. These two things may have a negative impact on the overall performance, including productivity and collaboration with others. To minimise both stress and burnout, there is one good solution: trust! Communicate with your employees, listen carefully and be vulnerable – these few things will definitely help you to build trust in your team.
Trust increases employee loyalty and retention. Employee burnout is very often followed by employee turnover. In fact, Accenture research shows that 'burnt-out employees are 2.5 times more likely to leave their current employer.' It comes as no surprise that a toxic work environment, in which trust cannot flourish, could increase anxiety and fear among coworkers.
Trust improves innovation and creativity. When there is trust and open communication in the team, you will be surprised how much it boosts innovation and builds a creative environment. Research shows that employees who trust their leaders are 23% more likely to offer more ideas and solutions.
Need more convincing? Well, let's end on a strong note: trust within a company translates into better financial performance. Trust is a crucial economic lever.
7 ways to build trust in a remote team
There are simple ways that will help you build trust at your company and win the respect and trust of your employees. Employees' trust in their managers influences their perception of the workplace as well as their performance.
1. Get to know each other (virtually)
Everyone should take every opportunity to get to know their coworkers and build meaningful relationships. Any new hires should be immediately introduced to the rest of the team: send a welcome message in the company's communication channel or give them a shout-out during team meetings and encourage the new employee to say a few words about themselves.
When working remotely, it is normal to miss the social activity that comes with the physical workplace. To minimise this, you should frequently create socialising opportunities for your team members. Having short chit-chats at the beginning of video calls, messaging platforms, and online coffee breaks are a great way to get to know one another.
Organising team-building activities for your remote team, whether virtual or in real life, could also increase the feeling of camaraderie and the level of trust in your team. We encourage you to check out our Virtual Marketplace to find fun, unusual team building games and activities.
There is no way people will be able to trust one another if they don't know each other. Cultivating healthy relationships among coworkers is vital for a healthy and positive work environment.
2. Be honest and supportive
Tell the truth – it's as simple as that. Honesty seems incredibly obvious but it is harder to put into practice than you may think.
Have you ever misled your colleagues about sending an email that you totally forgot about? Once your lies are uncovered, your credibility will decrease and all of the trust that you have been building will disappear within a second. It's always worth admitting any roadblocks you may encounter or if you've forgotten to do something. Your honesty will be much more appreciated than pretending to know all and do it all.

Being honest is not only about pointing out mistakes or admitting them. A good leader should also not be afraid to honestly acknowledge their employees' excellence. Neuroscience shows that recognition has a big effect on trust and it's the greatest 'when it occurs immediately after a goal has been met, when it comes from peers, and when it's tangible, unexpected, personal, and public.'
3. Be vulnerable
If you don't know the answer to something or you simply don't remember the solution, speak up! It can be an amazing opportunity for you to learn and grow. In fact, leaders in high-trust companies ask their colleagues for help instead of only telling them what to do. Asking for help is a tangible demonstration of the trust you have in your coworkers' competencies and can actually build your credibility.
You'd be surprised how much employees appreciate their leaders admitting to not knowing something or admitting their mistakes. It shows their human side and, let's be honest, we often forget CEOs or any other company leaders are human as well.
4. Communicate effectively
Communication is key. Always. Regular communication drives accountability and motivation; just be aware, at the same time, that miscommunication can only damage trust. Try your best to always communicate in such a way that there will be no room for misinterpretation. If you have any doubts during a conversation, never be afraid to ask questions for clarity.
Don't be the only person who talks. Listen carefully to your employee's thoughts, ideas and feedback. As a leader, be as interested in understanding others as you are in being understood. At the same time, make sure that you are not just listening to the leadership team but also keep lines of communication open to every person at your company.
Transparent communication should be on the top of every leader's priority list. Keep everyone in the loop by providing easy access to company information: success stories, work schedules, work progress, and task statuses, to name a few.
5. Be consistent
Keep your word. If you make a promise to do something, follow through on it. Have you ever promised someone that you will send an email or have a look at a report and then totally forgot to do it? Well, if the answer is yes… DON'T do it anymore! Being unreliable will ruin your credibility and can potentially ruin your reputation, not to mention erode the trust you have worked so hard to build.
Being inconsistent and not keeping your word is a no-go when you're trying to build trust in the team. Aligning your words and actions is crucial for building trust in the workplace and, eventually, for the company's success. We often find employees say that their leaders' words and actions have the biggest impact on their work as well as their perception of the company. It's actually simple Maths: if there is a disconnect between a leaders' words and actions, it is likely that the employees will become less engaged and committed to the company.
6. Avoid micromanaging
If you think breathing down your employees' neck will motivate them, let us be brutally honest: you've never been more wrong. Instead of energised, they are likely to feel insecure and not trusted.
Instead of worrying that your employees may not be sitting down in front of their computers for eight hours straight, give your employees some freedom. Everyone needs to take small breaks, stand up and stretch or prepare themselves a snack. At the end of the day, it's all about getting the work done! We have prepared an article on Managing Remote Teams, where you will find all the tips and tricks that will help you manage your remote employees more efficiently.
Giving your employees freedom shows them that you not only believe in them but, more importantly, that you trust they will do their work well.
7. Give trust from the very first day
It's not fair for any leader to expect their employees to trust them without reciprocation. If you want your employees to trust you, do the same! Remember that creating a culture of trust starts from the employee's first day.
You can show your employees that you trust them by, for example, by encouraging them and providing opportunities for professional development, or asking them for opinions and feedback on important projects.
This type of approach can really help your employees flourish in their roles. By creating positive experiences for your employees from the very beginning, you will be able to build a happy, motivated and, most importantly, trusting team.
Some common mistakes that crush trust in the workplace include: avoiding conflict, breaking promises, focusing on compliance, failing to communicate and assuming trust, so make sure that you avoid such behaviours in your organisation.
Conclusion
Managing a remote team and learning how to build trust remotely is no mean feat for managers. But you need to know how to build trust in the workplace if you want your company to progress and succeed. If you manage to establish a trustworthy environment, you will be able to build a team that is even happier and more productive than one that meets in the office every day.
You have to also remember that building trust doesn't happen overnight. It takes time and effort, from both the employees and employers. As former IBM chairman and CEO Thomas Watson once said, 'the toughest thing about the power of trust is that it's very difficult to build and very easy to destroy'. Bring into existence all of the steps mentioned above, nurture them in your organisation and work to bring these changes to life!
FAQs
What is trust in the workplace?
Trust in the workplace means a culture of honesty, psychological safety and mutual respect. If there is trust in the company, employees will be more engaged in their work, will feel empowered and will be prouder of the place they work in.
Is building trust in the workplace crucial?
Trust is extremely important in any kind of relationship. When it comes to trust in the workplace, it is one of the factors that contribute to a positive work culture. In a negative environment (one without trust), it is possible for employees to withhold their work, creativity, enthusiasm and passion. It is not just harmful to employees – it affects the whole organisation. A negative atmosphere in a workplace can create a stressful and undesirable environment for everyone.
How do you build trust virtually?
There are many ways to build trust, even in a remote setting. First and foremost, you should create opportunities for your employees to get to know one another as they don't have a chance to chat in the common area over a cup of coffee or stop by each other's desks to have a quick catch up. Some other important aspects of building trust are: open communication, being honest, vulnerable and supportive, as well as being consistent. You should also not forget about giving them freedom and showing that you trust them from the get-go.
How to build healthy relationships among coworkers?
Healthy relationships in the workplace are crucial for any organisation. They contribute to successful cooperation within teams, as well as affect employees' general well-being and satisfaction. You have to keep in mind that building relationships in a remote setting can be more challenging compared to a physical workplace, so you really need to focus on being intentional. You should check in with your colleagues frequently, whether via a message or a quick chat at the beginning of your daily meeting. Take online coffee breaks together and have a catch-up. To really break the ice among the team members, check out virtual team building activities.
Do virtual team building activities help to build trust in remote teams?
At the end of the day, you have to remember that there will be no trust in your team if coworkers don't know each other, which is a common problem in a remote setting. That's where virtual team building activities come in handy. Such activities help strengthen relationships among coworkers, improve their communication and cooperation skills, and help them be more open with one another – we strongly recommend activities such as The Team Quest or Around the World. All of these types of virtual games are a firm basis for building trust in a relaxed and fun setting.