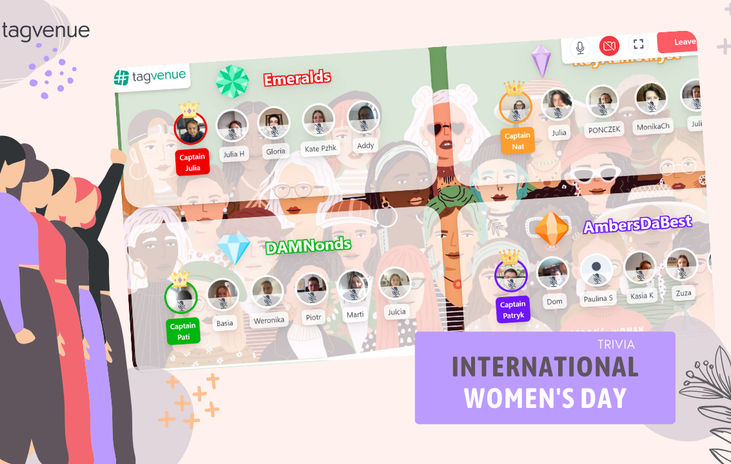 Virtual Women's History Month Trivia
Learn a thing or two about the greatest women alive in a fun setup!
Activity highlights
Educational, Fun and Interactive
Lively host to engage your team
Everyone gets to be the captain!
Event Description
Are you looking for a fun and educational game to teach your crew a thing or two about the greatest women alive in history? Look no further!

Whether it is the fearless Malala Yousafzai or the brilliant Michelle Obama, we rounded up a list of the most inspiring women to empower your female coworkers and highlight the importance of women, in general.
With 6-7 rounds of mini games, such as Trivia, Fact-matching, Pictionary, and Buzz and much more, teams will have the chance to collaborate with each other in an interactive and superfun setup! The Greatest Women Trivia Game offers just the right amount of friendly competition that every team requires once in a while.

Our trivia is ideal for teams that seek fun and knowledge. If you want to customise your questions, sets and even the difficulty level, go ahead! We will make sure to deliver a tailor-made experience for your team to ensure that you all have a great time! Remote teams will reconnect, relax and get to know each other along the way. All you have to do is click on 'Enquire now' so that our dedicated Event Producer plans your event and you're good to…play!

How does it work?
Once your gameplay scenario is ready on the event day, you will receive a link to your team-building activity. You simply have to share it with your colleagues and jump on Zoom to start playing. There are no registrations or downloads required. Our lively host will assist and entertain your team! On the day of the event, our host will explain the rules and split participants into smaller groups. Once everyone is ready, the game starts! Work your way through mini-games like Trivia, Fact Matching, Buzz In and Pictionary! We value engagement, so every player gets the chance to be the captain and nobody gets left behind. Once the winner is announced, you can keep the party going with some fun props, poses, and photos!
---
---
Reviews
A
Alex
Booked on 19th January 2023
I liked the variety of mini games offered - including the pictionary, general trivia and the fact matching. It was a lot of fun and I would definitely use Tagvenue for a future trivia activity!
M
Magda
Booked on 15th March 2022
What a fun work event! We had a blast! Would definitely recommend it. Phil was great!
M
Mykhailo
Booked on 7th March 2022
Great engagement. Our team got to learn so much while having a blast!Hope we get to do this again.
K
Keshini
Booked on 4th March 2022
Thanks to the host who made this event super entertaining for our team! We loved it.
---
Cancellation policy
RESCHEDULING POLICY:
After a booking has been made, Client rescheduling within 2 weeks or less of the event date is subject to a fee equal to 25% of the total fee.
After a booking has been made, Client rescheduling within 72 hours or less of the event date is subject to a fee equal to £150 or 50% of the total fee whichever is greater will be applied at the time of your re-booking. Your event must be rescheduled within 365 days of your original event date.

CANCELLATION, LOW-SHOW, AND NO-SHOW POLICY: No refunds will be issued for reduced event participant headcount turnout at an event ("Low-Show"), zero participant turnout at an event ("No-Show"), and/or event cancellation. If you provide notice at least 72 hours in advance of the event for a Low-Show, No-Show, or cancellation then credit towards a future event may be issued in accordance to the rescheduling policy above. Any credit issued will be in accordance with the rescheduling policy above and must be utilized within 365 days of your original event date.
FAQs
What is the Women's History Month virtual trivia game?
The Greatest Women Trivia game is an activity that allows teams to catch up and bond while learning interesting facts about inspirational women. With mini-games such as Fact Matching, Buzz In, and Pictionary, team members will get to know each other in a relaxed and fun environment. The aim of this virtual event is to promote team building and active participation while paying tribute to women.
Can the Women's History Month Virtual Trivia Game be customised?
Totally! From the questions to the length of the event, everything about our event can be tailored for your team building experience. Your logo, questions about your colleague can be added to your event while we personalise your game, so just let us know when planning your event.
When can the Women's History Month Trivia game be hosted?
Whenever and wherever you want to pay tribute to your female colleagues. It doesn't have to be International Women's Day, you can plan an event to celebrate the input of all women at your company or simply host this team building event as a means to gather your colleagues and catch up. It's all up to you.
How many participants can play the game simultaneously?
The more the merrier. We encourage you to get everyone involved and split larger teams into smaller groups so that everyone has the chance to participate. Our event can be hosted for any group size between 6-400.
How can I book this virtual team building game on Tagvenue?
Simply enquire via our platform or send us an email at events@tagvenue.com. We'll get back to you ASAP and confirm the availability and pricing of the virtual activity. If these suit your needs, simply book the event by providing the following: company billing details: address, and VAT number (for non-UK customers only). We'll revert back with a booking confirmation and an invoice. A payment link will be provided where you can securely pay with your CC ( Visa, MasterCard, Amex). We accept CAD, GBP, USD, SGD, AUD, and EUR.
Other popular activities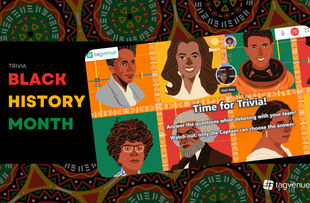 Black History Month Virtual Trivia
Black History Month Trivia is a cultural extravaganza that will make your team-building events shine brighter than Beyoncé's bling! Book our virtual event today and get ready for some serious fun!
Around the World - Virtual Icebreaker
Around the World is a fun and lighthearted team-building game that promotes networking and cultural learning. Ideal for collaboration, culture-building, and more. Suitable for everyone!