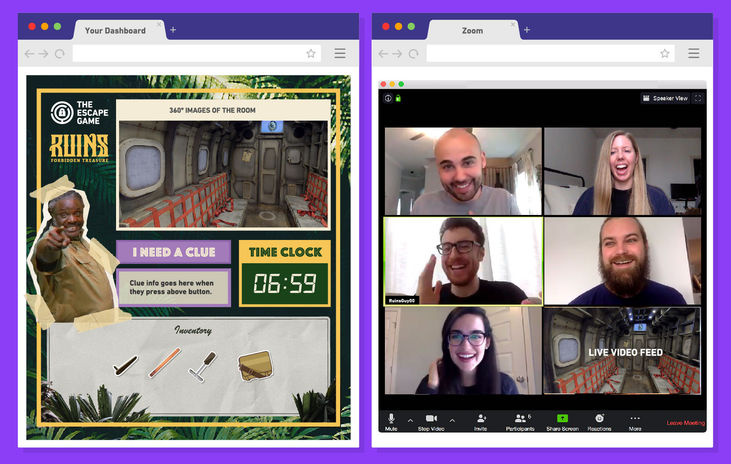 Virtual Wild Escape
Escape the routine together with your colleagues! Try our online escape rooms!
Availability
Mon-Sun, 6:00-12:00am CDT
Activity highlights
Designed exclusively for virtual team-bonding experience
Fun and engaging for any level of gaming and escape room
Private and fun experience in a real escape room for each team
Access to 360-degree images and a live inventory
Event description
You can play our real escape rooms from your home or office over Zoom! Each game is live and hosted by a Game Guide who's in the actual escape room wearing a camera with a video feed, so you'll see what they see. It's up to you and your team to direct the Game Guide through the experience and to a successful escape!

Each team will join a call, where they will be briefed on their mission by their host. They'll be exploring the room through a Game Guide wearing a live camera feed inside one of our physical escape rooms! Additionally, each participant will have a digital dashboard with access to 360-degree images and a live inventory that updates whenever their Game Guides picks something up in the room. They will use what they find in the room and their digital dashboard to progress through the adventure. Teams have 60 minutes to escape! We recommend planning about 75 minutes of time for the entire experience.

To plan the event, all we need is the desired date/time, and headcount for the event! We'll help you plan from there.

Our Remote Adventures will leave your team feeling connected, engaged, and ready to tackle their next project!
What's included
Team Photo
Private escape room
All necessary links for the event
Live host for each team to help answer questions and give clues
Live Game Guide for each team to lead through the escape room
What you need
PC or a laptop
Zoom (preferably in an app)
Reliable Internet connection
Latest version of Google Chrome
Webcam & headphones (optional)
---
Pricing and capacity
40-250
£22/$28+£120/$150
per person+big group fee
---
Cancellation policy
RESCHEDULING POLICY:
After a booking has been made, Client rescheduling within 2 weeks or less of the event date is subject to a fee equal to 25% of the total fee.
After a booking has been made, Client rescheduling within 72 hours or less of the event date is subject to a fee equal to £150 or 50% of the total fee whichever is greater will be applied at the time of your re-booking. Your event must be rescheduled within 365 days of your original event date.

CANCELLATION, LOW-SHOW, AND NO-SHOW POLICY: No refunds will be issued for reduced event participant headcount turnout at an event ("Low-Show"), zero participant turnout at an event ("No-Show"), and/or event cancellation. If you provide notice at least 72 hours in advance of the event for a Low-Show, No-Show, or cancellation then credit towards a future event may be issued in accordance to the rescheduling policy above. Any credit issued will be in accordance with the rescheduling policy above and must be utilized within 365 days of your original event date
Other popular activities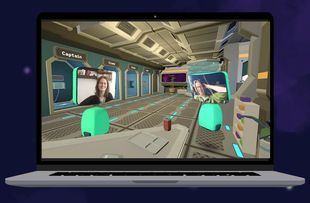 The Moonbase
Save NASA's Moonbase from the clutches of a wicked A.I. who's planning to destroy it with a space rocket? Join this online escape room adventure, and work together to stop the destruction!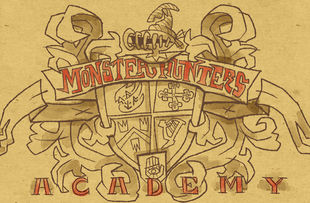 Monster Hunters Academy
Protected by a spell, you have an hour to solve puzzles and choose weapons before the spell wears off. Can you save the day? Work together to defeat a mythical creature threatening the academy!