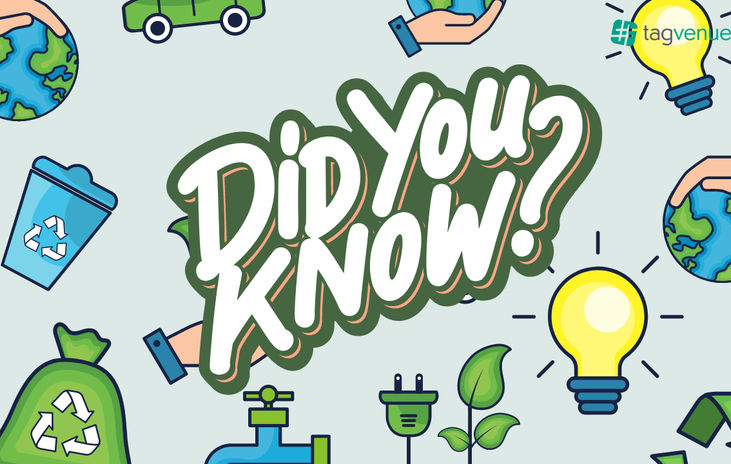 Earth Day Trivia
Go carbon free this Earth Day with a virtual trivia!
Activity highlights
Hosted by a professional emcee
Planning and Event Management
Delivered via our platform
Event Description
Are you a nature lover looking for a way to educate your team on climate change or Earth Day all while having fun? Look no further! Our Virtual Earth Day Trivia is a fun and engaging way for your team to get to know each other and get educated on the subject. Test your knowledge of environmental sustainability and engage in some friendly competition with your colleagues. With a variety of questions covering topics like Earth Day, nature, and climate change, our game is the perfect way to promote eco-consciousness and team bonding. So why wait? Celebrate Earth Day in style with Virtual Earth Day Trivia for teams today and increase eco-consciousness right away!

What do you get?
Your team will get the chance to play 5-6 mini-games, such as Trivia, Buzz In, Pictionary, Sorting and Fact Matching. Your event will be planned and managed by a dedicated event manager. If you would like to see a demo or even two, simply let us know. Game sets can be customised to feature 8 to 10 questions about your team at an additional cost. You will have access to a photobooth at the end of the event! No need to download anything, just wear your eco hat and meet your team at the given link.

How does it work?
Once your gameplay scenario is ready on the event day, you will receive a link to your team-building activity. You simply have to share it with your colleagues and jump on Zoom to start playing. There are no registrations or downloads required. Our lively host will assist and entertain your team! On the day of the event, our host will explain the rules and split participants into smaller groups. Once everyone is ready, the game starts! Work your way through mini-games like Trivia, Fact Matching, Buzz In and Pictionary! We value engagement, so every player gets the chance to be the captain and nobody gets left behind. Once the winner is announced, you can keep the party going with some fun props, poses, and photos!
What's included
Dedicated event manager
Professional Host
Link to your game
Up to 2 free demos
6-7 mini games
Photo Booth and Pictionary pictures after the event
What you need
Earphones
Laptop/Desktop (mobile devices NOT supported)
Reliable Internet connection
Latest version of Google Chrome
Your favourite eco-friendly items
---
---
Cancellation policy
RESCHEDULING POLICY:
After a booking has been made, Client rescheduling within 2 weeks or less of the event date is subject to a fee equal to 25% of the total fee.
After a booking has been made, Client rescheduling within 72 hours or less of the event date is subject to a fee equal to £150 or 50% of the total fee whichever is greater will be applied at the time of your re-booking. Your event must be rescheduled within 365 days of your original event date.

CANCELLATION, LOW-SHOW, AND NO-SHOW POLICY: No refunds will be issued for reduced event participant headcount turnout at an event ("Low-Show"), zero participant turnout at an event ("No-Show"), and/or event cancellation. If you provide notice at least 72 hours in advance of the event for a Low-Show, No-Show, or cancellation then credit towards a future event may be issued in accordance to the rescheduling policy above. Any credit issued will be in accordance with the rescheduling policy above and must be utilized within 365 days of your original event date.
FAQs
What is Earth Day Trivia?
The Earth Day Trivia is a captivating virtual team-building activity that combines eco-consciousness, education, and entertainment. It consists of a series of mini-games, such as Trivia, Buzz In, Pictionary, Sorting, and Fact Matching, focused on topics like Earth Day, nature, and climate change. This engaging event promotes team bonding while fostering a greater awareness and understanding of environmental sustainability.
Is Earth Day Trivia suitable for virtual onboarding?
Yes! It serves as an engaging and entertaining team-building activity that fosters camaraderie and eco-consciousness. Its lively and interactive format encourages collaboration, communication, and rapport-building among colleagues, making it an excellent choice for bringing new team members together in a virtual setting.
How many players are required for Earth Day Trivia?
The Earth Day Trivia can accommodate a broad range of participants, from 6 to 400 people. This flexibility makes it an ideal team-building event for organizations of varying sizes and allows for widespread engagement and interaction among players.
What will my remote team need for this online activity?
To ensure your remote team fully enjoys this online activity, each participant should have earphones for clear audio, a laptop or desktop computer as mobile devices are not supported, and a reliable internet connection for smooth gameplay. Additionally, it's best to use the latest version of Google Chrome for an optimal browsing experience.
How do I proceed with the event booking?
To proceed with booking, you have two options: either use the 'Enquire Now' button on the event's page or contact the organizers directly at events@tagvenue.com. Provide details about your guest size and preferred dates, and we will respond promptly with the necessary information. Once you're ready to move forward, share your company's details, such as the address and VAT number (for non-UK customers only), and you'll receive an invoice along with a secure payment link. You can then complete the transaction using a credit card (Visa, MasterCard, or Amex) in various currencies including CAD, GBP, USD, SGD, AUD, and EUR.
Other popular activities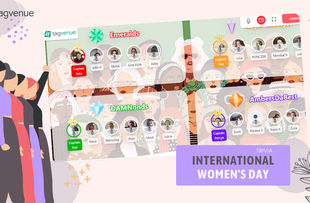 Virtual Women's History Month Trivia
Celebrate history's trailblazing women with The Greatest Women Trivia Game! Dive into an ocean of interactive fun and friendly competition that empowers your team and highlights female achievements.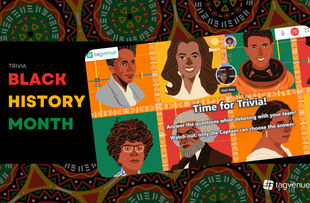 Black History Month Virtual Trivia
Black History Month Trivia is a cultural extravaganza that will make your team-building events shine brighter than Beyoncé's bling! Book our virtual event today and get ready for some serious fun!