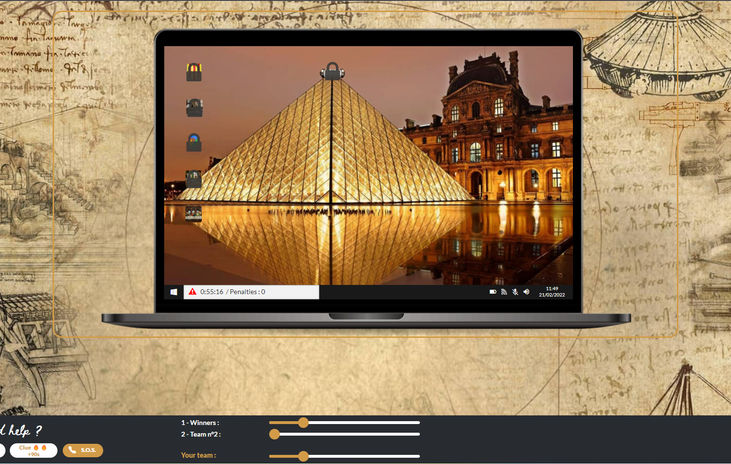 Theft of the Mona Lisa
Challenge your team and save one of the greatest art pieces in history!
Availability
Mon-Fri, 8am-9pm UTC
Activity highlights
Each team member gets personalized information to solve the tasks
Diverse logical, observational and arithmetic tasks
Great challenge for team cooperativeness and communication
Each riddle has a different mechanism
Event description
The Louvre is calling on your talents for a new mission : you have the future of France in your hands!

Like every Monday morning, the Louvre staff are busy before the opening of the Salles des Etats. The setup is done to welcome the thousands of visitors who are visiting the Mona Lisa portrait. In his round checks, the museum curator was dumbfounded at what he saw. When he comes to his senses, he guarantees that the Mona Lisa portrait is a fake one. However, there is no evidence of a break-in and nothing seems to indicate the theft. The security service had a quiet night.

The museum calls on the best investigators in the World (All of You!!) to find the authentic Mona Lisa portrait before the museum
opens. To add to this terrible situation, the portrait is very fragile and must be kept away from humidity at a specific temperature. You have one hour to find the Mona Lisa before it is gone forever!

On the day of the event:
1. Join the conference call where you will be greeted and briefed by the host.
2. You will be split into teams of 2-8, first team to get back the Mona Lisa portrait is the winner! Trained facilitators will be available throughout to help if your team gets stuck.
3. Winner announcement & debriefing.
What's included
Professional event host
Cool pictures of your team after the event
All necessary links for the event
What you need
PC or a laptop (mobile devices not supported)
Earphones / headphones
Reliable Internet connection
Latest version of Google Chrome
Zoom (preferably in an app)
All browsers are usable except Internet Explorer
---
---
Cancellation policy
RESCHEDULING POLICY:
After a booking has been made, Client rescheduling within 2 weeks or less of the event date is subject to a fee equal to 25% of the total fee.
After a booking has been made, Client rescheduling within 72 hours or less of the event date is subject to a fee equal to £150 or 50% of the total fee whichever is greater will be applied at the time of your re-booking. Your event must be rescheduled within 365 days of your original event date.

CANCELLATION, LOW-SHOW, AND NO-SHOW POLICY: No refunds will be issued for reduced event participant headcount turnout at an event ("Low-Show"), zero participant turnout at an event ("No-Show"), and/or event cancellation. If you provide notice at least 72 hours in advance of the event for a Low-Show, No-Show, or cancellation then credit towards a future event may be issued in accordance to the rescheduling policy above. Any credit issued will be in accordance with the rescheduling policy above and must be utilized within 365 days of your original event date
Other popular activities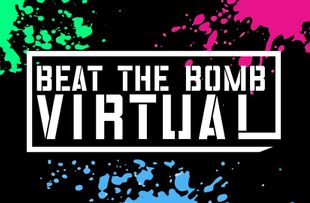 Beat The Bomb - Virtual Team Building
Join Beat the Bomb, an immersive virtual team-building experience, where you and your colleagues must work together to solve puzzles and defuse a bomb before it's too late! Time to play!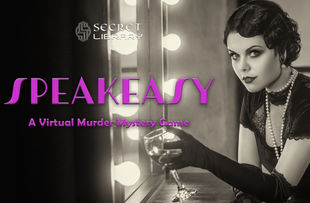 Speakeasy
Join a fun office social hour that turns into a murder mystery adventure. Laugh and puzzle your way through clues to figure out whodunnit. Can your team crack the case and solve the murder?