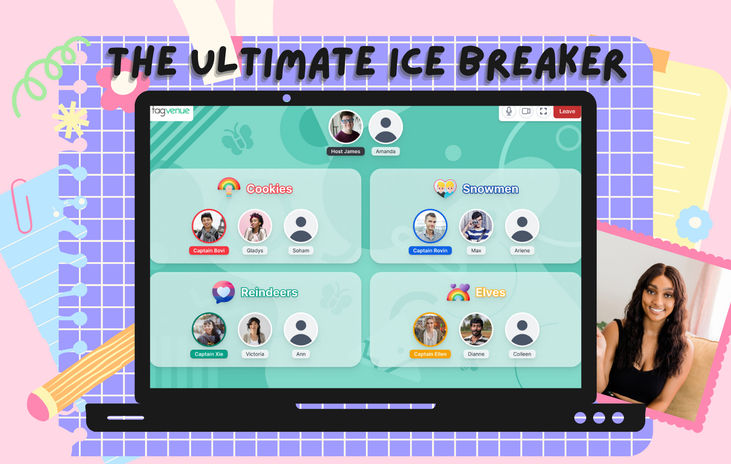 The Ice Breaker
The ultimate ice breaker filled with fun and a hint of rivalry
Activity highlights
Setup with a personal Event Producer
Professional and hilarious host
Event description
A mini version of our terrific team-building game - the Team Quest! Perfect for ice breakers before conferences, sales meetings, or between workshops.

The Ice Breaker is a quick, lighthearted game with a hint of rivalry. This 30- min event will make your team laugh, talk, and bond through a mix of Family Feud-like games including Emoji Riddles, Music Games, Karaoke, Face Mashups or Guess the Celebrity.

Here's what your experience will look like from start to finish:
After you set up a date, our Event Producer will create a game plan tailored specifically to your teams' needs. You'll select 4 game sets, choosing from various themes, types of challenges, and levels of difficulty. You can rest assured that you will get exactly what you are looking for, and more!

Once the gameplay scenario's settled, you'll get a link to join your game. Just share it with your teammates or delegates and join when the time comes. No registrations or downloads required!

One of our professional hosts will greet you and your team. They'll explain the rules and split you into teams. Once everyone is ready, the host will start the game, and so competition begins. Get ready to enjoy a series of short games like Trivia, Fact Matching, Buzz In, and Pictionary – just the right amount of competition, network, and teamwork. We value equal engagement, so each participant has a chance to be a captain – no one's left behind!

After the winner is announced, it's time to get silly as you play with colorful props, strike a pose, and take a photo booth picture that you can keep to remind you of the wonderful time you had.

Mobile devices are not supported!
What's included
Professional Host
Dedicated Event Producer
Web-based platform
4 mini games
Photo Booth picture after the event
What you need
Laptop/Desktop (mobile devices NOT supported)
Earphones/Headphones
Reliable Internet connection
Latest version of Google Chrome
---
---
Cancellation policy
RESCHEDULING POLICY:
After a booking has been made, Client rescheduling within 2 weeks or less of the event date is subject to a fee equal to 25% of the total fee.
After a booking has been made, Client rescheduling within 72 hours or less of the event date is subject to a fee equal to £150 or 50% of the total fee whichever is greater will be applied at the time of your re-booking. Your event must be rescheduled within 365 days of your original event date.

CANCELLATION, LOW-SHOW, AND NO-SHOW POLICY:
No refunds will be issued for reduced event participant headcount turnout at an event ("Low-Show"), zero participant turnout at an event ("No-Show"), and/or event cancellation. If you provide notice at least 72 hours in advance of the event for a Low-Show, No-Show, or cancellation then credit towards a future event may be issued in accordance to the rescheduling policy above. Any credit issued will be in accordance with the rescheduling policy above and must be utilized within 365 days of your original event date.
FAQs
What is the Ice Breaker virtual event for teams?
The Ice Breaker is, as the name suggests, an icebreaker activity to help team members get to know each other. The game is about 30 minutes and is great for water-cooler moments, or before sales meetings and conferences. It helps lighten the atmosphere and puts everyone in a good mood with its Family Feud-like games including Emoji Riddles, Music Games, Karaoke, Face Mashups or Guess the Celebrity. The event can be tailored according to your team's requirements and is ideal for a team of 20 people or less. It is a hosted event so you won't have to worry about a thing!
Is this virtual icebreaker for teams appropriate as a learning activity for students?
Totally! Short games like Trivia, Fact Matching, Buzz In and Pictionary are fantastic learning activities. Test your student's knowledge with a series of fun short games and allow each participant to play as captain so that they acquire some leadership skills. Students will enjoy the interaction, teamwork, and competition that Ice Breaker offers.
What will the participants need to play this virtual icebreaker game?
The event takes place on a web-based platform. Participants will receive a link prior to the game. All they need is a reliable internet connection, headphones, laptops/ desktops, and the latest version of Google Chrome.
Can I reschedule the booking?
Yes, we offer a one-time courtesy reschedule that's possible up to 2 days prior to the event. Last-minute rescheduling incurs a fee of 50€. We suggest confirming the availability of your team at least a week in advance to avoid any additional charges.
How do I proceed with the payment?
Hit the Enquire Now button and let us know the guest size and date requirements and we will respond with a confirmation of your booking. If you need additional information, drop us a line at events@tagvenue.com and we'll get back to you asap. To confirm the payment, we will need the company details such as the address and VAT number (if you're not located in the UK.) and we'll send you an invoice along with a link for secured payment. You can securely pay with your CC ( Visa, MasterCard, Amex) via a link. We accept CAD, GBP, USD, SGD, AUD, and EUR.
Other popular activities
Around the World - Virtual Icebreaker
Around the World is a fun and lighthearted team-building game that promotes networking and cultural learning. Ideal for collaboration, culture-building, and more. Suitable for everyone!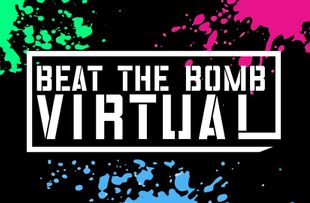 Beat The Bomb - Virtual Team Building
Join Beat the Bomb, an immersive virtual team-building experience, where you and your colleagues must work together to solve puzzles and defuse a bomb before it's too late! Time to play!