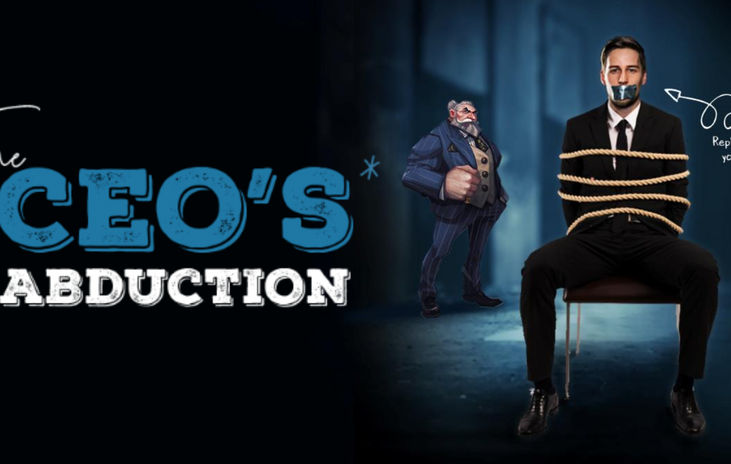 The CEO's Abduction
Has your beloved CEO been kidnapped or simply evaporated? What happened to him and can you bring him back?
Activity highlights
Involve your own CEO in the game
Get to rescue your boss and escape first
Event description
Has your beloved CEO been kidnapped or simply evaporated? What happened to him, and can you bring him back? Find out in this thrilling online escape room game.

Bringing your team together is not that hard when you have a great activity at hand. Team up with your mates to find out who harmed your CEO. Can he count on his brilliant team to save him and bring him back? Participants use their brainstorming and problem-solving skills to help each other decipher and interpret clues to win the game. So, wear your game face and get ready for some friendly competition!

Rumours say that the big boss was kidnapped by your biggest competitor and, since it's peak season, his presence is indispensable. So solve puzzles and collaborate with your peers to bring him back and outshine your competitors, as always.

The CEO's Abduction can be customised according to your team's requirements. We can have anyone on the team abducted for the event. (figuratively speaking, of course!)

Excellent for an online office party, Halloween, or a milestone celebration, the CEO's Abduction will bring everyone together for a good time, it's definitely full of laughs!
What's included
Game link
Fun and experienced host
Guaranteed blast for you and your team
What you need
PC with video software
Headphones (recommended)
---
---
Cancellation policy
RESCHEDULING POLICY:
After a booking has been made, Client rescheduling within 2 weeks or less of the event date is subject to a fee equal to 25% of the total fee.
After a booking has been made, Client rescheduling within 72 hours or less of the event date is subject to a fee equal to £150 or 50% of the total fee whichever is greater will be applied at the time of your re-booking. Your event must be rescheduled within 365 days of your original event date.

CANCELLATION, LOW-SHOW, AND NO-SHOW POLICY: No refunds will be issued for reduced event participant headcount turnout at an event ("Low-Show"), zero participant turnout at an event ("No-Show"), and/or event cancellation. If you provide notice at least 72 hours in advance of the event for a Low-Show, No-Show, or cancellation then credit towards a future event may be issued in accordance to the rescheduling policy above. Any credit issued will be in accordance with the rescheduling policy above and must be utilized within 365 days of your original event date.
FAQs
What is the CEO's Abduction Online Escape Room?
Your CEO has mysteriously disappeared. Rumours in the office reveal that he was kidnapped by your competitor. It's peak season and his presence is crucial. Using your communication, and problem-solving skills, you must locate him before it's too late and you incur a major loss. This online escape room can be customised to suit your needs.
How can The CEO's Abduction Online Escape Room Game promote team building?
Online escape rooms are known for bringing teams together. Through a series of challenges, teams put their communication skills to the test, designate a leader for their small group and collaborate to solve the mystery and win the game. Our games are designed for fun team building while fostering teamwork and bonding.
How can my team prepare for this Online Escape Room Game?
By ensuring that they won't be disturbed during their team building activity as it requires focus and cooperation. We encourage you to ask your team members to switch on their cameras for a better experience. An experienced host will take care of everything else once you join the game.
What happens in case of a low-show?
In case of a low-show, you will only be refunded if you let us know at least three days before the event. We will then credit it towards a future event. Therefore, it's essential to ensure that most participants will attend the event before booking with us.
How can I book a virtual experience with Tagvenue?
To book one of the virtual activities for your team, let us know which online escape room suits you best and the number of participants. Email us at events@tagvenue.com or use the inquiry form on our website to get in touch with us. Once the date and group size are confirmed, we'll provide you with a quote and all necessary information regarding the selected activity. You can then make a payment after providing us with the company billing details, such as the address and VAT number (this applies to non-UK customers only). The booking confirmation and invoice are sent via email. You can securely pay via a link with your CC ( Visa, MasterCard, Amex). We accept CAD, GBP, USD, SGD, AUD, and EUR.
Other popular activities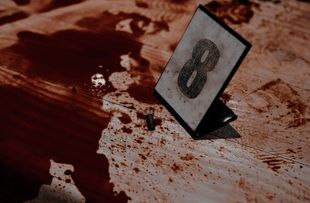 Murder at the Office Party
Office party turns into a crime scene as the boss is found dead. Team up with colleagues to uncover the truth. Drunk witnesses and strong evidence can help but time is running out. Solve the case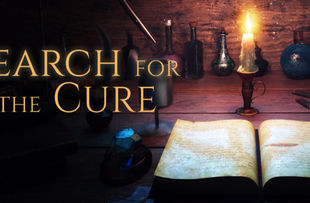 Search For the Cure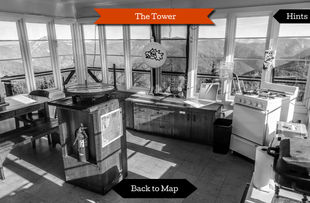 Treasure Mountain
Embark on a thrilling adventure with your team to uncover the $30 million treasure hidden on Treasure Mountain. Solve interactive challenges and follow a hand-drawn map to find it!