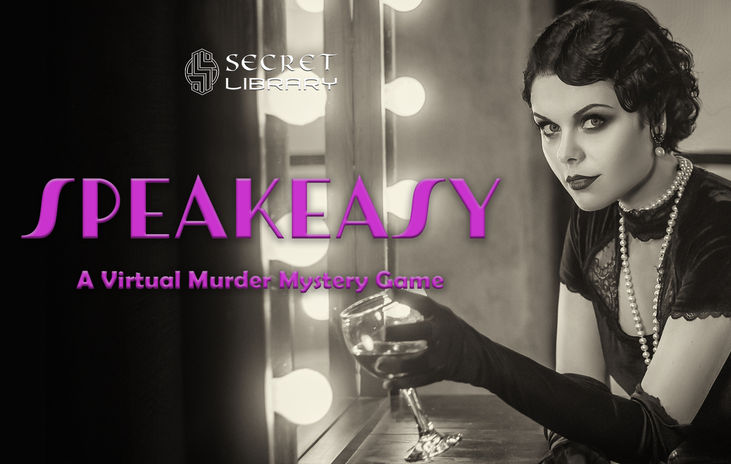 Speakeasy
Experience Cluedo like experience in the virtual setting
Activity highlights
4 Live Actors + 1 Tech Manager
Interactive game for active players
Event description
An office social hour filled with fun and games turns into a mystery when there's a murder! Figure out whodunnit in this social adventure filled with laughter and puzzling! Can your team follow the clues and solve the murder?

How it works:
You will receive an email with a link to access the event and preparation instructions. When the time comes, enter the event, where you will be prompted to register with an email address. This email address will not be used for spam but is required by the software to gain entry.

"The doors open" 5 minutes before the scheduled event time and the full show starts 5 minutes after the event start time to account for late arrivals and registration delay.

A unique virtual experience utilizing the community platform Remo.co to allow players the ability to explore a virtual map to find actors to interact with. The game bounces between a Zoom style Presentation Mode where the actors layout a scenario and an objective and a Game Mode where the actors interact with the players to complete the objectives. The interactions are improv-based and can be tailored to meet certain concerns (the company is against swearing/alcohol; there's a birthday in the company).

If you want to do an intro/outro, you will need to message the Tech Manager when they enter the event. The Tech Manager will coordinate timing details with you and make sure that you will be "brought onstage" at the appropriate time.

Speakeasy is an interactive and immersive experience that will help you laugh and bond with your team. Remember, no story is complete without YOU!
What's included
Event link
Access for private event
4 Live Actors + 1 Tech Manager
One-Pager PDF with tech requierments
Ability to do a custom live intro or outro from a VIP
What you need
Phone
PC or a laptop
Access to Google Chrome
Camera and microphone
Reliable Internet connection
---
---
Cancellation policy
RESCHEDULING POLICY:
After a booking has been made, Client rescheduling within 2 weeks or less of the event date is subject to a fee equal to 25% of the total fee.
After a booking has been made, Client rescheduling within 72 hours or less of the event date is subject to a fee equal to £150 or 50% of the total fee whichever is greater will be applied at the time of your re-booking. Your event must be rescheduled within 365 days of your original event date.

CANCELLATION, LOW-SHOW, AND NO-SHOW POLICY: No refunds will be issued for reduced event participant headcount turnout at an event ("Low-Show"), zero participant turnout at an event ("No-Show"), and/or event cancellation. If you provide notice at least 72 hours in advance of the event for a Low-Show, No-Show, or cancellation then credit towards a future event may be issued in accordance to the rescheduling policy above. Any credit issued will be in accordance with the rescheduling policy above and must be utilized within 365 days of your original event date
FAQs
What is an online murder mystery game?
Online murder mystery games are role-playing detective games that you can play on different platforms such as Zoom or Google Meet. Some online murder mystery games are fully-hosted while others can be downloaded for free.
How long can a virtual murder mystery party last?
Usually around 75- 90 minutes. However, these games are slightly more flexible as additional time is sometimes allocated to the participants to solve the murder mystery. If you're hosting your event, you can always pick the amount of time according to your group's needs.
What is the storyline of Speakeasy?
Speakeasy starts with a fun office happy hour, some music, and trivia when a murder is committed. The Prohibition-themed office party has taken a deadly turn. Your team needs to uncover the clues, interrogate the suspects and solve the murders within 80 minutes. Speakeasy is ideal for team-building activities, online birthday parties, and Halloween parties.
What is included in the price of the virtual event?
You'll have access to a private event with four live actors and the assistance of a tech manager. A document with tech requirements will also be shared with you. You can also request a custom live intro and outro from a VIP during the event. For more information, simply reach out to us here: events@tagvenue.com
How can I book Speakeasy for a virtual team-building event?
Contact us at events@tagvenue.com to confirm your guest size and preferred dates and we'll get back to you ASAP with all the necessary information. You can also use the Enquiry form on our website to get in touch with us. To confirm a booking, we will need the company details (only if you're not located in the UK.) and we'll send you an invoice along with a link for secured payment. You can securely pay with your CC ( Visa, MasterCard, Amex) via a link. We accept CAD, GBP, USD, SGD, AUD, and EUR.
Other popular activities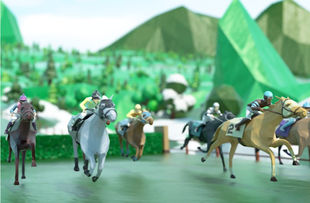 At The Races - Virtual Races
Experience the thrill of the horse races without the risk of losing money with At the Races! Bet, train, and sabotage horses with your friends in this exciting game. With a live scoreboard and more!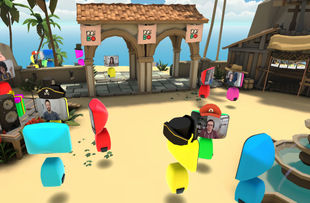 Desert Island - Virtual Escape Room
Escape to a Desert Island with our virtual escape room, suitable for players of all levels from around the world. Bring the in-person experience of a traditional escape room to your office.