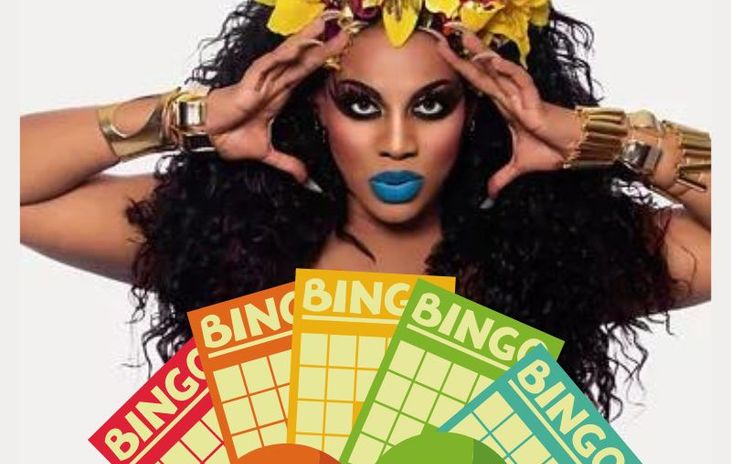 Roxy's Got Balls - Drag Queen Bingo
She's got balls! But do you have what it takes to win all the Bingo rounds?
Activity highlights
Chat with popular and talented member of LGBTQ+ community
Opportunity to socialize after the game within the session
Have a blast with babe Roxy Wood
Five rounds of high energy Bingo
Event description
Virtual Drag Queen Bingo is a highly energetic and exciting game of bingo where you can interact and win prizes while Roxy chats with you and calls balls!

Celebrate your Pride Month with gorgeous Babe Roxy Woods!
Have a blast while playing Bingo with the incredibly talented and famous Drag Transgoddess.

The rounds help participants interact with a representative of the LGBTQ+ community and have fun celebrating Pride Month. Perfect for a birthday party or a holiday event, this 60-minute activity is hassle-free to organize. Drag Queen Bingo is suitable for both small and large groups.

Ready to have fun? All you need to do is pick a date and let us prepare everything for you. Once the slot is booked, you are going to get the link to your Pride team-building activity. There are no extra registrations or downloads required.

Roxy Woods will assist and entertain your team!
What's included
Zoom link
Cheat sheet
Virtual Bingo cards
Fun and professional host Roxy
What you need
PC/laptop
Good mood
Headphones(optional)
Stable Internet connection
---
---
Cancellation policy
RESCHEDULING POLICY:
After a booking has been made, Client rescheduling within 2 weeks or less of the event date is subject to a fee equal to 25% of the total fee.
After a booking has been made, Client rescheduling within 72 hours or less of the event date is subject to a fee equal to £150 or 50% of the total fee whichever is greater will be applied at the time of your re-booking. Your event must be rescheduled within 365 days of your original event date.

CANCELLATION, LOW-SHOW, AND NO-SHOW POLICY: No refunds will be issued for reduced event participant headcount turnout at an event ("Low-Show"), zero participant turnout at an event ("No-Show"), and/or event cancellation. If you provide notice at least 72 hours in advance of the event for a Low-Show, No-Show, or cancellation then credit towards a future event may be issued in accordance to the rescheduling policy above. Any credit issued will be in accordance with the rescheduling policy above and must be utilized within 365 days of your original event date.
FAQs
What is Roxy's got Balls Virtual Drag Queen Bingo?
While the game itself is much like a traditional bingo game, the online drag queen Roxy will take your ordinary bingo night to the next level. Humorous and one of a kind, Roxy is there to entertain you while calling the games. The sessions are hosted via Zoom and virtual bingo cards are provided to participants. We recommend adding some amusing prizes to each round to make the event more engaging for your team!
Does virtual bingo require any game experience?
Not at all! A few game examples will be sent to you before the game for you to understand how it works. Roxy, your host will also explain the rules of the game at the start of your online party.
Does my team need to bring anything?
Welcome to the 21st century, where bingo games have been upgraded! You'll receive virtual bingo cards that you can mark using a tablet, smartphone, or laptop. We do recommend using recent equipment to ensure a flawless bingo experience. Everything needed will be provided by us. All you need to do is connect and enjoy your game with the team.
How many people can participate in this virtual event?
Any number from 4 to 5000 participants can play simultaneously. Just make sure to pick a time that works for all your guests and to send them the invitation to the event at least two weeks in advance.
How can I book an online event on Tagvenue?
Simply enquire via our platform or send us an email at events@tagvenue.com. We'll get back to you ASAP and confirm the availability and pricing of the virtual activity. If these suit your needs, simply book the event by providing the following: company billing details: address, and VAT number (for non-UK customers only). We'll revert back with a booking confirmation and an invoice. A payment link will be provided where you can securely pay with your CC ( Visa, MasterCard, Amex). We accept CAD, GBP, USD, SGD, AUD, and EUR.
Other popular activities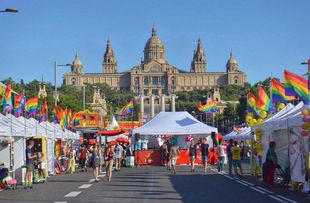 Virtual Pride Tour in Barcelona
Experience a virtual team-building event hosted by a fun LGBTQ+ guide and explore Barcelona's Transgender Summer House, Lesbian Kiss Mural, Rainbow TownHall, and Gay beach. Enjoy games, trivia & more!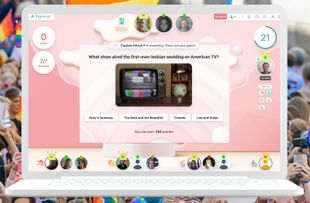 Pride Month Virtual Trivia
Host a Pride-themed trivia match featuring LGBTQIA+ pop culture and historical questions in our all-time favourite game, Team Quest. Celebrate the community's beauty and learn new facts!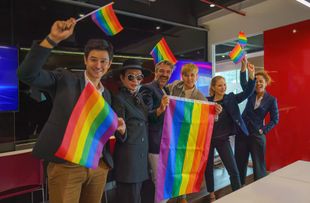 LGBTQ+ Allyship in the Workplace
Join a virtual workshop to learn about inclusive language and important concepts, free of judgment. Gain knowledge on how to avoid offensive questions, raise awareness for marginalized groups.