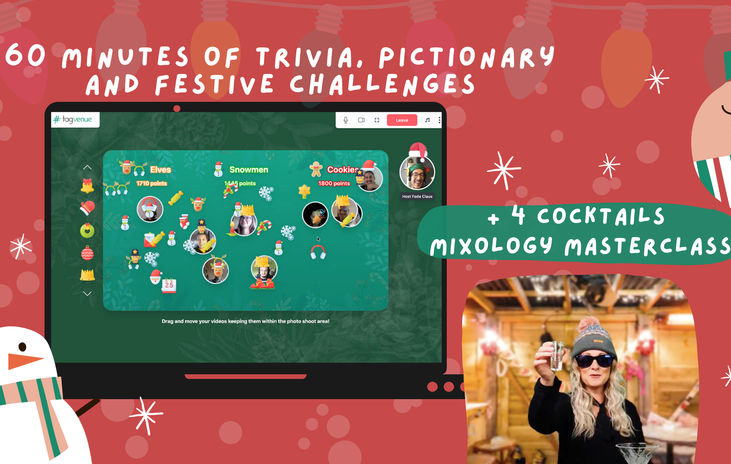 Rockin Around the Christmas Tree
Get in the Christmas spirit with a cocktail making class and 60 minutes of festive games!
Activity highlights
Two of our best selling experiences in one
A cocktail box with all the ingredients delivered to your doorstep
Festive atmosphere guaranteed
Event description
With the holiday season just around the corner, things are about to get festive and jolly! Rocking Around the Christmas is a virtual mixology class followed by 60 minutes of pure fun featuring holiday-themed games such as Trivia, Fact Matching, Pictionary, and much more!

Enjoy your homemade cocktails and compete against other teams in a convivial environment. Experience the holiday spirit despite being a far-flung team. Our emcee/mixologist will teach you how to craft your own delicious cocktails from scratch. With the ingredients and tools delivered to your doorstep, you won't have to worry about a thing! Just hop on Zoom when the day arrives and put your ugly Christmas sweaters on!

How it works:
1. Rocking around the Christmas Tree starts with the Apres Ski Cocktail Masterclass where participants will be greeted by the Ski Host. Teams can be split into smaller groups if needed. Once everyone is ready, it's time for a one-of-a-kind festive event! Shake your cocktails to the rhythm of the music and enjoy four different cocktails/mocktails with your crew. After 60 minutes, everyone meets by the pool for a quick wrap-up.

Before the event, each participant will be delivered a cocktail box containing:

- A Cocktail Shaker
- All Alcohol & Ingredients for Four Cocktails Plus Garnishes
- PassionStar Martini, Raspberry Mojito, Apple & Elderflower Martini, and Salted Caramel Espresso Martini
- UK delivery is included in the price.
- Alcohol can be replaced with Seedlip - a non-alcoholic spirit.

2) Christmas-themed Trivia
After some drinks and banter, it's time for a festive Trivia, Pictionary, Buzz In, Fact Matching, and a Christmas-themed photo booth! All you have to do is put on a holiday jumper, click the link, and sledge onto the Tagvenue Virtual platform where the ho-ho-host waits to entertain your team. After you book a date, our Event Producer will create a game plan tailored specifically for your team's needs. We have hundreds of game sets on hand, so you'll get exactly what you're looking for and more! The Christmas Essential Trivia is fully hosted and designed in a way to make everybody feel included and engaged in the game. No registrations or downloads are required!

Let the Christmas spirit ring and make your celebration a one-of-a-kind festive experience!
What's included
Hamper box with ingredients for 4 cocktails, garnishes and a shaker
Professional Hosts and Mixologists
6-7 festive mini-games
Dedicated Event Producer
Web-based platform (Winter Wonderland Edition) and Digital HD studios
Photo Booth and Pictionary pictures as event takeaways
UK shipping
What you need
List of all participants with their addresses
PC / Laptop with a camera (Mobile devices are NOT supported!)
Earphones / Headphones
Reliable Internet connection
Latest version of Google Chrome
Glassware
---
Pricing and capacity
Mixology Masterclass + Game
Outside of the UK delivery?
---
Cancellation policy
All sales are final and non-refundable.
One-time courtesy reschedule possible up to 10 days (UK-based participants)/20 days (outside of the UK-based participants) before the event date.
No rescheduling possible for no shows or last-minute cancellations.​
FAQs
What is the Rockin Around the Christmas Tree Holiday Cocktail-making Class?
It's a cocktail-making class designed for bringing team members closer. Known as one of our best-selling Christmas games, this mixology masterclass lasts two hours; the first hour is dedicated to crafting cocktails or mocktails with ingredients delivered to the participants and the second hour consists of a series of mini-games such as Trivia, Buzz In, and Pictionary followed by a Photo Session at our virtual holiday photo booth. Rockin around the Christmas tree is ideal for online parties during the holiday season!
How should my team prepare for the virtual holiday party game?
All they need is their ugly Christmas sweater and their favourite glassware for their drinks. A link will be sent to you before the event- all you have to do is share the link with your guests and sledge onto the Tagvenue Virtual platform where the entertainment will begin.
Is Rockin Around the Christmas Tree appropriate for corporate team building?
Absolutely! This online cocktail party is an excellent way for new joiners to get to know their peers and for team members to enjoy team-building sessions that are fun and interactive. Our event producers are here to be personalised to your game plan. So we'll make sure to craft an experience that makes everyone feel included and engaged.
What is included in the virtual Christmas party game price?
A typical package without any customization includes a hamper box with ingredients, garnishes, and a shaker. Other than these, you will have access to a web-based platform, professional hosts and mixologists, 6-7 mini-games, a dedicated event producer, and photos as event takeaways.
Can this event be hosted anywhere in the world?
We will be happy to work with you on your remote event needs. Simply drop us a line at events@tagvenue.com and we will provide you with a quote based on your location/s.
How can I book a virtual team building event?
Simply enquire via our platform or send us an email at events@tagvenue.com if you require further assistance. We will then confirm the availability of the activity along with the price for your chosen number of participants. Once these are confirmed, you can make a payment by providing the company billing details, i.e. the address, and VAT number (for non-UK customers only). We'll then send you a booking confirmation with the details and an invoice. A payment link will be provided where you can securely pay with your CC ( Visa, MasterCard, Amex). We accept CAD, GBP, USD, SGD, AUD, and EUR.
Other popular activities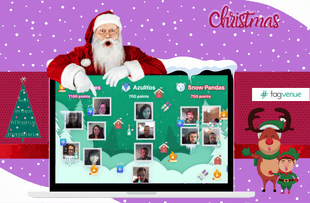 Christmas Essential Trivia
Join in the holiday fun with a mix of festive mini-games like Trivia, Buzz In, Pictionary, Karaoke, and Sort It. Dress up, click the link, and enter Tagvenue Virtual Social for a jolly event!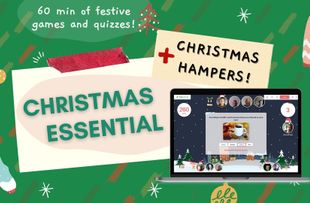 All I Want for Christmas Hampers
With entertaining trivia, karaoke, and festive hampers, you'll feel the holiday spirit in no time. Featuring mini-games like Buzz In, Pictionary, and more, it's the perfect way to celebrate Christmas!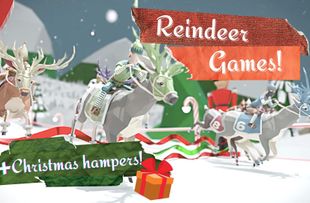 Santa's Party Sleigh
Join us for a Reindeer race game and enjoy festive snacks and drinks delivered to your door! Help Santa pick a new champion while collaborating with other players in a fun and competitive environment.