Virtual Pride Tour in Barcelona
Come with us through the streets of Barcelona to discover why this is one of the most LGBTQ-friendly cities in the world!
Availability
Mon-Sun, 7am-10am CET
Activity highlights
Stories about the LGBTQ+ community in Barcelona
Can be hosted in English, French, and Spanish
Expand your knowledge on inclusivity
Participate in Pride Barcelona games
Event description
Bienvenidos a Barcelona!
Meet your Pride Month in incredible Barcelona! Visit the Transgender Summer House, Lesbian Kiss Mural, the Rainbow TownHall, and the Gay beach.

Explore and get to know some interesting stories about these remarkable places in the sunny city of Barcelona. Your hour-long trip will include amusing trivia games, crazy historical facts, dare wheels, and guess the Drag rounds! Of course, your virtual team-building experience will be facilitated by a very fun LGTBQ+ host!

Create a friendly and open atmosphere for your team during this month full of pride! Add a second host to visit all these places live in Barcelona !!!

The only thing that you have to do to start your exciting Pride Month journey is to book a date! Everything else is on us! We are waiting for you!
What's included
Zoom link
Photo of your team
Educated event host
Host live streaming from Barcelona (optional/on demand)
What you need
PC / laptop
Headphones (recommended)
Reliable Internet connection
---
---
Cancellation policy
RESCHEDULING POLICY:
After a booking has been made, Client rescheduling within 2 weeks or less of the event date is subject to a fee equal to 25% of the total fee.
After a booking has been made, Client rescheduling within 72 hours or less of the event date is subject to a fee equal to £150 or 50% of the total fee whichever is greater will be applied at the time of your re-booking. Your event must be rescheduled within 365 days of your original event date.

CANCELLATION, LOW-SHOW, AND NO-SHOW POLICY: No refunds will be issued for reduced event participant headcount turnout at an event ("Low-Show"), zero participant turnout at an event ("No-Show"), and/or event cancellation. If you provide notice at least 72 hours in advance of the event for a Low-Show, No-Show, or cancellation then credit towards a future event may be issued in accordance to the rescheduling policy above. Any credit issued will be in accordance with the rescheduling policy above and must be utilized within 365 days of your original event date.
FAQs
What is the Pride Month Virtual Tour in Barcelona?
Learn about the LGBTQ+ history and community in Barcelona and why the city is deemed one of the most LGBTQ+-friendly in the world. The event focuses on being open about sexual minorities and celebrating our differences. Both interactive and educational, your remote teams will get to learn about LGBTQ+ landmarks such as the Lesbian Kiss Mural or the Rainbow Townhall on this virtual city tour. You may even opt for an additional host to visit the places live.
Is this event only suitable for LGBTQ+ employees?
No! We encourage you to invite all your employees to attend this virtual tour as they'll get a chance to enjoy a break from work, get to know each other, and celebrate the LGBTQ+ community. Such events will enable your employees to develop empathy and help break down prejudices towards the community.
Can you offer a shorter event?
We have several LGBTQ+-themed events for you to choose from. If you wish to make the virtual tour shorter, let us know when enquiring and we'll try to accommodate your requirements.
Will this virtual tour be appropriate for corporate team building?
Yes! Talking about sexual minorities and orientation is a way to create a more inclusive workplace, particularly in corporate environments where there are hundreds or thousands of people working together. Inclusive activities encourage people to bring their authentic selves to work and ensure that everyone feels welcomed and appreciated at work.
How can I book the Virtual Pride tour for my team?
The 'Enquire now' option is the easiest way to book an event for a small group or if you don't have any questions about your booking. If not, you can contact us at events@tagvenue.com and let us know your group size and preferences. Once we confirm the details, you can proceed with the booking. All you have to do is provide the company details such as the address and VAT number (for non-UK customers) and we'll send you an invoice along with a secured link for the payment. CC ( Visa, MasterCard, Amex) We accept CAD, GBP, USD, SGD, AUD, and EUR
Other popular activities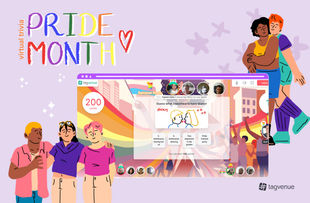 Pride Month Virtual Trivia
Host a Pride-themed trivia match featuring LGBTQIA+ pop culture and historical questions in our all-time favourite game, Team Quest. Celebrate the community's beauty and learn new facts!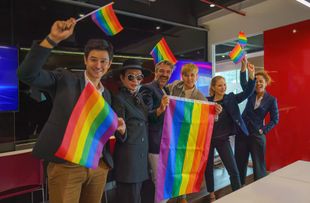 LGBTQ+ Allyship in the Workplace
Join a virtual workshop to learn about inclusive language and important concepts, free of judgment. Gain knowledge on how to avoid offensive questions, raise awareness for marginalized groups.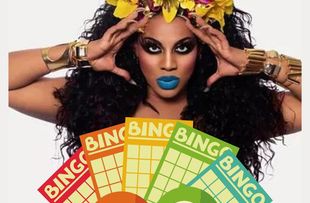 Roxy's Got Balls - Drag Queen Bingo
Celebrate Pride Month with virtual Drag Queen Bingo hosted by the talented Roxy Woods. Interact and win prizes while enjoying an energetic game of bingo. Perfect for groups & hassle-free to organize!