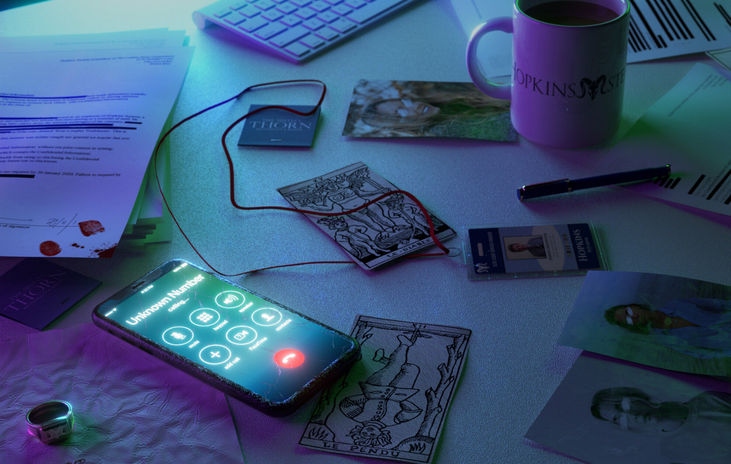 Plymouth Point
An immersive theatrical thriller, made for the Internet
Availability
Mon-Fri, 9am - 10pm UTC
Activity highlights
Absorbing like the best thrillers
Curated by professional actors
Just share the link with your team
Played in teams of 6 players
Delivered via Dedicated Platform
Part of theatrical thriller trilogy
Event description
Plymouth Point is an immersive, online thriller, taking you from the comfy confines of the Plymouth Point Residents Watch into the heart of a deeply unsettling corporate conspiracy. Delivered via a dedicated platform and curated by professional actors.

On the day of the event, you will log in to a dedicated platform. Teams will need to follow clues, crack codes, and hack passwords in an attempt to find out why a missing resident has vanished.

There is a Stage Manager available to every team, if any help is required you can use the chat function to ask them any questions you may have. They will also drop helpful hints to help you solve the clues along the way if needed. The experience is active by design so you will need to follow every lead to progress through the experience and find the answers you are searching for.

Players will be expected to 'drive' the experience in their groups by following the clues and piecing together the story. We encourage collaboration through screen sharing and communication. From our experience the players who enjoy it the most understand they will be required to use their initiative to follow the story.
We suggest you encourage an awareness and understanding that the experience is not passive. It functions much like a video game, which needs to be explored to progress the story and achieve your objectives.
What's included
Stage Manager
Link to the platform
What you need
PC or a laptop
Earphones / headphones
Reliable Internet connection
Latest version of Google Chrome browser
---
---
Reviews
S
Sho, Portify
Booked on 18th August 2021
Generally amazing experience, more than we expected
---
Cancellation policy
All sales are final and non-refundable.
One-time courtesy reschedule possible up to 7 days before the event date.
No rescheduling possible for no shows or last-minute cancellations.​
Other popular activities