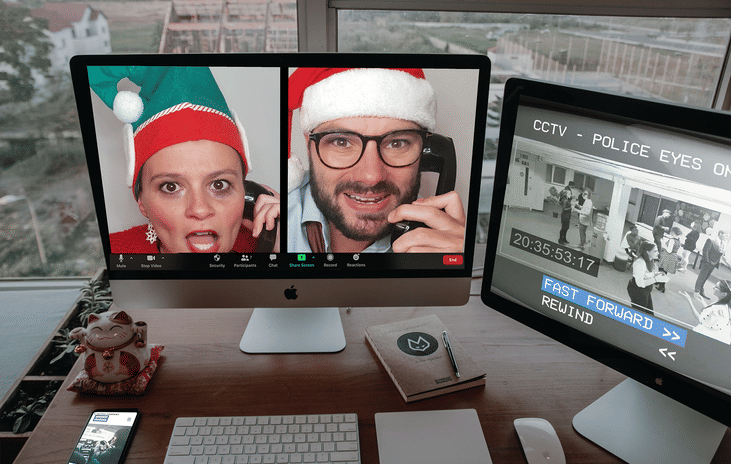 The Office Christmas Party
Among the party hats and spilled drinks, a dead body. The morning after, two witnesses in the drunk tank.
Activity highlights
Bond with your colleagues this Christmas season
Question the suspects and conduct the arrest
Solve the Christmas Murder Mystery
Watch the CCTV and analyse avoidance
Event description
Ah, another day, another mystery to solve. It seems like someone spiked the punch at the local office party and now we're left to pick up the pieces. The manager has collapsed and we have a strong suspicion that foul play was involved.

But hold on, what's this? We have two witnesses in the drunk tank who might know a thing or two about what went down. They're feeling a bit worse for wear, but we're running out of time. The clock is ticking and we only have 90 minutes to crack this case. Can they remember what they know, or will we have to extract it from their hazy memories?

It's up to us to put together the pieces of last night's tragic puzzle. But let's not underestimate the power of a hangover, it can be a real bummer. However, we'll use our wit and charm to get to the bottom of this. We'll ask the right questions, follow the right leads, and hopefully catch the culprit before they have a chance to strike again.

So, grab a coffee, put on your detective hat, and let's get to work. It's time to solve this mystery and bring justice to the poor manager who lost their life. And who knows, we might even get a promotion out of it. Just kidding, we're in this for justice, not glory.
What's included
Zoom link
Three real actors facilitating the show
What you need
List of Participants Emails
PC/laptop with a camera
Headphones (recommended)
---
---
Cancellation policy
RESCHEDULING POLICY:
After a booking has been made, Client rescheduling within 2 weeks or less of the event date is subject to a fee equal to 25% of the total fee.
After a booking has been made, Client rescheduling within 72 hours or less of the event date is subject to a fee equal to £150 or 50% of the total fee whichever is greater will be applied at the time of your re-booking. Your event must be rescheduled within 365 days of your original event date.

CANCELLATION, LOW-SHOW, AND NO-SHOW POLICY: No refunds will be issued for reduced event participant headcount turnout at an event ("Low-Show"), zero participant turnout at an event ("No-Show"), and/or event cancellation. If you provide notice at least 72 hours in advance of the event for a Low-Show, No-Show, or cancellation then credit towards a future event may be issued in accordance to the rescheduling policy above. Any credit issued will be in accordance with the rescheduling policy above and must be utilized within 365 days of your original event date.
FAQs
What is The Office Christmas Party virtual experience?
The Office Christmas Party is an engaging and immersive 90-minute digital adventure that tasks participants with solving a mysterious murder that occurred during a festive office gathering. Players must rely on their wit and problem-solving skills to piece together the events of the night, aided by the testimony of two hungover witnesses with hazy recollections. This captivating experience combines elements of mystery, humor, and suspense, challenging players to uncover the truth behind the crime while racing against the clock.
Is The Office Christmas Party a suitable team-building event for new joiners?
Absolutely! The interactive nature of the game encourages cooperation, communication, and problem-solving among participants, which can help strengthen interpersonal bonds and foster a sense of camaraderie. By working together to solve the mystery, new joiners and their teammates have an opportunity to develop rapport and engage in a memorable shared experience that promotes a positive team dynamic.
How does The Office Christmas Party work?
The Office Christmas Party works as a virtual, interactive experience wherein players are tasked with solving a mysterious murder that transpired during a festive office celebration. The game unfolds over 90 minutes, during which participants must collaborate, using their wits and problem-solving abilities, to decipher the enigmatic events of the fateful night. To progress in the game, players rely on the testimonies of two hungover witnesses whose memories are shrouded by the previous night's indulgences. By piecing together their accounts and unraveling clues, participants endeavor to reconstruct the narrative of the evening and ultimately unveil the truth behind the crime.
Can I make a special announcement during the activity?
Yes! To arrange for a birthday shoutout or any other special announcement, simply inform your designated event producer at events@tagvenue.com. The host will then ensure that a celebratory moment is incorporated into the activity. If you haven't booked the event yet and require assistance with planning, feel free to use the brief description option on the event's page to make your request. The event organizers are eager to accommodate your needs and help create a memorable experience for all participants.
What happens after purchasing a virtual team-building activity?
After purchasing a virtual team-building activity like The Office Christmas Party, the event producer will reach out to you to ensure that they can deliver an unforgettable experience. If you need further assistance, you can contact them at events@tagvenue.com. They will confirm the availability of the chosen activity and provide the price based on your specified number of participants. Once the details are confirmed, you'll be asked to provide your company's billing information, including the address and VAT number (for non-UK customers only). Following this, you'll receive a booking confirmation containing all the details, along with an invoice. A secure payment link will be provided, allowing you to complete the transaction using a credit card (Visa, MasterCard, or Amex). The accepted currencies include CAD, GBP, USD, SGD, AUD, and EUR.
Other popular activities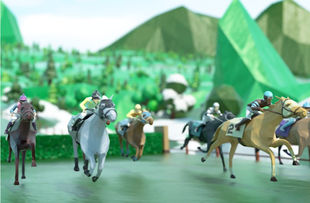 At The Races - Virtual Races
Experience the thrill of the horse races without the risk of losing money with At the Races! Bet, train, and sabotage horses with your friends in this exciting game. With a live scoreboard and more!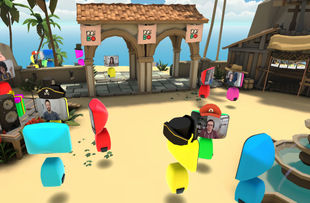 Desert Island - Virtual Escape Room
Escape to a Desert Island with our virtual escape room, suitable for players of all levels from around the world. Bring the in-person experience of a traditional escape room to your office.