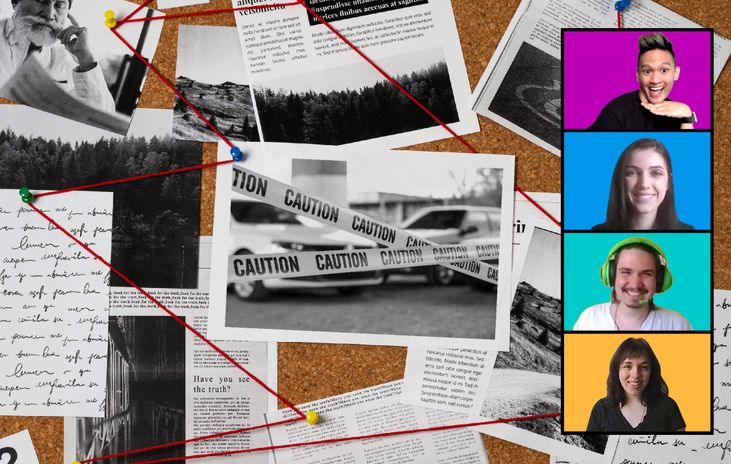 Secret of Langston's Fortune
Become an investigator for the day! Interrogate live suspects and crack the case.
Activity highlights
Become a professional investigator and try to solve the crime
Game is designed exclusively for an online team-building experience
Interrogate live suspects and review evidence
Six energetic live actors
Event description
The last Sherlock Holmes movie got you considering a career change? Well, maybe it's time to get started with an epic virtual murder mystery!

The Murder of Tobias Langston is an online murder mystery in which participants get to interrogate suspects played by real-life actors. The Langston heir was found dead after his recent marriage to Delilah Detante. But who did it?

Interrogate the suspects and get to the bottom of the crime. Participants get to collaborate, examine clues, and decipher riddles. They use their problem-solving skills to analyse voicemails and documents and communicate with the suspects to unravel the enigma.

The online murder mystery is ideal for small and large groups and includes an opening that sets the scene. For large teams we can provide more than one of each suspect. All you have to do is put your detective caps on and hop on Zoom for a thrilling virtual experience with your team! Engaging and interactive, solving mysteries has never been this fun!

How to play it?
Remote teams can participate in this whodunnit from anywhere in the world. You'll get a link to the game before the event where an enthusiastic lead investigator will run the show and guide you through the game!
What's included
All necessary links for the event
Five live actors in character as the suspects
An enthusiastic lead investigator who plays emcee and runs the show
What you need
PC or a laptop
Zoom (preferably in an app)
Webcam & headphones (optional)
At least one person on the team should have an access to Google Forms
---
---
Cancellation policy
We do not allow cancellations after booking. We are always happy to work with you if you need to reschedule your event, but please note a rescheduling fee may apply.

RESCHEDULING POLICY:
After a booking has been made, Client rescheduling within 2 weeks or less of the event date is subject to a fee equal to 25% of the total fee.
After a booking has been made, Client rescheduling within 72 hours or less of the event date is subject to a fee equal to £150 or 50% of the total fee whichever is greater will be applied at the time of your re-booking. Your event must be rescheduled within 365 days of your original event date.
FAQs
What is the Secret of Tobias Langston Virtual Murder Mystery?
It's an online murder mystery full of twists and challenges! The Secret of Tobias Langston has been exclusively designed for team building activities. Players get to interrogate live suspects and collaborate to figure out what happened to the murdered heir to the Langston fortune. Interactive and engaging, this virtual murder mystery is ideal for icebreaker events, office parties, and Halloween.
Is this online murder mystery game appropriate for team-building?
Yes! Particularly if you're celebrating Halloween with your remote or hybrid team. The Secret of Tobias Langston is work-appropriate and is not in any way disturbing for employees. While the story is based on a murder, the content is presented in a humorous tone while being engaging enough for teams to work together, solve riddles and crack the case.
How long is this virtual mystery party?
Virtual murder mystery games are usually 1.5 hours to 2 hours long. The Secret of Tobias Langston is a 90 minute game, however, additional time can be provided if required for your team to solve the mystery. Just let us know in advance.
How many players can participate in the game?
Up to 600! We can accommodate larger groups who wish to try out this online game. We also work with smaller groups, however,, we cannot work with any group smaller than 30.
How can I book a virtual event on Tagvenue?
To book our virtual murder mystery games, simply click on the 'Enquire Now' option on our website to book an event and let us know whether you have any special requests during the event. Or simply send us an email at events@tagvenue.com with the number of guests, the event's name, and your requested dates. We'll get back to you with the details. Once you agree to proceed, you will need to send us your company details such as the address and VAT number (for non-UK Customers only) following which we'll send you an invoice and a link for the payment. You can then securely pay with your CC ( Visa, MasterCard, Amex) via a link. We accept CAD, GBP, USD, SGD, AUD, and EUR.
Other popular activities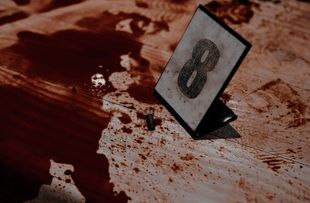 Murder at the Office Party
Office party turns into a crime scene as the boss is found dead. Team up with colleagues to uncover the truth. Drunk witnesses and strong evidence can help but time is running out. Solve the case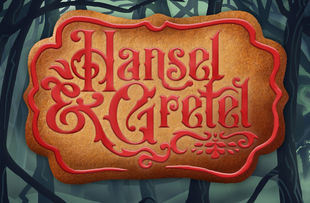 Hansel & Gretel
Experience the Hansel and Gretel-inspired murder mystery game set in the Black Forest. Unravel the mystery surrounding the missing siblings in this online game. Test your problem-solving skills!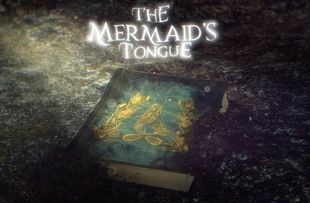 Mermaid's Tongue Escape Room
Collaborate with your colleagues to locate the artifact while exploring an engrossing virtual world teeming with enigmatic secrets. This superb online experience is accessible from anywhere!