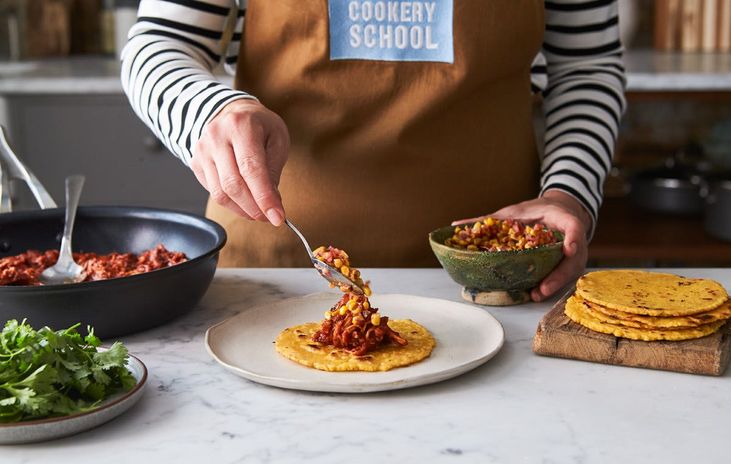 Mexican Street Food Cooking class
Get together with team and learn how to cook food from all corners of the globe, in Jamie's signature relaxed cooking style.
Availability
Any day of the week
Activity highlights
Hosted by a chef from Jamie Oliver cookery school
Recipes and shopping list included
Perfect for pros and for beginners
Option to add £20 shopping voucher for all participants
Option to send Jamie Oliver Cookery School apron to all participants
Event description
Chilaquiles, Tacos, Burritos, or Menudo, ask and we will teach you how to cook the most popular Mexican foods of all time within two hours!

The Mexican Street Food Online Class is meant for both beginners and experienced amateur chefs all over the world. Hosted by a professional chef from the prestigious Jamie Oliver's Cookery School, this cooking class is carried via Zoom and can be attended by approximately 1000 participants, which makes it perfect for corporate team-building activities.

All you'll have to do is get the freshest ingredients and prepare them before the event so that you can follow the chef's instructions with ease. Our cooking class focuses on learning, communication, and building relationships. By the end of the class, teams can indulge in a dinner or lunch party and continue their team-building activity after cooking a delicious meal.

We have three different packages for you to choose from:
The Bronze Package:
- a shopping list and a prep list
- details of how to join the call via Zoom ahead of the big day

The Silver Package:
- a shopping list and a prep list
- details of how to join the call via Zoom ahead of the big day
- a £20 supermarket voucher for ingredients

The Gold Package
- a shopping list and prep sheet
- details of how to join the call via Zoom ahead of the big day
- a £20 supermarket voucher for ingredients
- a Jamie Oliver Cookery School apron in the post

Gather your friends, family, and colleagues to rustle up some of the most delectable dishes of Mexico.
What's included
Professional Chef as a host
Tech support
Shopping list and prep sheet
What you need
Kitchen (no fancy tools and dishes required)
Reliable Internet connection
Zoom
Ingredients
---
---
Cancellation policy
All sales are final and non-refundable.
One-time courtesy reschedule possible up to 7 days before the event date.
No rescheduling possible for no shows or last-minute cancellations.​
FAQs
How can the Mexican Street Food online class help my team?
Teams will unwind and get to know each other while learning something new. They will learn how to cook in a friendly atmosphere where the host will facilitate conversation and make sure that participants interact with one another. Cooking classes are not only a lot of fun for employees as it is something unique but they also help boost employee morale and engagement.
How many participants can attend the Mexican Street Food online class?
Up to 1000 participants. So if you're planning a virtual event for remote corporate teams or a smaller team of ten, we've got you covered.
How do I change the date of the virtual event?
Received your event confirmation but need to book a new date or time? Send us your event confirmation email along with a suitable date and time for the event and we will try to accommodate your request. However, changes may be subject to a fee, so please get in touch with us at least three weeks in advance so as not to incur additional charges. Email us at: events@tagvenue.com.
Does my team need to have any cooking experience?
Not at all. Our cooking classes focus on team building and interaction which means that participants don't have to worry about being a terrible cook. By the end of the class, you'll probably be as good as Jamie Oliver!
How do I proceed with the payment?
Once you've selected your preferred virtual team-building activity, simply send us an email at events@tagvenue.com or use the inquiry form on our website to get in touch with us. Once the date and group size are confirmed, we'll provide you with a quote and all necessary information regarding the selected activity. You can then make a payment after providing us with the company billing details such as the address and VAT number (this applies to non-UK customers only). The booking confirmation and invoice are sent via email. You can securely pay with your CC ( Visa, MasterCard, Amex) via a link. We accept CAD, GBP, USD, SGD, AUD, and EUR.
Other popular activities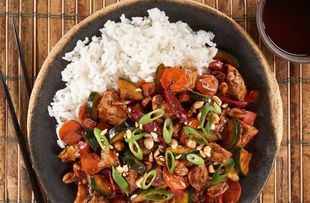 Sichuan Style Cooking Class
Experience the heat of Sichuan cuisine with our virtual cooking class! From Mapo Doufu to Lazi Ji, all skill levels welcome. Get ready for spicy heaven! Book your team experience and have fun..eating!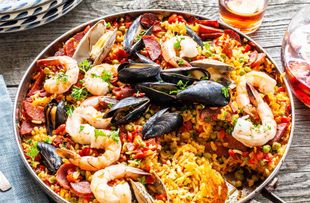 Spanish Classics Cooking Class
Gather your team for a Spanish virtual cooking class! Learn to make Paella Valenciana or Gazpacho with a friendly chef from Jamie Oliver Cookery School. Perfect for both beginners and pros!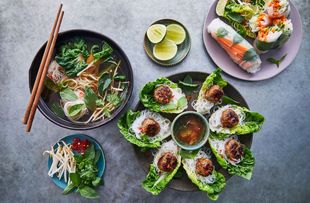 Thai Feast Cooking Class (Virtual)
Whip up delicious Thai dishes with your team: sweet & sour salad, chilli beef, and tom yum soup. Our class is informative and fun, perfect for team building. Connect and enjoy delicious Thai cuisine!