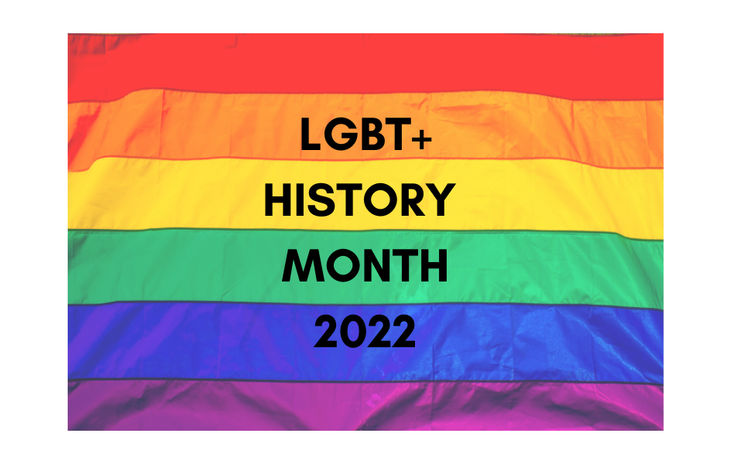 LGBTQ+ History Workshop
Treat your team to an educational and interactive seminar where they to learn about LGBTQ+ Pride history and steps to be allies moving forward.
Activity highlights
Learn about the protests that resulted in what we call "Pride" today
Expand your understanding of the LGBTQ+ community
Recognize the importance of allyship and inclusivity
Feel the power to make a difference
Event description
Do you want to learn more about the history of the LGBTQ+ community? You've come to the right place! This event will allow you to hear one person's coming-out story and take a closer look at the LGBTQ+ community's history.

Participants will be able to broaden their views in terms of awareness and inclusivity and understand steps toward allyship moving forward. Your team's spirits will be lifted as a result of the workshop, and your employees will be inspired to empower others.

It is also a great way to enjoy high-quality time together, bond, and grow.

This session can be fully customized to your company's needs and preferences. Your team members will be able to dive deeper in whatever area interests them the most and enrich their knowledge side by side with their colleagues.

Pride Month is already here, book a session with us and make sure you are fully prepared for it!
What's included
Link to the workshop
Friendly and professional host
What you need
PC or laptop
Installed Zoom
Headphones(optional)
---
---
Cancellation policy
RESCHEDULING POLICY:
After a booking has been made, Client rescheduling within 2 weeks or less of the event date is subject to a fee equal to 25% of the total fee.
After a booking has been made, Client rescheduling within 72 hours or less of the event date is subject to a fee equal to £150 or 50% of the total fee whichever is greater will be applied at the time of your re-booking. Your event must be rescheduled within 365 days of your original event date.

CANCELLATION, LOW-SHOW, AND NO-SHOW POLICY: No refunds will be issued for reduced event participant headcount turnout at an event ("Low-Show"), zero participant turnout at an event ("No-Show"), and/or event cancellation. If you provide notice at least 72 hours in advance of the event for a Low-Show, No-Show, or cancellation then credit towards a future event may be issued in accordance to the rescheduling policy above. Any credit issued will be in accordance with the rescheduling policy above and must be utilized within 365 days of your original event date.
FAQs
What is the LGBTQ+ History Online Workshop
The online LGBTQ+ History Virtual Workshop is a judgement-free zone that will allow your team to understand the importance of inclusive language, proper terms, and important concepts. This workshop focuses on broadening your team's understanding of the LGBTQ+ community and helps them identify any form of prejudice that they or their colleagues might run into at work. The workshop is particularly beneficial for HR managers and team leaders as it will assist them in building a more cohesive and inclusive workplace for all.
When can I organise an LGBTQ+ Workshop?
At any time of the year. You don't have to wait for Pride Month to pay tribute to the LGBTQ+ community or to highlight the issues faced by the community. This virtual workshop is perfect for teams to come together and get rid of their prejudices and misconceptions- meaning the earlier you host such a workshop, the better it is for your work culture.
How can this workshop benefit my team?
This workshop will help your team understand and empathise with the LGBTQ+ community, they will have the chance to ask all the questions they need to understand the challenges faced by the community. Such workshops focus on inclusion and diversity which contributes to a healthier and happier work environment for all employees.
What does the pricing include?
The fixed pricing at £1383/$1699 includes a professional and experienced workshop host and all the material needed for a learning workshop. Participants can ask all the LGTBQ-related questions during the workshop and the event can be customised according to your team's needs.
How many days in advance should I book a virtual workshop on Tagvenue Virtual?
We recommend booking the virtual workshop at least a month in advance if you wish to customise the event. It also allows you to prepare your team for the event and for them to book a specific time slot for the workshop.
How can I book the LGBTQ+ History Workshop on Tagvenue Virtual?
To book the LGBTQ+ History Workshop for your team, send us an email at events@tagvenue.com or use the inquiry form on our website. Once the date and group size are confirmed, we'll provide you with a quote and all necessary information regarding the selected activity. You can then make a payment after providing us with the company billing details such as the address and VAT number (this applies to non-UK customers only). The booking confirmation and invoice are sent via email. You can securely pay with your CC ( Visa, MasterCard, Amex) via a link. We accept CAD, GBP, USD, SGD, AUD, and EUR.
Other popular activities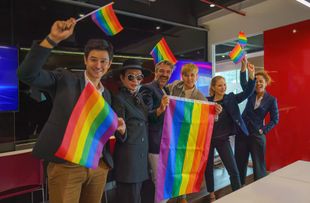 LGBTQ+ Allyship in the Workplace
Join a virtual workshop to learn about inclusive language and important concepts, free of judgment. Gain knowledge on how to avoid offensive questions, raise awareness for marginalized groups.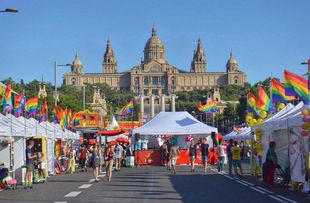 Virtual Pride Tour in Barcelona
Experience a virtual team-building event hosted by a fun LGBTQ+ guide and explore Barcelona's Transgender Summer House, Lesbian Kiss Mural, Rainbow TownHall, and Gay beach. Enjoy games, trivia & more!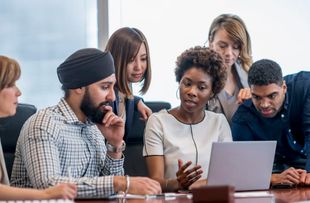 DEI Workshop
Inclusive workplaces lead to happier, productive employees. Our session empowers with new skills to create a safer environment, improve team dynamics, reduce turnover.