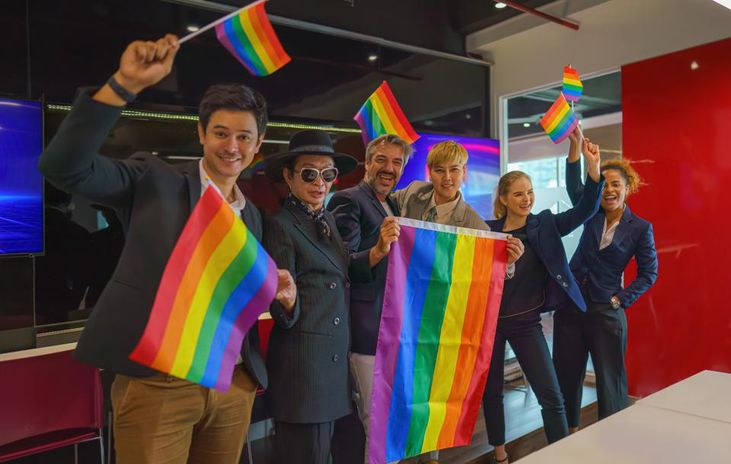 LGBTQ+ Allyship in the Workplace
Expand your horizons and learn more about inclusivity, allyship, and the history of the Pride movement!
Activity highlights
Have some bonding time with your colleagues, while developing together
Increase your understanding about terms and inclusive language
Get to know the differences between gender and sexuality
Learning how to be an ally within your workplace
Event description
A virtual workshop that will provide participants with a judgment-free zone where they can increase their understanding of inclusive language, proper terms and crucial concepts.

Participants will leave this session with the knowledge and understanding of questions or assumptions they should avoid, their role in bringing awareness for marginalized demographics, such as the LGBTQ+ community and ways they can contribute to the society and its minorities.

The workshop will be hosted by a professional and experienced facilitator, who possesses a wide range of knowledge in the field of LGBTQ+ history and values.
Your colleagues are going to have an opportunity to explore, be curious and ask as many questions as they want.

Sessions can be fully customized to your company's needs and preferences.

Do not miss out and meet your Pride Month prepared! All organisational issues are on us, the only thing you have to do is to book a date and open your mind to some new perspectives!
What's included
Experienced event host
Judgement-free and educational zone for learning
What you need
PC/laptop
Open mind
Updated version of Zoom
Stable internet connection
---
---
Cancellation policy
RESCHEDULING POLICY:
After a booking has been made, Client rescheduling within 2 weeks or less of the event date is subject to a fee equal to 25% of the total fee.
After a booking has been made, Client rescheduling within 72 hours or less of the event date is subject to a fee equal to £150 or 50% of the total fee whichever is greater will be applied at the time of your re-booking. Your event must be rescheduled within 365 days of your original event date.

CANCELLATION, LOW-SHOW, AND NO-SHOW POLICY: No refunds will be issued for reduced event participant headcount turnout at an event ("Low-Show"), zero participant turnout at an event ("No-Show"), and/or event cancellation. If you provide notice at least 72 hours in advance of the event for a Low-Show, No-Show, or cancellation then credit towards a future event may be issued in accordance to the rescheduling policy above. Any credit issued will be in accordance with the rescheduling policy above and must be utilized within 365 days of your original event date.
FAQs
What is LGBT allyship training?
It's a workshop designed to make the workplace safer and more inclusive for everyone, in particular LGBT employees. This workshop aims at raising awareness, reducing biases, and promoting self-introspection. During this allyship session, our facilitator, who is an expert on the subject will highlight the history of the queer community and answer all your questions. Allyship workshops help improve the workplace by encouraging diversity and inclusion through information.
When should I host an LGBT Allyship Training?
Anytime! You shouldn't wait for Pride Month to host a workshop that educates your team about an important subject. LGBT allyship trainings can make your remote workplace a better and safer one for all employees including LGBT people as it helps understand the many facets of the queer community. Whether you're planning a cultural workshop or celebrating LGBT History Month, such workshops will encourage communication among teams and help identify possible gaps in the workplace.
What does it mean to be an LGBT ally?
To be an LGBT ally simply means to educate oneself about the community, to be understanding towards them, and take action to help peers when needed. There are many ways to learn about what we don't know and allyship workshops focus on how you can take steps to support your colleagues and help your organisation in becoming a better place.
How many people can attend the allyship training?
We can accommodate up to 300 participants for this online workshop. The pricing will be communicated right after your inquiry. If you're planning a bigger event, drop us a line and we'll see how we can help you organise the event.
Can the online workshop be held on weekends?
Absolutely! We know it can be tough to gather dispersed employees on weekdays, so we offer the flexibility to host the event on weekends at any time that suits you and your team.
How do I book a virtual workshop on Tagvenue?
If you don't require further assistance, you simply need to hit the Enquire Now button and let us know the guest size and date requirements for us to get back to you with a confirmation. If you need additional information, drop us a line at events@tagvenue.com and we'll get back to you ASAP with all the necessary information. To confirm the payment, we will need the company details (if you're not located in the UK.) and we'll send you an invoice along with a link for secured payment. You can securely pay with your CC ( Visa, MasterCard, Amex) via a link. We accept CAD, GBP, USD, SGD, AUD, and EUR.
Other popular activities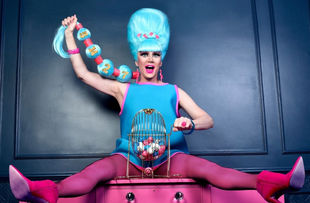 Virtual Drag Queen Bingo
Looking for a fun way to celebrate Pride Month or your next Zoom party? Join our online bingo party hosted by Ru Paul's Drag Race star, Charlie Hides! Get ready for a night of laughs and excitement!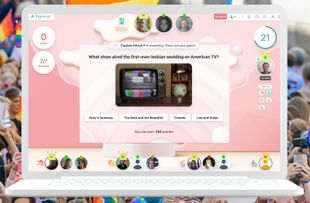 Pride Month Virtual Trivia
Host a Pride-themed trivia match featuring LGBTQIA+ pop culture and historical questions in our all-time favourite game, Team Quest. Celebrate the community's beauty and learn new facts!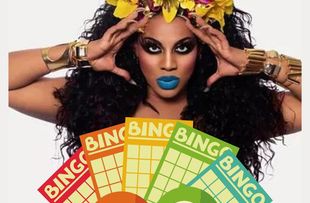 Roxy's Got Balls - Drag Queen Bingo
Celebrate Pride Month with virtual Drag Queen Bingo hosted by the talented Roxy Woods. Interact and win prizes while enjoying an energetic game of bingo. Perfect for groups & hassle-free to organize!