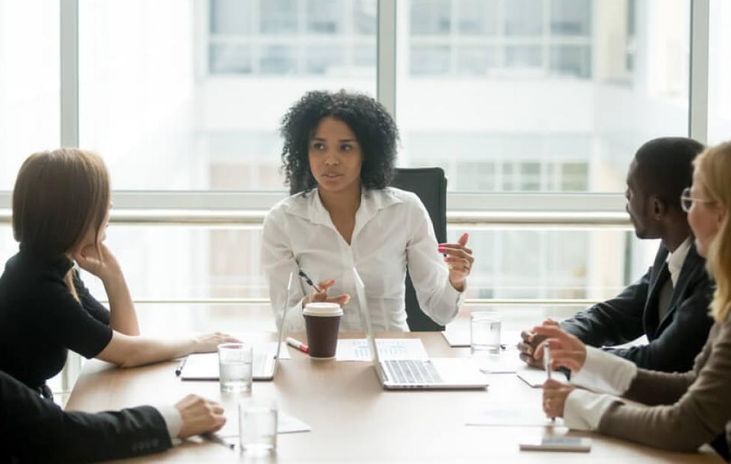 Leadership Acceleration Workshop
Empower future female leaders with a tailored leadership workshop.
Activity highlights
Develop as a leader within your workplace
Perfect solution for female employees
Get comfortable with self-advocacy
Build new professional skills
Ditch the imposter syndrome
Event description
Our leadership acceleration workshop focuses on leadership development and nurturing future female leaders.

Achieve long-term gender equality at work by helping women achieve their leadership dreams. These leadership workshops may be presented over six months, or you may host a single workshop for your teams.
Designed for female leaders, these courses offer coaching and mentoring of participants to help them build their personal brand, set boundaries, and learn how to assert themselves.

The leadership workshop led by women empowers women so that they can become high-performing leaders. During the workshop, they learn how to delegate to others, receive feedback and manage their teams.

How does it work:

Book a one-time leadership workshop or a series of workshops (six in total) carried via your preferred online platform. Participants go through a leadership assessment and 1:1 coaching sessions to tailor the workshops to their career needs and goals. The skills-building workshop/s take place in small cohorts so that everyone has the opportunity to discuss their experiences and participate. Then, through a series of guided worksheets and tasks, participants can translate their newly-acquired knowledge into practice.

Book a Leadership Acceleration Workshop for your female colleagues and watch them thrive in the organisation!
---
---
Cancellation policy
RESCHEDULING POLICY:
After a booking has been made, Client rescheduling within 2 weeks or less of the event date is subject to a fee equal to 25% of the total fee.
After a booking has been made, Client rescheduling within 72 hours or less of the event date is subject to a fee equal to £150 or 50% of the total fee whichever is greater will be applied at the time of your re-booking. Your event must be rescheduled within 365 days of your original event date.

CANCELLATION, LOW-SHOW, AND NO-SHOW POLICY: No refunds will be issued for reduced event participant headcount turnout at an event ("Low-Show"), zero participant turnout at an event ("No-Show"), and/or event cancellation. If you provide notice at least 72 hours in advance of the event for a Low-Show, No-Show, or cancellation then credit towards a future event may be issued in accordance to the rescheduling policy above. Any credit issued will be in accordance with the rescheduling policy above and must be utilized within 365 days of your original event date.
FAQs
What is the online Leadership Acceleration Workshop?
The Leadership Acceleration Workshop focuses on future female leaders- it helps women acquire the desired leadership skills to advance their careers. The workshop is designed to assist women in their professional development, and takes place in small groups where participants are coached on a 1:1 basis. Through several tasks and guided worksheets, they learn the necessary leadership skills to help them thrive in your organisation and beyond.
How many participants can attend the online leadership workshop?
We encourage these workshops to be carried out in smaller groups as it facilitates the interaction between the coach and participants. Moreover, each participant will receive individual attention, which makes it easier for them to ask questions and communicate.
Can the online workshops be carried out regularly for my organisation?
Yes! The workshops may be organised to take place over a period of six months to help female employees fully develop their leadership skills. We also offer one-time workshops that can be hosted annually or quarterly, depending on your needs.
How can the leadership workshop benefit female employees?
Female employees are still subject to discrimination in many organisations. By helping your female employees acquire the leadership skills needed to become assertive and grow professionally, you empower them and also help them to understand their potential fully.
How can I book an online leadership workshop for my team?
To book an online professional development workshop on Tagvenue, email us at events@tagvenue.com or use the inquiry form on our website to get in touch with us. Once the date and group size are confirmed, we'll provide you with a quote and all necessary information regarding the selected activity. You can then make a payment after providing us with the company billing details, such as the address and VAT number (this applies to non-UK customers only). The booking confirmation and invoice are sent via email. You can securely pay with your CC ( Visa, MasterCard, Amex) via a link. We accept CAD, GBP, USD, SGD, AUD, and EUR.
Other popular activities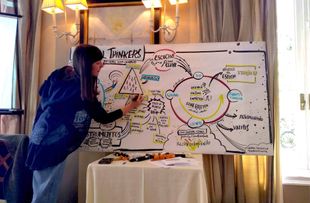 Visual Thinking
Join our Visual Thinking Workshop and learn to use visual maps to organise your ideas. This step-by-step course is designed for professionals and teaches basic shapes, symbols, and text.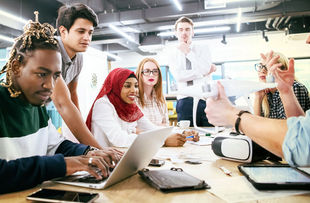 Diversity and Inclusion Consulting
Improve your company culture and boost employee happiness with our DEI policies and training. Enhance empathy, awareness, and inclusivity skills to better serve customers and create a safe workplace.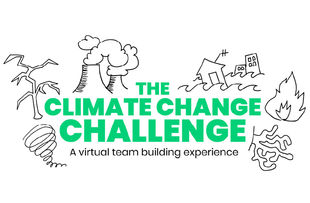 The Climate Change Challenge
Join forces to save the planet from climate change as eco-heroes. Combat monsters worldwide caused by global warming. Enjoy fun and educational aspects, with intellectual challenges.