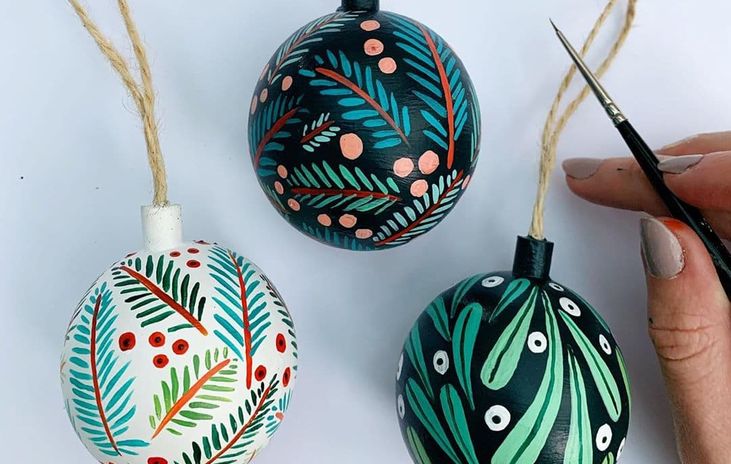 Virtual Holiday Paint Party with Kits
Pour yourself some vino and unleash your creativity with a virtual workshop!
Availability
Any day of the week
Activity highlights
All equipment delivered to your doorstep (wine not included)
Great for those who are eager for some creativity
No painting skills required
Event Description
It's 2023, time to take your virtual Christmas parties to the next level! Christmas Bauble Painting or Christmas-themed Painting on Canvas- pick your favourite!

Get in the holiday spirit with a Christmas-themed painting workshop. Remote teams will get to awaken their inner artist and learn tips and tricks from a professional host. Got two left feet? Don't worry, our jolly host will teach you the basics and walk you through your masterpiece. All you have to do is get a glass (or two) of your favourite wine to enjoy this remote holiday party with your team.

Bring joy to your remote office with an interactive painting on canvas or a Christmas bauble painting workshop. Once the painting kits are delivered to their doorsteps, all your team members will need is to get their wine glasses refilled and unleash their creativity!

Available packages:

Acrylic Painting:
- Unlimited access to Paintvine On-Demand Painting lesson library
- A Premium quality canvas board for creating your masterpiece
- 12 x 12ml High-Quality Acrylics
- 2 Premium Brushes
- 1 Paint Tray (can be canvas or plastic)

Christmas Bauble Painting
-2 Baubles
-12 x 12ml High-Quality Acrylic Paints
-2 Premium Brushes
-1 Paint Tray

Online paint and wine events are fun and creative experiences that will make everyone smile and possibly produce something that participants can show off in their home offices. Regardless of the distance, virtual paint and drink is the perfect balancing act of unwinding and camaraderie that every team needs during this time of the year.
What's included
Painting/bauble kit
Patient and Jolly art teacher
Video-Call link
What you need
Reliable internet connection
PC or a laptop
Space to paint or sculpt
---
Pricing and capacity
EU shipping - starting at
USA shipping - starting at
---
Cancellation policy
RESCHEDULING POLICY:
After a booking has been made, Client rescheduling within 2 weeks or less of the event date is subject to a fee equal to 25% of the total fee.
After a booking has been made, Client rescheduling within 72 hours or less of the event date is subject to a fee equal to £150 or 50% of the total fee whichever is greater will be applied at the time of your re-booking. Your event must be rescheduled within 365 days of your original event date.

CANCELLATION, LOW-SHOW, AND NO-SHOW POLICY: No refunds will be issued for reduced event participant headcount turnout at an event ("Low-Show"), zero participant turnout at an event ("No-Show"), and/or event cancellation. If you provide notice at least 72 hours in advance of the event for a Low-Show, No-Show, or cancellation then credit towards a future event may be issued in accordance to the rescheduling policy above. Any credit issued will be in accordance with the rescheduling policy above and must be utilized within 365 days of your original event date.
FAQs
What is the Virtual Christmas Paintvine Workshop?
It's a holiday-themed painting class where your team will get to bond and interact while painting their own masterpiece. They can choose to paint Christmas baubles or on a canvas. All the items required for the painting are sent to the participants. Our experienced host will teach your team painting basics while they engage in some fun holiday team-building activities. Please note that wine is not included in the workshop.
How many participants can take part in the online Christmas painting workshop?
As few as 15 participants and as many as 100 people can join the virtual holiday workshop. The holiday paint and sip is ideal for small, medium, and large-sized teams alike which makes it an excellent pick for team bonding as everyone has the chance to engage and bond during the workshop.
What is included in the holiday painting kit?
Depending on which package you select, you will receive all the items required to make your masterpiece. The painting on canvas kit includes unlimited access to Paintvine On-demand painting lessons, a premium quality canvas board, 12 x 12 ml high-quality acrylic paints, 2 premium brushes, and 1 paint tray. The Christmas Bauble Painting option includes two high-quality baubles, 12 x 12 ml acrylic paints, 2 premium brushes, and a paint tray. All the kits will be delivered to the participants before the event.
How can my team prepare for the online Christmas painting workshop?
All your team needs to do is get a glass of their favourite wine and prepare a cosy spot where they can get creative. We recommend turning on cameras for increased interaction and bonding. Other than that, just make sure that you have a reliable internet connection.
How can I book the Christmas Paintvine Online Workshop for my team?
To book this virtual holiday paint party on Tagvenue Virtual, make sure to contact us at least a month in advance. Send us an email at events@tagvenue.com or use the inquiry form on our website. Once the date and group size are confirmed, we'll provide you with a quote and all necessary information regarding the selected activity. You can make a payment after providing us with the company billing details such as the address and VAT number (this applies to non-UK customers only). The booking confirmation and invoice are sent via email. You can securely pay with your CC ( Visa, MasterCard, Amex) via a link. We accept CAD, GBP, USD, SGD, AUD, and EUR.
Other popular activities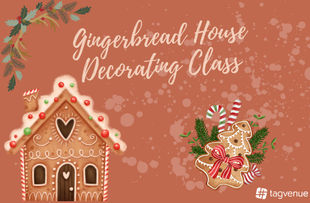 Gingerbread House Decorating Class
Get into the holiday spirit with gingerbread house decorating! We provide everything you need to succeed, from baking to decorating! Display your creation and let the delicious aroma fill your home!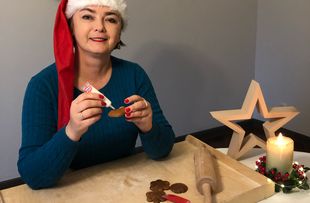 Gingerbread Baking Class
This online baking class will teach you how to make this sweet and spicy treat, which is perfect for any occasion and still a fun family activity in present-day Poland. Get baking with the team!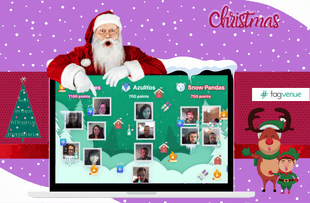 Christmas Essential Trivia
Join in the holiday fun with a mix of festive mini-games like Trivia, Buzz In, Pictionary, Karaoke, and Sort It. Dress up, click the link, and enter Tagvenue Virtual Social for a jolly event!