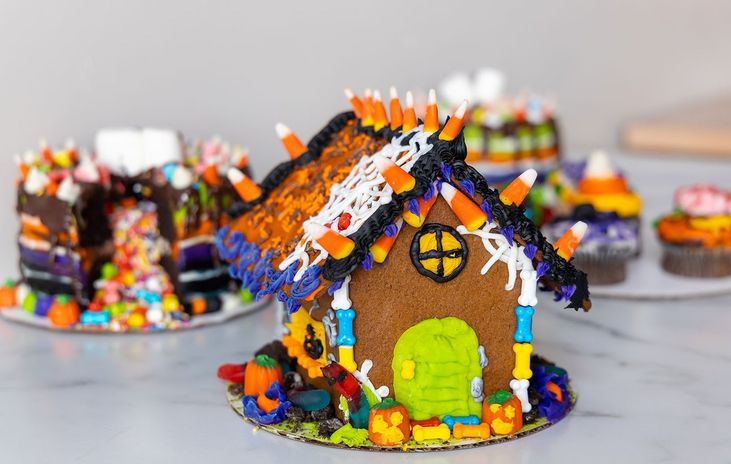 Haunted House Decorating Class
Things are about to get real spooky and yummy!
Activity highlights
DIY Kit delivered to your doorstep
Available in the US and Canada
Skilled (Halloween) instructor
Follow the instructions or get creative
Event description
Gummy worms, candy corns, and chocolate sprinkles - this is how decorating Spooky Haunted House looks like. We take all of the difficulty out of constructing and decorating houses by providing you with everything you need to succeed. Just wear your scary Halloween costume and roll up the sleeves because you are about to get bloody dirty.

How it works:
Once booked and confirmed, a video call link will be provided to share with your guests. On the day of the event, join the instructor. You will be guided through the simple steps in putting your house together and providing fun and simple decorating techniques. Customize your decorations however you desire or follow along with the host's ideas. Don't be afraid to make the most terrifying, spooky, haunted house in the meeting.

To host an event virtually, we will ship your entire team the kit with homemade house pieces. We include everything needed to decorate the houses, such as a cake round, icing, and candies.

The pricing includes a delivery fee. We ship within the United States only (all 50 states).

Spooky Haunted House Decorating Class will put you and your team in a Halloween mood, with a bit of thrill on your neck. Bond with your colleagues, as it is not wise to go alone into the haunted house.
What's included
Link to the meeting
Halloween icing bags
Spooky Haunted House DIY kit
What you need
PC or a laptop
Desk to decorate on
Reliable Internet connection
All the participants' addresses
Video call software (Zoom, MS Teams, Google Meet)
---
Pricing and capacity
Up to 50 people
$65 pp
+ 150 facilitator fee
51-100 people
$59 pp
+ $250 facilitator fee
More than 100 people
$55 pp
+ $250 facilitator fee
---
Cancellation policy
RESCHEDULING POLICY:
After a booking has been made, Client rescheduling within 2 weeks or less of the event date is subject to a fee equal to 25% of the total fee.
After a booking has been made, Client rescheduling within 72 hours or less of the event date is subject to a fee equal to £150 or 50% of the total fee whichever is greater will be applied at the time of your re-booking. Your event must be rescheduled within 365 days of your original event date.

CANCELLATION, LOW-SHOW, AND NO-SHOW POLICY: No refunds will be issued for reduced event participant headcount turnout at an event ("Low-Show"), zero participant turnout at an event ("No-Show"), and/or event cancellation. If you provide notice at least 72 hours in advance of the event for a Low-Show, No-Show, or cancellation then credit towards a future event may be issued in accordance with the rescheduling policy above. Any credit issued will be in accordance with the rescheduling policy above and must be utilized within 365 days of your original event date.
FAQs
What is the Haunted House Decorating Class all about?
It's about celebrating Halloween online with your friends and colleagues while decorating your own spooky little haunted house. The class focuses on fun and interaction among the participants while teaching them how to decorate a haunted house from scratch. Participants can join the event from anywhere in the U.S (free shipping) and Canada (shipping fee).
Will I have to buy a cake for this virtual Halloween activity?
No! You won't have to worry about a thing. We will ship everything to your entire team- the cake round, icing, candies, and everything you will need to decorate your cakes. Our pricing includes the delivery fee. All you need to do is get your scary Halloween outfit ready for the online party!
What are the benefits of hosting a virtual Halloween activity for my team?
Other than for fun and relaxation, the benefits of hosting a virtual cake decorating class include higher employee satisfaction, and engagement as a result of group bonding and building memories together. Moreover, online Halloween parties help bridge the gap among remote workers. They break up the monotony of daily work and make people happier, which in turn improves communication among colleagues.
Is this online cake decorating class beginner-friendly?
Totally! It's about more than just cake decorating skills, we focus on getting your team into the holiday spirit. This virtual team building activity focuses on basic decorating skills such as preparing the cake for decoration, piping lines, borders, and other basic decorations. So, we highly recommend it as a team-building activity that will get everyone talking and laughing together.
What is your cancellation policy?
We allow rescheduling for up to 72 hours in advance of the event in case of a low-show or no-show. You can then receive credit towards a future event as per our rescheduling policy. (See above) We recommend planning and sending invites and reminders to your team at least two weeks before the event in order not to be subject to an extra fee.
How can I book a cake decorating class with Tagvenue?
To book your cake decorating class for an online party, simply click on the 'Enquire Now' option on our website to book an event and let us know whether you have any special requests during the event. Or simply send us an email at events@tagvenue.com with the number of guests, the event's name, and your requested dates. We'll get back to you with the details. Once you agree to proceed, you will need to send us your company details such as the address and VAT number (for non-UK Customers only) following which we'll send you an invoice and a link for the payment. You can then securely pay with your CC ( Visa, MasterCard, Amex) via a link. We accept CAD, GBP, USD, SGD, AUD, and EUR.
Other popular activities