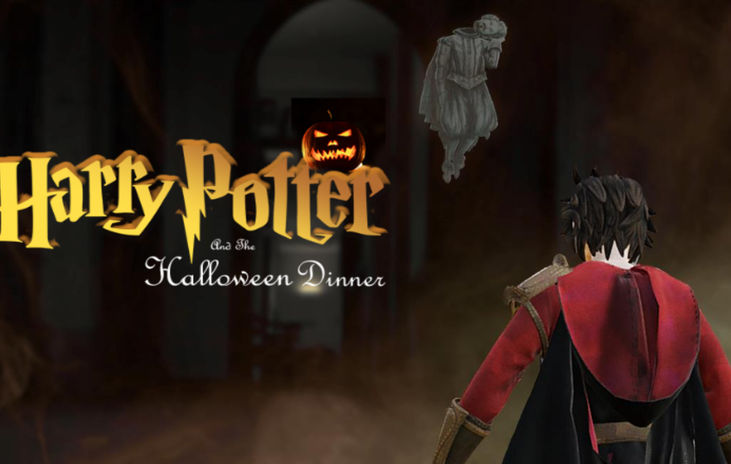 Harry Potter & The Halloween Dinner
Things are about to get creepy as you get ready for the annual Halloween dinner!
Activity highlights
Face challenges from Nearly Headless Nick
Play and party as Harry Potter this Halloween
Event description
Trick or treat? It's finally time for the Halloween Dinner at the prestigious school of Hogwarts. Tonight is Halloween and you have all been invited to a spooktacular Halloween party!

Welcome to Hogwarts, wizards, and witches! It's time to put your dexterity to the test. You reach the dining hall to find the place guarded by a mischievous ghost known as 'Nearly Headless Nick'. Your tummies are growling but Nick won't let anyone in!

Will Nick turn all the sweet treats into spooky ones? Participants get to play as Harry Potter and engage in a lively online Halloween party. You try to reason with the ghost by talking to him but he still won't give in! Who knew a ghost could ruin a virtual party? Only you and your incredible wizard powers can stop Nick from ruining your long-awaited virtual Halloween dinner!

If you are looking for a unique Halloween game for adults or a creepy Halloween experience for remote team building, Harry Potter and the Halloween Dinner is your best bet. Spooky yet convivial, this Halloween activity/game will bring your team closer! All it takes is some collaboration and team spirit to get rid of this legendary ghost and killjoy!

How does it work?
Teams will be sent a link before the game. The event host will greet them and brief participants about the game. During the game, participants must collaborate instead of competing against one another to win. At the end of the event, all teams reconvene in the main room where they examine their findings and solve the mystery together! Take advantage of gamification to reiterate the power of collaboration and teamwork!

Will you and your friends be able to cast a spell to expel 'Nearly Headless Nick' from the dining hall or will he gobble up all the pumpkin pasties? Expelliarmus!
What's included
Energetic event hosts
Zoom link (the only thing you need before the event)
What you need
PC or a laptop
Earphones / headphones
Reliable Internet connection
Zoom (works best in app)
Latest version of Google Chrome browser
---
---
Cancellation policy
RESCHEDULING POLICY:
After a booking has been made, Client rescheduling within 2 weeks or less of the event date is subject to a fee equal to 25% of the total fee.
After a booking has been made, Client rescheduling within 72 hours or less of the event date is subject to a fee equal to £150 or 50% of the total fee whichever is greater will be applied at the time of your re-booking. Your event must be rescheduled within 365 days of your original event date.

CANCELLATION, LOW-SHOW, AND NO-SHOW POLICY: No refunds will be issued for reduced event participant headcount turnout at an event ("Low-Show"), zero participant turnout at an event ("No-Show"), and/or event cancellation. If you provide notice at least 72 hours in advance of the event for a Low-Show, No-Show, or cancellation then credit towards a future event may be issued in accordance to the rescheduling policy above. Any credit issued will be in accordance with the rescheduling policy above and must be utilized within 365 days of your original event date.
FAQs
What is Harry Potter and the Halloween Dinner about?
It's the most highly anticipated time of the year! Hogwarts School of Witchcraft and Wizardry is hosting their famous Halloween Dinner in the dining hall. You and your friends are invited to the event but on your arrival, you find the ghost, 'Nearly Headless Nick' guarding the hall. The mischievous ghost won't let anyone in and only your magic spells can help save the day! Harry Potter and the Halloween Dinner is perfect for a work anniversary, spirit week, and as a Halloween activity.
When can I host Harry Potter and The Halloween Dinner?
If you're working with a remote team, we suggest hosting a virtual Halloween event where you can include a festival–themed activity like Harry Potter and The Halloween Dinner. This virtual game is perfect for all Harry Potter fans, whether you're planning a birthday party, a work anniversary, or an office party.
How many people can take part in this virtual experience?
Up to 200 people. We suggest breaking larger teams into smaller groups to facilitate communication and collaboration.
How can my team prepare for this virtual party?
By dressing up as Harry Potter characters! Extra points for those who dress up! Participants will only need a Zoom link before the event. They can use a PC or a laptop for the event. We recommend using earphones/headphones and having the latest version of the Google Chrome browser for a high-quality experience.
How can I book Harry Potter and the Halloween Dinner?
To book Harry Potter and the Halloween Dinner, simply send us an email at events@tagvenue.com or use the inquiry form on our website to get in touch with us. Once the date and group size are confirmed, we'll provide you with a quote and all necessary information regarding the selected activity. You can then make a payment after providing us with the company billing details such as the address and VAT number (this applies to non-UK customers only). The booking confirmation and invoice are sent via email. You can securely pay with your CC ( Visa, MasterCard, Amex) via a link. We accept CAD, GBP, USD, SGD, AUD, and EUR.
Other popular activities