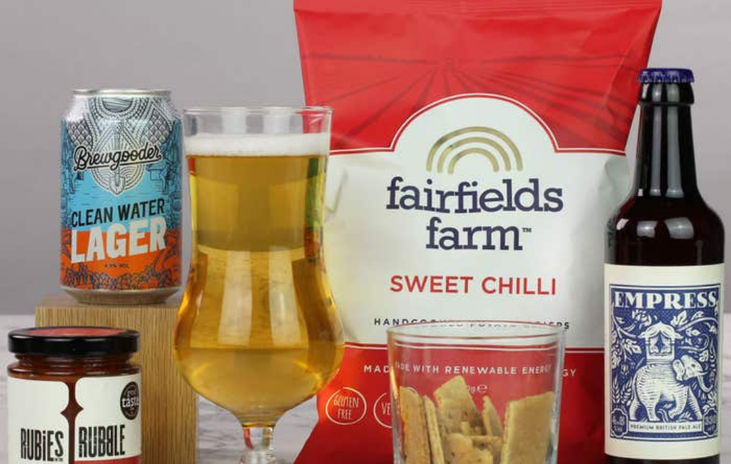 Hampers for your Virtual Event
Treat your teammates with a delivery of hampers filled with tasty snacks and drinks
Activity highlights
Curated selection of snacks and drinks
Only from independent producers
Alcohol free alternatives
Next day delivery available
Hampers
Do you want your event to have that something extra? How about sending every participant a hamper box with a carefully selected range of snacks and drinks you won't find in a supermarket.

How does it work?
Just let us know which hamper box would you like to choose, the number of participants, and the date of the event. Next, we will ask you for a list of all the participants' addresses. Then we will dispatch the goodies in a timely manner to ensure everybody receives their hampers before the event.

Our hampers:

Bronze Package
- British Pale Ale 4.5% ABV Bottle 330ml
- Brewgooder Clean Water Lager Cans 330ml from BrewGooder Empress Ale
- Spring Onion & Italian Cheese Pitta Chips Sharer Bag 165g from Soffles
- Sweet Chilli Crisps 150g from Fairfields Farm Crisps
- Spicy Tomato Relish 210g from Rubies in the Rubble

Silver Package
- Prosecco DOC Treviso Frizzante 75cl
- Prosecco 41% Milk Chocolate Bar 75g from Love Cocoa
- 2 x Prosecco Gourmet Popcorn 32g from Joe & Sephs
- Clotted Cream Fudge Box 175g from Buttermilk

Gold Package
- Riondo Prosecco by Spago Nero 75cl
- The Olive Oil Co Incanto Extra Virgin Olive Oil 250ml
- Your Piece Bakery Bite Sized Highlanders Shortbread Gift Tube 180g
- Buttermilk Clotted Cream Fudge Box 175g
- Artisan du Chocolat Small Salted Caramel Chocolates 20g
- Single Variety Maravilla Raspberry Preserve 220g
- Bermondsey Street Bees Exmoor Wildflower Honey 150g

*Cost of delivery IS included in the price for the delivery in the UK.
**The above hamper boxes are available in the UK only. Hamper boxes ordered for the USA and EU may differ.
***Occasionally some products may change due to the limited volumes of products that our producers can make. We will always replace any item that is unavailable with a similar item of greater or equal value.
**** Alcohol-free alternatives available upon request.
What's included
Hamper Box of your choice
UK delivery
Tracked delivery
---
Pricing and capacity
Delivery outside of the UK?
---
Cancellation policy
RESCHEDULING POLICY:
After a booking has been made, Client rescheduling within 2 weeks or less of the event date is subject to a fee equal to 25% of the total fee.
After a booking has been made, Client rescheduling within 72 hours or less of the event date is subject to a fee equal to £150 or 50% of the total fee whichever is greater will be applied at the time of your re-booking. Your event must be rescheduled within 365 days of your original event date.

CANCELLATION, LOW-SHOW, AND NO-SHOW POLICY: No refunds will be issued for reduced event participant headcount turnout at an event ("Low-Show"), zero participant turnout at an event ("No-Show"), and/or event cancellation. If you provide notice at least 72 hours in advance of the event for a Low-Show, No-Show, or cancellation then credit towards a future event may be issued in accordance to the rescheduling policy above. Any credit issued will be in accordance with the rescheduling policy above and must be utilized within 365 days of your original event date.
Other popular activities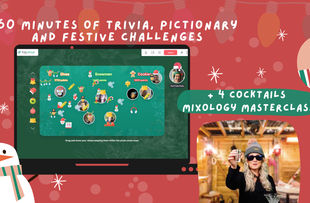 Rockin Around the Christmas Tree
Get in the holiday spirit with Rocking Around the Christmas, a virtual mixology class followed by festive games like Trivia and Pictionary. Enjoy homemade cocktails and compete with other teams!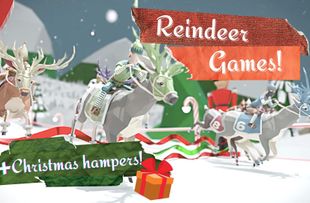 Santa's Party Sleigh
Join us for a Reindeer race game and enjoy festive snacks and drinks delivered to your door! Help Santa pick a new champion while collaborating with other players in a fun and competitive environment.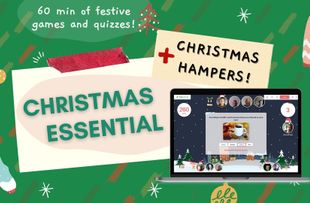 All I Want for Christmas Hampers
With entertaining trivia, karaoke, and festive hampers, you'll feel the holiday spirit in no time. Featuring mini-games like Buzz In, Pictionary, and more, it's the perfect way to celebrate Christmas!