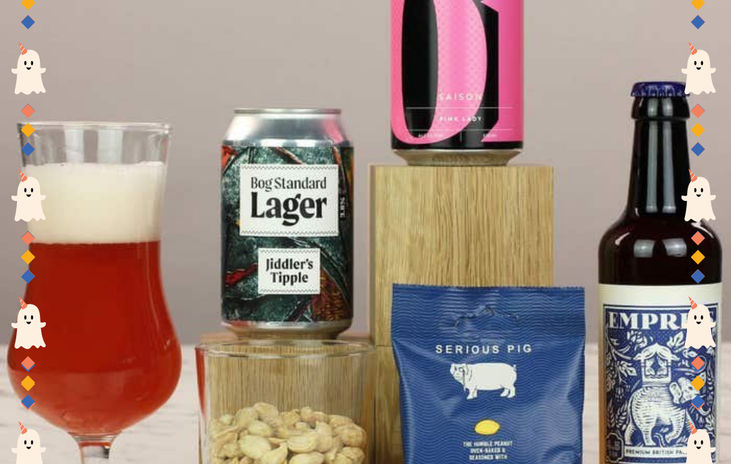 Halloween Treats
Treat your teammates with a delivery of scrumptious hampers
Activity highlights
Curated selection of snacks and drinks
Only from independent producers
Next day delivery available
Alcohol free alternatives
Hampers
Skip the spooky treats this Halloween and treat your colleagues, friends, and family to some unique snacks and drinks!

Still, looking for the best Halloween Treats for your party? Your search ends here. This Halloween, surprise your team or friends with Halloween treats that will make them love the spooky season and....their jobs!

Our Halloween treats for adults include various unique snacks such as Sweet Chilli Crisps, Spicy Tomato Relish, craft beers, and cocktail packages that will make your team feel appreciated at work.

Here are our Halloween Party Pack options:

1.BEER FOR ONE
- Cornish Sea Salted Peanuts 40g from Serious Pig
- Bormioli Rocco Ale Large Stemmed Tulip Craft Beer Glass from Rinkit
- British Pale Ale 4.5% ABV Bottle 330ml from Empress OR Bog Standard Lager 3.8% ABV 330ml from Jiddler's Tipple

2.THE ULTIMATE HALLOWEEN TREAT
- British Pale Ale 4.5% ABV Bottle 330ml
- Brewgooder Clean Water Lager Cans 330ml from BrewGooder Empress Ale
- Spring Onion & Italian Cheese Pitta Chips Sharer Bag 165g from Soffles
- Sweet Chilli Crisps 150g from Fairfields Farm Crisps
- Spicy Tomato Relish 210g from Rubies in the Rubble

3.EXQUISITE HALLOWEEN HAMPER FOR ADULTS
Each hamper contains a snack and all necessary ingredients for 1 cocktail of your choice, except for fresh garnishes and fresh products like an egg which is optional for the whiskey sour.
- Old Fashioned cocktail gift box
- Whiskey Sour cocktail gift box
- Manhattan cocktail gift box
- Gin Martini cocktail gift box
- Vodka Martini cocktail gift box
- Bloody Mary cocktail gift box
- Elderflower Collins cocktail gift box

How does it work?
Just pick your hamper option, let us know the number of participants, and the date of the event. Next, we will ask you for a list of all the participants' addresses. We will then dispatch the goodies in a timely manner to ensure everybody receives their hampers before the event.

Whether you pick the bespoke cocktail gift box or the Beer for One, we can assure you that your team will be thrilled to receive these Halloween Treats from their company! So don't waste any time and get them the Halloween party essentials.

Note:
The cost of delivery is included in the price for the delivery within the UK only.
*The above hamper boxes are available in the UK only. Hamper boxes ordered for the USA and EU may differ.
**Occasionally some products may change due to the limited volumes of products that our producers can make. We will always replace any item that is unavailable with a similar item of greater or equal value.
*** Alcohol-free alternatives available upon request.
What's included
Hamper Box of your choice
UK delivery
Tracked delivery
What you need
Depending on the hamper box you may need some simple products like ice, lemon or glass
---
Pricing and capacity
The Ultimate Halloween Treat
---
Cancellation policy
RESCHEDULING POLICY:
After a booking has been made, Client rescheduling within 2 weeks or less of the event date is subject to a fee equal to 25% of the total fee.
After a booking has been made, Client rescheduling within 72 hours or less of the event date is subject to a fee equal to £150 or 50% of the total fee whichever is greater will be applied at the time of your re-booking. Your event must be rescheduled within 365 days of your original event date.

CANCELLATION, LOW-SHOW, AND NO-SHOW POLICY: No refunds will be issued for reduced event participant headcount turnout at an event ("Low-Show"), zero participant turnout at an event ("No-Show"), and/or event cancellation. If you provide notice at least 72 hours in advance of the event for a Low-Show, No-Show, or cancellation then credit towards a future event may be issued in accordance to the rescheduling policy above. Any credit issued will be in accordance with the rescheduling policy above and must be utilized within 365 days of your original event date.
FAQs
What is the Halloween Treats Hamper?
It's simply treating your employees, colleagues, friends, or family to the best selection of unique snacks, craft beers, or their favourite cocktails. You simply let us know which hamper boxes you prefer, and the number of participants and we'll make sure they receive their goodies right on time. Then you can party alone or gather online to enjoy your Halloween party with your mates.
What is included in the Halloween Party Pack?
We offer different hampers (see above for the detailed list). The Beer for One hamper includes salted peanuts, craft beer, ale, and lager. The ultimate Halloween Treat box includes ale, lager, Italian chips, tomato relish, and sweet chili crisps while the cocktail gift box includes ingredients for you to craft a cocktail of your choice and some snacks. The delivery cost in the UK is included in the pricing. For other regions such as the USA and EU, the pricing and hamper boxes may differ.
Do you provide alcohol-free hamper boxes?
Yes. We provide alcohol-free alternatives upon request as we want remote teams to fully engage in the event without excluding non-drinkers
What are the prices of the hamper boxes?
Prices vary according to the selected hamper box. Our Beer for One hamper box starts at £18/$25 per hamper while our Cocktail Gift Box costs around £35/$48 per hamper.
How can I book Halloween hampers for my remote employees?
To order the Halloween hampers for an online team building activity, simply click on the 'Enquire Now' option on our website to book an event and let us know whether you have any special requests during the event. Or simply send us an email at events@tagvenue.com with the number of guests, the event's name, and your requested dates. We'll get back to you with the details. Once you agree to proceed, you will need to send us your company details such as the address and VAT number (for non-UK Customers only) following which we'll send you an invoice and a link for the payment. You can then securely pay with your CC ( Visa, MasterCard, Amex) via a link. We accept CAD, GBP, USD, SGD, AUD, and EUR
Other popular activities