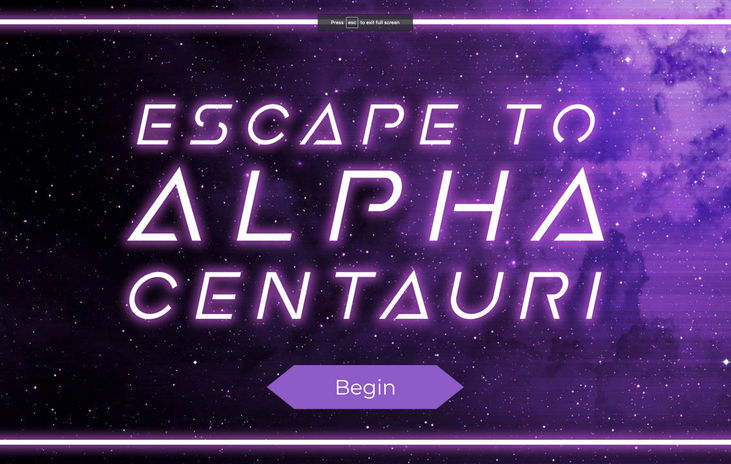 Alpha Centauri
Race from Earth to Pluto in order to to unlock the next steps in space exploration!
Activity highlights
Investigate the space and race all the way to Pluto together with your colleagues
Claim Alpha Centauri first and win the worldwide escape race
Event description
Wear your astronaut helmets on and race from earth to Pluto for some extraordinary space exploration.

Alpha Centauri is a virtual escape experience where teams find themselves on the moon and work together to decode the map and get to Pluto. Solve the riddles and challenges with the help of your colleagues and claim Pluto first! But be quick, you have only sixty minutes to unlock the next frontier of space exploration. Can you crack the code and escape to Alpha Centauri?

Whether you are looking for a virtual social event or an onboarding activity, Alpha Centauri is excellent for collaborating with colleagues, getting to know each other, and having lots of interaction. Both challenging and fun, this online escape room is fully hosted for a seamless virtual experience. Race against the clock, the leaderboard, and the other teams!

How to get started:
Participants compete against teams while working in smaller groups.
They are given a variety of tasks, and to move forward in the game, they must complete the tasks as rapidly as they can.
To interact and work together to win the game, players use video conferencing services.

Crack the code, solve puzzles, and reach Alpha Centauri first!
What's included
Zoom link
Professional host
Photobooth after the event
Incredible team-building experience
What you need
One PC per team
Stable Internet connection
Any device which enables video connection for each player
---
---
Cancellation policy
RESCHEDULING POLICY:
After a booking has been made, Client rescheduling within 2 weeks or less of the event date is subject to a fee equal to 25% of the total fee.
After a booking has been made, Client rescheduling within 72 hours or less of the event date is subject to a fee equal to £150 or 50% of the total fee whichever is greater will be applied at the time of your re-booking. Your event must be rescheduled within 365 days of your original event date.

CANCELLATION, LOW-SHOW, AND NO-SHOW POLICY: No refunds will be issued for reduced event participant headcount turnout at an event ("Low-Show"), zero participant turnout at an event ("No-Show"), and/or event cancellation. If you provide notice at least 72 hours in advance of the event for a Low-Show, No-Show, or cancellation then credit towards a future event may be issued in accordance to the rescheduling policy above. Any credit issued will be in accordance with the rescheduling policy above and must be utilized within 365 days of your original event date.
FAQs
How does the Virtual Escape Room Alpha Centauri work?
Collaborate with your teammates, by solving puzzles, to prevent the train from ending at an unknown destination. Teams work together to crack the code and find the door to safety through various challenges.
How can my team prepare for an online escape room?
By getting their favourite snacks and drinks. All your team needs is a stable internet connection and headphones (optional). We recommend that participants turn on their cameras for a more lively experience.
When can I host an online escape room?
At any time of the year. Online escape rooms work effectively as team building activities as they foster communication and collaboration. Whether you're planning a Halloween party or an icebreaker event for your team, online escape rooms will certainly satisfy all your event needs.
Is Alpha Centauri appropriate for all team sizes?
No. Alpha Centauri can only be hosted for up to 100 participants at one time. If you're planning a larger event, you can simply drop up a line and we'll assist you with finding the perfect online escape room for your event.
How can I book an online escape room experience with Tagvenue Virtual?
You can either use the 'Enquire Now' option on the event page to proceed with the booking or get in touch with us at events@tagvenue.com. Let us know your guest size and preferred dates and we'll get back to you with the answers asap. Then we proceed with the payment- all you have to do is provide us with your company's details such as the address and VAT number (for non-UK Customers only) following which we'll send you an invoice and a link for the payment. You can then securely pay with your CC ( Visa, MasterCard, Amex) via a link. We accept CAD, GBP, USD, SGD, AUD, and EUR.
Other popular activities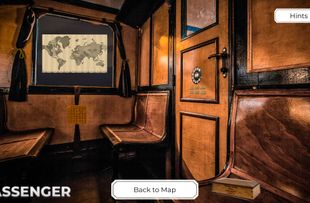 Arctic Express Escape Game
Board the Arctic Express Train to an unknown destination and see if you and your team can solve the riddles to survive and escape a potential tragedy. The Arctic Express Train is waiting for you!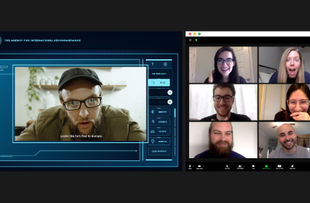 Secret of Vincent Hahn
Save art from his clutches before it's too late! Join us as a secret agent and work with your team to catch Vincent Hahn! Can you and your team. Join the adventure and find out!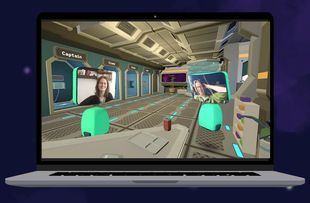 The Moonbase
Save NASA's Moonbase from the clutches of a wicked A.I. who's planning to destroy it with a space rocket? Join this online escape room adventure, and work together to stop the destruction!