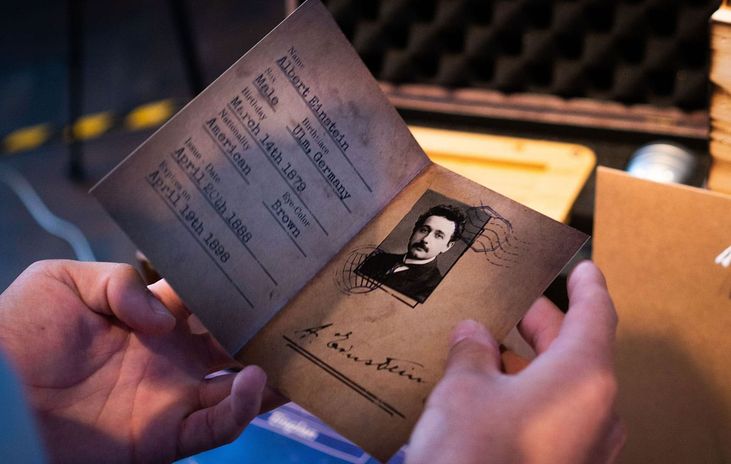 Einstein Unsolved
Augmented Reality Outdoor Escape Game
Availability
10am - 3pm GMT
Activity highlights
Iconic & Beautiful sights
Safe and approved by the officials
Available in selected UK cities
Interactive props and gadgets
Event description
Using the latest Augmented Reality and GPS technology, this adrenaline spiked outdoor escape game combines the best elements of high-concept escape rooms with a thrilling treasure hunt, as you and your team embark on an action-packed adventure through the city of London. Einstein Unsolved is our most difficult game, but don't get discouraged! Just take the risk, face the game and find the secret!

Albert Einstein died in 1955. Nobody expected that the genius scientist hid a powerful artifact in a mysterious box. Since he wanted his secret to be found by worthy adventurers after his death, he placed clues all over the world. To this day, no-one has succeeded in finding the secret. But that will change with a single packing slip and a mysterious delivery. Get busy, set out on a quest around London, and be the one who finally found Einstein's secret.

On the day of your game, you will need to arrive 10 minutes before your start time. Once you have arrived, you will be briefed by your games master who will also provide you with an iPad and an action pack which features a whole bunch of awesome gadgets. After that, you will head out onto the streets of London to complete your mission!

Important: the game can be booked at only selected times: 10 am, 11 am, 12 pm, 1 pm, 1:30 pm, 2 pm, 2:15 pm, 2:30 pm, 2:45 pm, 3 pm, 3:30 pm, 4 pm, 4:30 pm, 5 pm.
What's included
Mystery box with props and necessary equipment
Tablet (1 per team)
What you need
Comfortable walking shoes
Great attitude and determination
---
---
Cancellation policy
All sales are final and non-refundable.
One-time courtesy reschedule possible up to 7 days before the event date.
No rescheduling possible for no shows or last-minute cancellations.​
Other popular activities