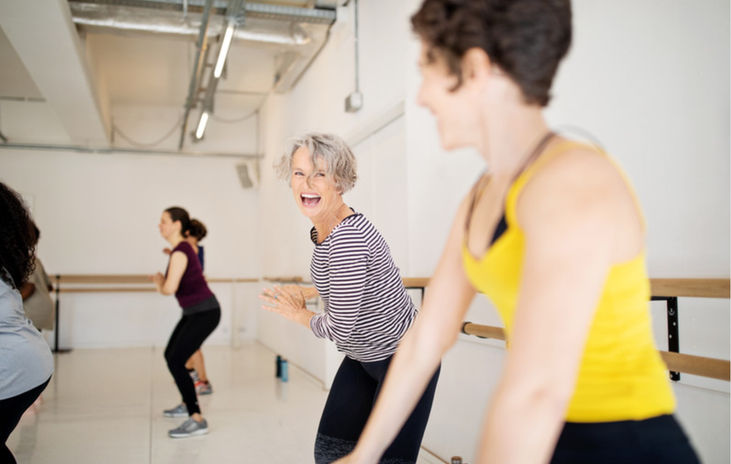 Dance Class for Teams
Bust a move and hit that pose! Learn fun choreography for beginners in your preferred style: Modern, Jazz, Ballet or Music Video!
Activity highlights
Creative way to improve your wellbeing and release endorphins
Turn your office into a dancefloor
Taught by professional dancers
Event description
Have you ever dreamed of being the main character in Fame? Dirty Dancing? Step Up? Well, time to move and groove! This 45 minute workshop style class is a beginner friendly way to learn fun and easy choreography, break a sweat and have a laugh with your work team. Follow the instructions and take center stage as you make your way to becoming the star dancer!

Choose together with your team which movement style represents you best - and you have some exciting options:
Release your creativity with Modern.
Let your Broadway heart roar with Jazz.
Make your royal dream come true with Ballet.
Become a worldwide phenomenon superstar with Music Video.


Each session will start with an adequate warm up, followed by step-by-step dance routine learning, dance-off and end with a cooldown.


We will always hold space for any questions you might have in the session so do not worry - no dance experience is needed to participate. In fact, we love absolute beginners!


We'll make your wonky into funky - so get yourself and your team the time of your life and dance the day (or night!) away.
What's included
Zoom link
Full warm-up and cooldown
Music streaming through Zoom
What you need
Comfortable clothing
Two yoga mats worth of space (no mats required, just space!)
---
---
Cancellation policy
RESCHEDULING POLICY:
After a booking has been made, Client rescheduling within 2 weeks or less of the event date is subject to a fee equal to 25% of the total fee.
After a booking has been made, Client rescheduling within 72 hours or less of the event date is subject to a fee equal to £150 or 50% of the total fee whichever is greater will be applied at the time of your re-booking. Your event must be rescheduled within 365 days of your original event date.

CANCELLATION, LOW-SHOW, AND NO-SHOW POLICY: No refunds will be issued for reduced event participant headcount turnout at an event ("Low-Show"), zero participant turnout at an event ("No-Show"), and/or event cancellation. If you provide notice at least 72 hours in advance of the event for a Low-Show, No-Show, or cancellation then credit towards a future event may be issued in accordance with the rescheduling policy above. Any credit issued will be in accordance with the rescheduling policy above and must be utilized within 365 days of your original event date.
FAQs
What is the Virtual Dance Class?
This workshop-style class is a great way to shake off the stress of the day, bond with your workmates, and have some good old-fashioned fun. With beginner-friendly choreography and a wide variety of movement styles to choose from, you'll be grooving like a pro in no time.
Is the Virtual Dance Class a suitable team-building event for beginners?
Don't worry, even if you have two left feet and no prior dance experience, you're still more than welcome to join in on the fun. We love absolute beginners, and we promise to make your wonky into funky in no time.
Is the Virtual Dance Class effective for corporate team building?
If you want to move and groove with your colleagues, boost team morale, and unleash your inner dance superstar, then the answer is a resounding YES! When you dance together, you build trust, communication, and collaboration skills. Plus, it's a great way to relieve stress and energize your mind and body.
How does Virtual Dance Class work?
First things first, you and your team get to pick which dance style best suits your individual flair. Feeling modern and edgy? Try Modern dance. Got a Broadway bug? Jazz it up with some Jazz moves. Want to feel like a ballerina? Ballet is the way to go. Or maybe you want to be the next music video sensation? We got you covered. Once you've picked your style, it's time to get moving! The class starts with a warm-up to get your muscles ready for some serious grooving. Then the real fun begins as you learn a dance routine step-by-step. After perfecting your moves, it's time for a dance-off! Get ready to show off your skills and compete with your team to see who's got the most rhythm. And don't worry, even if you're not the best dancer, we'll still make sure you have a great time. Finally, we'll wrap up the class with a cooldown to help you wind down after your dance party.
How do I proceed with the booking?
Simply get in touch with us through our platform or send us an email at events@tagvenue.com to express your interest. If the availability and pricing suit your needs, it's time to secure your spot. We'll need a few details from you, such as your company's billing information (address and VAT number for non-UK customers), and then we'll send you a booking confirmation and invoice. From there, we'll direct you to a secure payment link where you can whip out your trusty credit card (Visa, MasterCard, or Amex) and make your payment in your preferred currency. We accommodate CAD, GBP, USD, SGD, AUD, and EUR.
Other popular activities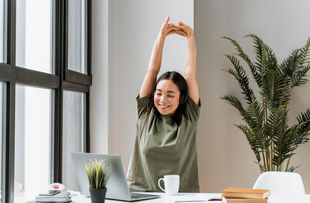 Chair Stretch
Give yourself and your team members a moment of release with Virtual Chair Stretch. Trust us, that feel-good sensation is only 30 minutes away. We can't wait to help you out!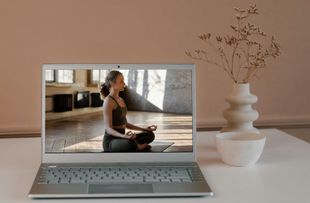 Bespoke Online Yoga Class
Host a live online yoga class for Wellness Month or at any time of the year. Boost productivity with simple stretches and breathing exercises that improve posture and mental wellbeing.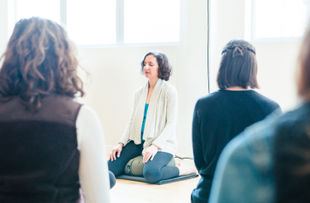 Online Mindfulness Meditation Session
Boost team satisfaction and performance with mindfulness meditation. Suitable for everyone, these sessions help lower stress levels and improve well-being. Designed to be helpful to anyone!