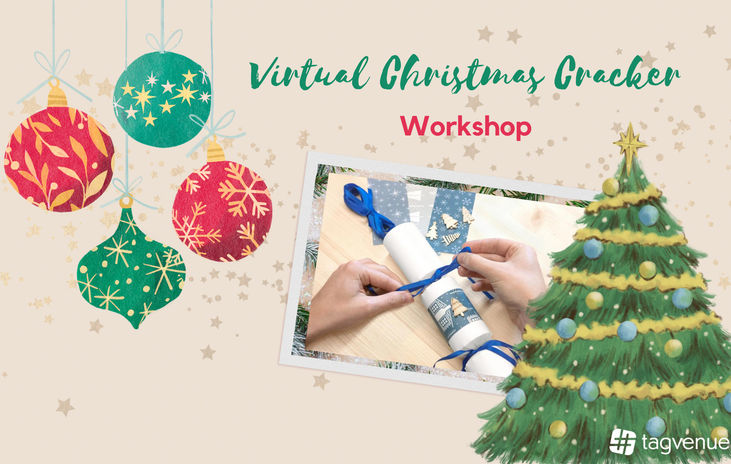 Virtual Christmas Cracker Workshop
Celebrate Christmas with a bang! Make your own crafty crackers this Noel!
Activity highlights
Make six customised crackers
Everything delivered to your doorstep
Crackers are fully recyclable
Event description
Get inspired by an assortment of papers, trims, and ribbons in a range of prints, patterns, and colors.

Meet your friendly host who will guide you through the step by step process of crafting of 6 customised Christmas crackers. In the meantime, everyone can enjoy a chat and a giggle as they compare creations and discuss which cracker jokes to add inside.

Here is how it works:
All the logistics will be handled by us, including, the dispatch of a lovely crafty package directly to each individual guest that will contain everything needed to complete the workshop on the day. (Aside from a few extra things, as explained below.)

All you need to do is pick a day for everyone to sit down, log on and get creative from the comfort of their own homes! The friendly workshop leader will host your interactive workshop online, guiding you through each step and sharing examples and top tips along the way.

Once pulled, crackers are fully recyclable except for trims which can easily be repurposed.
It is advised to book at least 3-4 weeks in advance to allow plenty of time for the materials to be dispatched to each individual's front door and secure your preferred date and time.

Christmas Cracker Workshop is definitely a creative experience for your team to get their holiday spirit on. Strengthen team bonds while enjoying Christmas magic!

*Branded welcome notes can be provided upon request.
**Workshop fee of £100/$140 covers all the logistics of organising the creative workshop, from preparing and dispatching all the craft materials via a tracked service that will update guests about their parcel's progress.
***For groups of 98+ there may be an additional charge, but get in touch to chat and we can discover the best options for you.
What's included
Professional host
Materials to make six coordinating crackers
Step-by-step interactive private class
What you need
PC or laptop
Scissors and a ruler
Reliable Internet connection
List of all participants with addresses
Lighter or matches are helpful but not essential
---
Pricing and capacity
Christmas Cracker Kit (UK based)
Christmas Cracker Kit (EU based)
Christmas Cracker Kit (USA based)
---
Cancellation policy
RESCHEDULING POLICY:
After a booking has been made, Client rescheduling within 2 weeks or less of the event date is subject to a fee equal to 25% of the total fee.
After a booking has been made, Client rescheduling within 72 hours or less of the event date is subject to a fee equal to £150 or 50% of the total fee whichever is greater will be applied at the time of your re-booking. Your event must be rescheduled within 365 days of your original event date.

CANCELLATION, LOW-SHOW, AND NO-SHOW POLICY: No refunds will be issued for reduced event participant headcount turnout at an event ("Low-Show"), zero participant turnout at an event ("No-Show"), and/or event cancellation. If you provide notice at least 72 hours in advance of the event for a Low-Show, No-Show, or cancellation then credit towards a future event may be issued in accordance to the rescheduling policy above. Any credit issued will be in accordance with the rescheduling policy above and must be utilized within 365 days of your original event date.
FAQs
What is the Virtual Christmas Cracker Workshop?
Play with papers, trims, and pretty ribbons to create your own customised Christmas crackers. Participants will learn how to craft six different Christmas crackers while catching up with their colleagues or friends and selecting cracker jokes. Every participant will receive a crafty package with all the equipment needed to create their crackers. Our Virtual Christmas Cracker Workshop will help bring your team together through a fun and entertaining experience.
Do I need to provide the addresses of my colleagues?
Yes, we will need the addresses of all participants for shipping the crafty packages directly to everyone. The data will not be used for marketing purposes and is solely for shipping purposes.
What will participants need for this virtual holiday experience?
All participants will need access to a PC or laptop with a stable internet connection. They will also need scissors and a ruler for crafting purposes. Additionally, lighters and matches may be required during the event but are not completely necessary.
Can you ship to international teams?
We can only provide shipping to U.S and EU- based teams at this time. Unfortunately, we cannot ship to other parts of the world.
How can I book a Virtual Christmas Cracker Workshop for my friends and family?
To book our Virtual Christmas Cracker Workshop, send us an email at events@tagvenue.com or use the inquiry form on our website to get in touch. Once the date and group size are confirmed, we'll provide you with a quote and all necessary information regarding the selected activity. You can then make a payment after providing us with the company billing details such as the address and VAT number (this applies to non-UK customers only). The booking confirmation and invoice are sent via email. You can securely pay via a link with your CC ( Visa, MasterCard, Amex) . We accept CAD, GBP, USD, SGD, AUD, and EUR.
How far ahead should I book the Christmas Cracker Virtual Workshop for my team?
The earlier, the better. We require bookings to be finalised at least 2 weeks in advance if all guests are UK-based. This means we ask for the final group size, payment and all guest details to be provided (individual guest names, email addresses, and delivery addresses), at least 2 weeks before and event.
Other popular activities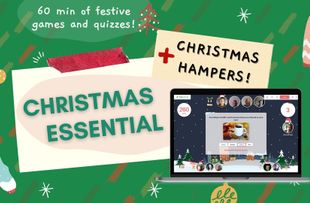 All I Want for Christmas Hampers
With entertaining trivia, karaoke, and festive hampers, you'll feel the holiday spirit in no time. Featuring mini-games like Buzz In, Pictionary, and more, it's the perfect way to celebrate Christmas!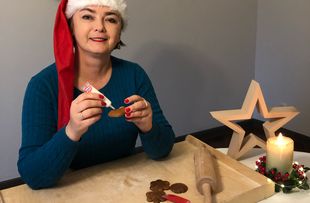 Gingerbread Baking Class
This online baking class will teach you how to make this sweet and spicy treat, which is perfect for any occasion and still a fun family activity in present-day Poland. Get baking with the team!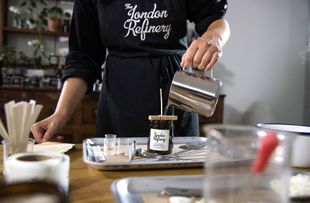 Candle Making Class Online
Discover the world of candle-making! Learn about fragrance and emotions, and try limited-edition recipes and scent combinations. Experiment with essential oils and create your soy wax candle!