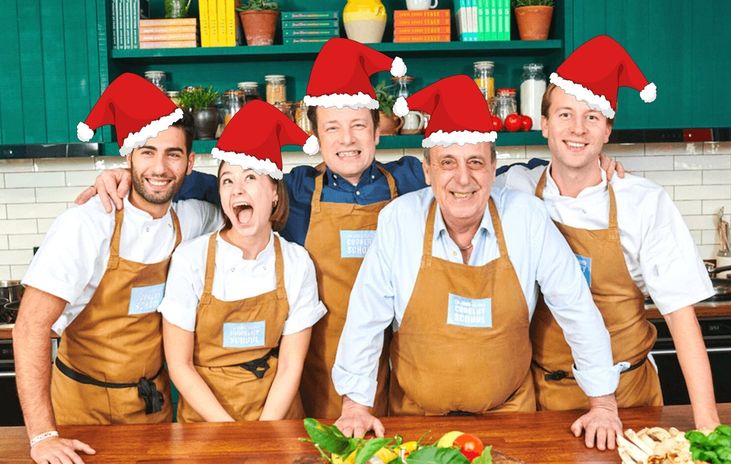 Christmas Cooking Workshop
Enjoy the yummiest Christmas get-together with your team !
Availability
Any day of the week
Activity highlights
Perfect for pros and beginners
Christmas atmosphere guaranteed
Recipes and shopping list included
Hosted by a chef from the Jamie Oliver Cookery School
Option to send a Jamie Oliver Cookery School apron to all participants
Option to add £20 shopping voucher for all participants
Event description
Italian, Mexican, or maybe a Thai Feast? What gourmet secrets do you want to learn with your colleagues this Christmas? Choose 1 of the 6 delicious themes and get your Christmas sweater out of the closet.

The Christmas Cooking Masterclass is a 2-hour-event that will let you feel the Christmas magic while learning step-by-step how to make a delicious meal.

How it works:
Decide which part of the culinary globe you want to go to. You can choose one of the following cooking classes:
1. Sichuan Style
2. Mexican Street Food
3. Thai Feast
4. Italian Favourites
5. Spanish Classics
6. Pasta Master

Pick a date, and then wait for the email with all the instructions. We'll send participants a recipe card and prep sheet (complete with shopping and equipment lists, and set-up tips), so everyone can be ready to go when they log into the session via Zoom. During the class, the helpful English-speaking chefs will walk your group through the recipe and cook along with you, answering any questions along the way. The lesson is designed to be informative and stress-free.

As the masterclass requires a lot of fresh products, you will be provided with a list of all the ingredients you need to purchase.

Apart from the cuisine, you can also choose one of the three packages below :

Bronze Package
- a shopping list and prep list
- details of how to join the call via Zoom ahead of the big day

Silver Package:
- a shopping list and prep list
- details of how to join the call via Zoom ahead of the big day
- a £20 supermarket voucher for ingredients

Gold Package
• a shopping list and prep sheet
• details of how to join the call via Zoom ahead of the big day
• a £20 supermarket voucher for ingredients
• a Jamie Oliver Cookery School apron in the post

Christmas Cooking Masterclass is about enjoying yourself and bonding with your team while you whip up a delicious meal!
What's included
Tech support
Professional Chef as a host
Shopping list and prep sheet
What you need
Ingredients
Reliable Internet connection
Access to Zoom platform
Kitchen (no fancy tools or dishes required)
---
---
Cancellation policy
All sales are final and non-refundable.
One-time courtesy reschedule possible up to 7 days before the event date.
No rescheduling possible for no shows or last-minute cancellations.​
FAQs
How does the online Christmas Cooking Workshop work?
Our unique Christmas Cooking Workshop is hosted by a professional chef from Jamie Oliver's Cookery School. Participants must prepare the ingredients and equipment according to the ingredient list that is provided to all participants before the class . When the event comes around, a link to the session will be shared with everyone. Once everyone is online, a professional and friendly host/chef will teach everyone how to cook a dish from scratch. Our online Christmas cooking workshop is a lively and interactive class that encourages participants to ask questions, share tips, and unleash their inner Jamie Oliver.
Will the ingredients be provided for the virtual Christmas cooking class?
No! We want participants to rustle up the most delicious Christmas dishes and for that to happen, they'll need the freshest ingredients. Therefore, an ingredient list, and prep sheet will be provided to all participants well before the class so that they all have time to prepare for the event.
How can I make the Christmas Cooking Workshop experience extra special for my team?
By giving a Christmas voucher to your guests! Why not add a £20 supermarket voucher for every participant to make them extra happy this holiday season. You can also get them a Jamie Oliver Cookery School apron to help them embrace their inner chefs! If you want to plan a unique Christmas virtual party, why not combine a virtual cocktail party with the cooking experience? Just let us know your needs, and we'll help you plan the most amazing virtual Christmas party for your team.
What food will we make in the Virtual Christmas Cooking Class?
It all depends on which of our delicious virtual cooking classes you book! We suggest consulting all team members before making your choice. We have six different cooking classes for you to choose from in a range of tastes from Sichuan to Mexican and everything in between, (Please see above for details).
How far in advance should I book a Christmas Cooking Workshop for my remote team?
Book as early as possible! Christmas Cooking Workshops hosted by Jamie Oliver's Cookery School are in high demand during the festive season. Therefore, we highly recommend booking your cooking workshop by the end of September to make sure to secure your spot!
Can I book a cooking workshop for a corporate holiday party?
Yes! Our cooking classes can accommodate up to 1000 participants simultaneously, making it ideal for a virtual corporate holiday party. If you have any questions regarding the event planning, drop us an email at events@tagvenue.com so that we can help you plan a fantastic holiday experience for your team.
How can I book an online Christmas Cooking Class for my team?
To book one of our Christmas Workshops, simply enquire via our platform or send us an email at events@tagvenue.com. We'll get back to you ASAP and confirm the availability and pricing of the virtual activity. If these suit your needs, simply book the event by providing the following: company billing details: address, and VAT number (for non-UK customers only). We'll revert with a booking confirmation and an invoice. A payment link will be provided where you can securely pay with your CC ( Visa, MasterCard, Amex). We accept CAD, GBP, USD, SGD, AUD, and EUR.
Other popular activities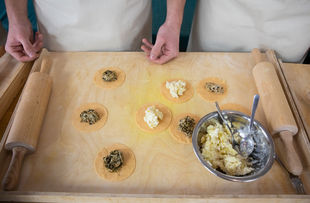 Polish Dumplings Online Cooking Class
Get your creative juices flowing with our DIY Wraps Kit! Perfect for groups, it's an easy and delicious activity that will inspire creativity. Discover some unique filling combinations!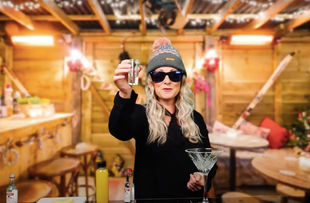 Apres Ski Cocktail Masterclass
Warm up with a delicious apres-ski cocktail in a cozy chalet. Join our cocktail-making class and learn to make your favorite drink without enduring the cold. Gather your team right away!