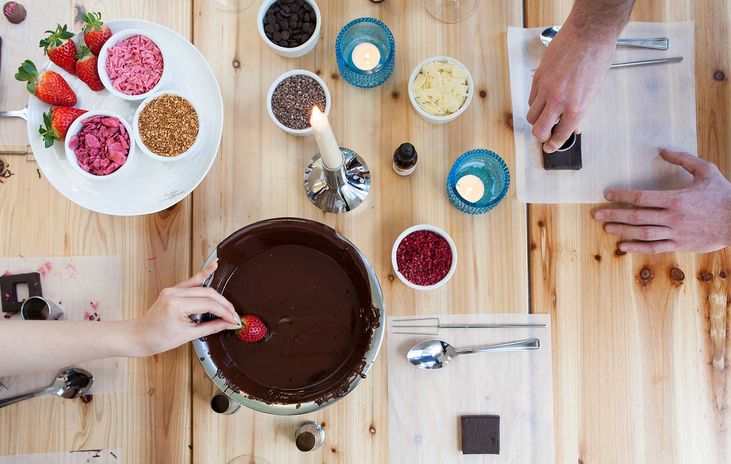 Chocolate Making Workshop
Delicious team building activity to bond with your team and heighten everyone's spirits!
Activity highlights
Kit posted to your doorstep
Christmas and relaxed atmosphere
Dairy-free kit alternatives
No cooking skills required
Event description
Chocolate Making Workshop is a live streamed workshop. The energetic Chocolatier will entertain your team as you mix silky smooth ganache, discover quirky piping techniques to create the most outrageous, most professional, and most crazy-flavoured fresh cream truffles. It'll be the best Zoom meeting of the year.

How does it work:
Once you've booked a slot for your team, let us know your team's postal addresses. A chocolate ingredient kit will be posted straight to each of your team's doors. This contains all the scrumptious chocolate and ingredients they'll need (note, participants will just need to purchase fresh cream) for the virtual party. Using the kit, we'll teach everyone to make the Christmas Pudding Truffles alongside our Signature Truffles:

- The 'I've Lost my Marbles'- a delicious dark chocolate truffle, marbled with milk chocolate and finished off with a dash of white chocolate flakes.
- The 'Hands off Honey, it's mine!' - an indulgent milk chocolate truffle, with a honeycomb surprise.
- The 'I'm a Bit Coconutty' - a yummy dark chocolate truffle, rolled in coconut and finished with a sprinkling of raspberry dust.

On the day of the virtual workshop, make sure everyone tempers their chocolate BEFORE the start of the online workshop. You will get the guide: 'Easy Guide to Tempering Chocolate' once you've booked. This will only take 20-30 minutes.

Moreover, you're all about getting creative and making quirky chocolates so it is recommended everyone also raids their cupboards for all sorts of spices, sweet treats, and decorations for their chocolate truffles. You will be sent also some of the best flavour ideas before the party.

The chocolate kits might be posted abroad with the submission of postal addresses +15 working days before the event and an additional charge.

You can as well order a diary-free kit just notice that while booking.

Chocolate Making Workshop is a delicious team building activity for lasting memories!
What's included
Zoom link
Professional Chocolatier
Chocolate kit with all the ingredients
'Easy Guide to Tempering Chocolate'
What you need
PC or a laptop
Purchase fresh cream
Team's postal addresses
Access to Zoom platform
Reliable Internet connection
Equipment (super simple stuff!)
Temper the chocolate before the workshop
---
Pricing and capacity
Minimum Spend on Thursday & Friday
Christmas Minimum Spend (8th, 9th, 10th, 15th, 16th, 17th Dec)
---
Cancellation policy
All sales are final and non-refundable.
One-time courtesy reschedule possible up to 10 days (UK-based participants)/20 days (outside of the UK-based participants) before the event date.
No rescheduling possible for no shows or last-minute cancellations.​
Other popular activities