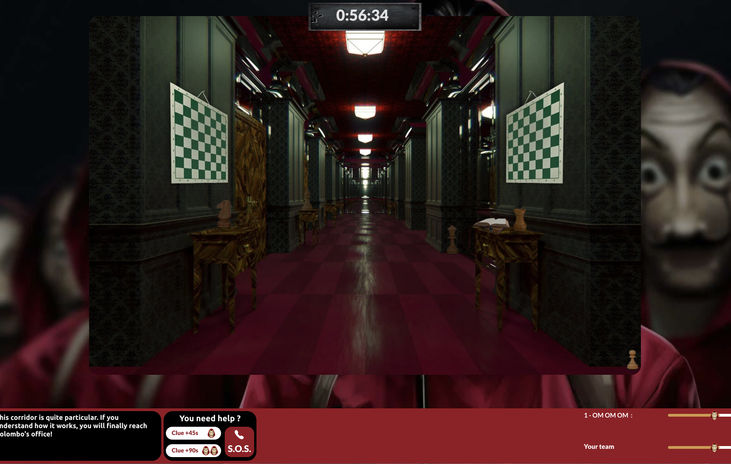 Casa De Papel
Execute a perfect heist with your team and break the system together!
Availability
Mon-Fri, 8am-9pm UTC
Activity highlights
Each team member gets personalized information to solve the tasks
Variety of logical, observational and arithmetic tasks
Great challenge for team cooperation and communication
Each riddle has a different mechanism
Event description
Why watch a TV show when you can be part of an epic heist with your team? Extend the thrill of the series, Money Heist and give it a shot at this Casa de Papel-inspired virtual escape room.

The Professor is calling on your talents for a new mission! Twenty years ago, a notorious crook stole some diamonds of inestimable value. The Professor, perceptive as always, tracked down the crook to find out the exact location of the diamonds. They are somewhere in the casino.

After extensive training, you and your team are finally ready to go on this once in a lifetime adventure. The place is highly secure but there is one loophole: the crook needs all his guards to transport the casino's funds across town every Tuesday at 4 a.m. It takes them one hour to get there which means you have that time to infiltrate the casino, steal the diamonds and leave the premises without being caught.

The mission is equal to your talent! Good luck!

How it works:
1. Join the conference call where you will be greeted and briefed by our energetic host.
2. You will be split into teams of 2-8, the first team to collect all the diamonds is the winner! Trained facilitators will be available throughout to help if your team gets stuck.
3. Winner announcement & debriefing.

Experience the excitement of the TV series by solving puzzles and figuring out the clues to commit the perfect heist in this virtual escape room! To make it more exciting, don't forget to dress up as the characters!
What's included
Professional event host
All necessary links for the event
Cool pictures of your team after the event
What you need
PC or a laptop (mobile devices not supported)
Earphones / headphones
Reliable Internet connection
Latest version of Google Chrome
Zoom (preferably in an app)
All browsers are usable except Internet Explorer
---
---
Cancellation policy
RESCHEDULING POLICY:
After a booking has been made, Client rescheduling within 2 weeks or less of the event date is subject to a fee equal to 25% of the total fee.
After a booking has been made, Client rescheduling within 72 hours or less of the event date is subject to a fee equal to £150 or 50% of the total fee whichever is greater will be applied at the time of your re-booking. Your event must be rescheduled within 365 days of your original event date.

CANCELLATION, LOW-SHOW, AND NO-SHOW POLICY: No refunds will be issued for reduced event participant headcount turnout at an event ("Low-Show"), zero participant turnout at an event ("No-Show"), and/or event cancellation. If you provide notice at least 72 hours in advance of the event for a Low-Show, No-Show, or cancellation then credit towards a future event may be issued in accordance to the rescheduling policy above. Any credit issued will be in accordance with the rescheduling policy above and must be utilized within 365 days of your original event date
FAQs
What is the Casa de Papel online escape room?
Inspired by the TV show, this virtual escape room is the ultimate combination of thrill and logic. Collaborate with your teammates to execute a perfect heist. You have an hour to collect the diamonds from the casino while the guards are out. Infiltrate the casino, work the clues and steal the diamonds without being caught. Teams are split into smaller groups of 2-8 where they compete against one another. All you have to do is book the event and join the conference when the time comes.
Is this event fully hosted?
Yes. Our event host will brief your team and facilitate conversation among them. Our virtual events focus on team communication and collaboration, which makes this online escape room a great pick for a Halloween party, office party, or team building activity at any time of the year.
How can my team prepare for the event?
Grab a beer and your favourite snack! All your team needs is a stable internet connection and headphones (optional). We recommend that participants turn on their cameras for a more lively experience. You may also consider dressing up as the characters of Casa de Papel to make this virtual event even more fun!
How does an online escape room game work?
Teams engaging in virtual escape rooms are presented with puzzles and challenges using web-based activities and video conferencing software. Google Forms are frequently used in free online escape rooms.
How can I book a virtual event with Tagvenue?
Click on the 'Enquire Now' option on our website to book an event and let us know whether you have any special requests during the event. Or simply send us an email at events@tagvenue.com with the number of guests, the event's name, and your requested dates. We'll get back to you with the details. Once you agree to proceed, you will need to send us your company details such as the address and VAT number (for non-UK Customers only) following which we'll send you an invoice and a link for the payment. You can then securely pay with your CC ( Visa, MasterCard, Amex) via a link. We accept CAD, GBP, USD, SGD, AUD, and EUR.
Other popular activities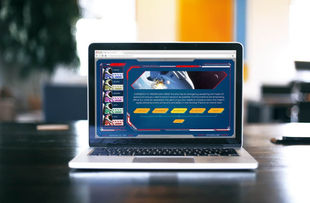 Space Escape
The spaceship to go back to Earth breaks down. To make it safely back to Earth, you must collaborate closely, repair the ship, restore its systems, and navigate the vessel through space.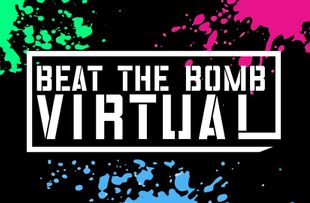 Beat The Bomb - Virtual Team Building
Join Beat the Bomb, an immersive virtual team-building experience, where you and your colleagues must work together to solve puzzles and defuse a bomb before it's too late! Time to play!