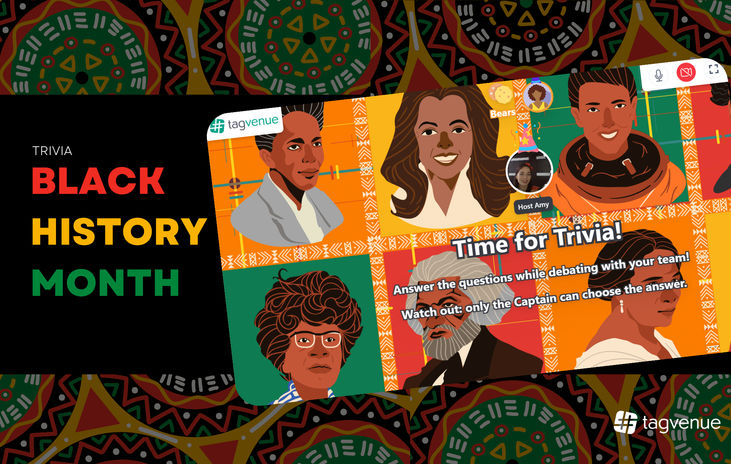 Black History Month Virtual Trivia
Gather your team and get ready for some fun with a series of mini-games!
Activity highlights
Professional host to entertain you
Everyone gets to be the captain
No apps or downloads required
Knowledge sharing in a fun setting
Suitable for diverse teams
Photo booth pictures included
Event Description
Black History Month gives the opportunity to companies to learn about the importance of this historic month.

Whether you're looking for a DEI activity for culture building or simply want to boost your team's morale, we've got you covered!

Join our trivia with our live-host to learn about black artists and figures who changed the world through their art, music and more. Our experience features 5-6 rounds of mini games- Trivia, Buzz In and Fact Matching that will help your team bond, get to know each other and have a great time together. With our professional host, seamless platform and your fab team, this 60-minute activity will be the highlight of your team-building events!

Our Black History Month Trivia is ideal for virtual and hybrid teams who need some fun and a well-deserved break. Participants will leave the room in a good mood while acquiring some valuable information on the Black Community. Our emcee will guide participants through the experience with highlights of Black authors, artists and historical figures from the Golden age till the present day.

So, what are you waiting for? Book our Trivia pronto!

Wondering how it works?
It's super simple! Before the big day, you will receive a link to the game to share with your teammates. Click on the link when the time comes and get ready for some serious fun! No registration or download is required. Our entertaining host will welcome you and your team on the platform, explain the rules, and split you into teams of three to six players! Once everyone is ready, the host starts the game. Play a series of mini-games and win the game along with bragging rights!
What's included
Professional Host
5-6 mini games
Photo Booth pictures after the event
Dedicated Event Producer
Web-based platform
What you need
PC / laptop with a camera (Mobile devices are not supported!)
Earphones / headphones
Reliable Internet connection
Latest version of Google Chrome
---
---
Reviews
M
Mateusz
Booked on 1st February 2023
Really cool experience, I had fun and learned some new things (and I definitely didn't know a lot). The visuals were great, we had fun guessing things that we didn't know, Marta the Host was lovely.
M
Melanie
Booked on 30th January 2023
The game was extremely fun and enjoyable! As usual, it was a great opportunity to bond with the rest of the company while also learning some new facts and trying out our knowledge.
D
Deepa
Booked on 24th January 2023
The trivia was a great way to learn about Black History Month. It was also a fun way to get to know my colleagues
---
Cancellation policy
RESCHEDULING POLICY:
After a booking has been made, Client rescheduling within 2 weeks or less of the event date is subject to a fee equal to 25% of the total fee.
After a booking has been made, Client rescheduling within 72 hours or less of the event date is subject to a fee equal to £150 or 50% of the total fee whichever is greater will be applied at the time of your re-booking. Your event must be rescheduled within 365 days of your original event date.

CANCELLATION, LOW-SHOW, AND NO-SHOW POLICY: No refunds will be issued for reduced event participant headcount turnout at an event ("Low-Show"), zero participant turnout at an event ("No-Show"), and/or event cancellation. If you provide notice at least 72 hours in advance of the event for a Low-Show, No-Show, or cancellation then credit towards a future event may be issued in accordance with the rescheduling policy above. Any credit issued will be in accordance with the rescheduling policy above and must be utilized within 365 days of your original event date.
FAQs
What is the Black History Month Virtual Trivia all about?
The Black History Month Trivia is about paying tribute to important Black figures such as Martin Luther King, Aretha Franklin, and James Baldwin. Participants will have the chance to discover numerous figures and their contributions. Featuring 5-6 rounds of mini-games such as Buzz In, Fact Matching, Trivia, and Sorting, participants will get the chance to discover facts about their colleagues and share their knowledge throughout the activity. Our professional host will be there to share bits of knowledge with your team while making sure they have a great time!
How can the Black History Month Virtual Trivia help my team bond?
This virtual trivia is ideal for culture building when navigating in a multicultural/ diverse environment as it allows employees to discover the culture of each other in a convivial and fun atmosphere. Moreover, everyone has the chance to be the captain of their respective teams making this activity super inclusive. By the end of the virtual event, your team's morale will be boosted and everyone will leave the event in a better mood!
Can the teams be assigned randomly?
Totally! In fact, we recommend assigning teams randomly as it gives the opportunity to all employees to get to know each other better within the workplace. However, if you would like the teams to be pre-assigned, simply let your dedicated event manager know about it and we'll make sure that the event's tailored for your team!
Do the participants need to download anything prior to the experience?
No! You won't have to download anything to take part in our experience. A link will be sent to you and simply needs to be shared with your colleagues. We do recommend switching on your cameras to create a livelier atmosphere.
Can this virtual experience be hosted for groups of 15 or fewer?
Yes, we can host this online activity for both small groups of 8 people and for larger groups of up to 500 people. We recommend splitting larger groups into smaller ones as it makes it easier for participants to communicate with one another and for the event to be run smoothly.
What does the pricing of the Black History Month Virtual Trivia include?
The pricing of our event includes a link to the platform, ongoing support from a dedicated events manager, the assistance of a professional host, and 5-6 rounds of mini-games such as Buzz In, Fact Matching, Trivia, and more. We can also customize the sets at an additional cost of £100 per set customization! Ask and you shall get!
Other popular activities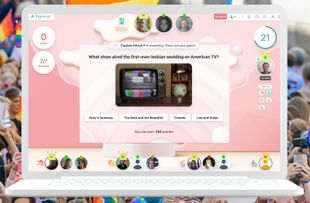 Pride Month Virtual Trivia
Host a Pride-themed trivia match featuring LGBTQIA+ pop culture and historical questions in our all-time favourite game, Team Quest. Celebrate the community's beauty and learn new facts!
Around the World - Virtual Icebreaker
Around the World is a fun and lighthearted team-building game that promotes networking and cultural learning. Ideal for collaboration, culture-building, and more. Suitable for everyone!