Bespoke Online Yoga Class
Treat your team to a relaxing experience with a yoga session
Activity highlights
No previous experience required
Learn mind-body techniques
Boost physical and mental wellbeing
Fully qualified yoga teacher
Event description
Host a live online yoga class for Wellness Month or at any time of the year. Watch your team unwind and be more productive than ever after some well-deserved relaxation.

Whether you're looking for a beginner's online yoga class or a private yoga class for your team, you've come to the right place. The Bespoke Yoga Class is hosted via Zoom and all participants can attend the activity from the comfort of their cosy homes! Rain or snow, it doesn't matter when you don't have to step out!

Teams will destress and learn how to improve their posture with simple yoga stretches and poses. By focusing on flexibility and breathing, participants focus on improving their physical and mental wellbeing.

How does it work:
All you have to do is pick your preferred date and let us know if you have any questions or special requests. If some of your employees suffer from chronic back pain or any other issues, let us know in advance so that we can inform our host and adjust the class accordingly.
Our host will greet your team and start with therapeutic breathwork techniques to tap into the nervous system and then process with some varied movements.
You will be taught how to practise full mind-body relaxation techniques while getting a deeper understanding of the science behind these techniques so that you can continue your practise at any time.

Some of the benefits of this online yoga class are:
Improves mental clarity
Boosts team morale and engagement
Improves flexibility and posture

Online yoga classes are perfect for remote teams who barely move away from their desks. So, if you're wondering what to plan next? Look no further!

What's included
Zoom link
Experienced teacher
Relaxing yoga class
What you need
PC or a laptop
Yoga mat or beach towel
Access to Zoom platform
Reliable Internet connection
---
---
Cancellation policy
RESCHEDULING POLICY:
After a booking has been made, Client rescheduling within 2 weeks or less of the event date is subject to a fee equal to 25% of the total fee.
After a booking has been made, Client rescheduling within 72 hours or less of the event date is subject to a fee equal to £150 or 50% of the total fee whichever is greater; the fee will be applied at the time of your re-booking. Your event must be rescheduled within 365 days of your original event date.

CANCELLATION, LOW-SHOW, AND NO-SHOW POLICY: No refunds will be issued for reduced event participant headcount turnout at an event ("Low-Show"), zero participant turnout at an event ("No-Show"), and/or event cancellation. If you provide notice at least 72 hours in advance of the event for a Low-Show, No-Show, or cancellation then credit towards a future event may be issued in accordance to the rescheduling policy above. Any credit issued will be in accordance with the rescheduling policy above and must be utilized within 365 days of your original event date.
FAQs
When should I host an online zoom yoga class for my team?
For Employee Appreciation Day, Wellness Month, or Mental Health Month. Other than for these special occasions, we recommend hosting regular yoga sessions for your employees as it helps boost employee morale and contributes to workplace wellbeing.
How many people can attend the virtual live yoga class simultaneously?
Up to 500 people. Whether you're planning a corporate event or a wellness activity for your small business, our bespoke yoga classes can be adjusted according to the size and requirements of your team.
How long does an online zoom yoga class take?
Our classes can be tailored to your needs. If you want a quick yoga session, we propose 30 minutes of yoga class and if you are planning a longer activity, sixty minutes is ideal for full relaxation with your team.
What will my team need for this experience?
Other than access to Zoom, a stable internet connection, and a PC/laptop, participants will need a yoga mat or beach towel and a quiet space for the session.
How can I book a live online yoga class?
Simply enquire via our platform or send us an email at events@tagvenue.com. We'll get back to you ASAP and confirm the availability and pricing of the virtual activity. If these suit your needs, simply book the event by providing the following: company billing details: address, and VAT number (for non-UK customers only). We'll revert with a booking confirmation and an invoice. A payment link will be provided where you can securely pay with your CC ( Visa, MasterCard, Amex). We accept CAD, GBP, USD, SGD, AUD, and EUR.
Other popular activities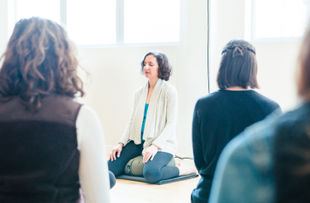 Online Mindfulness Meditation Session
Boost team satisfaction and performance with mindfulness meditation. Suitable for everyone, these sessions help lower stress levels and improve well-being. Designed to be helpful to anyone!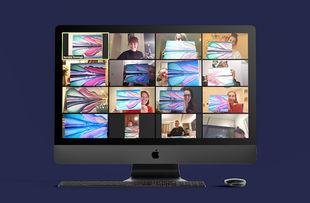 Paintvine - Virtual Paint and Sip
Looking for the perfect creative workshop idea? We've got you covered with our virtual sip and paint party. Impress colleagues by channeling Picasso or Van Gogh! Paint away!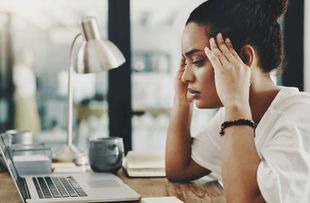 Burnout Management Online Workshop
Without proper strategies, physical and emotional exhaustion can take hold, leaving staff drained. Learn how to manage work-life balance and reduce burnout's negative impact with easy tools and tips!