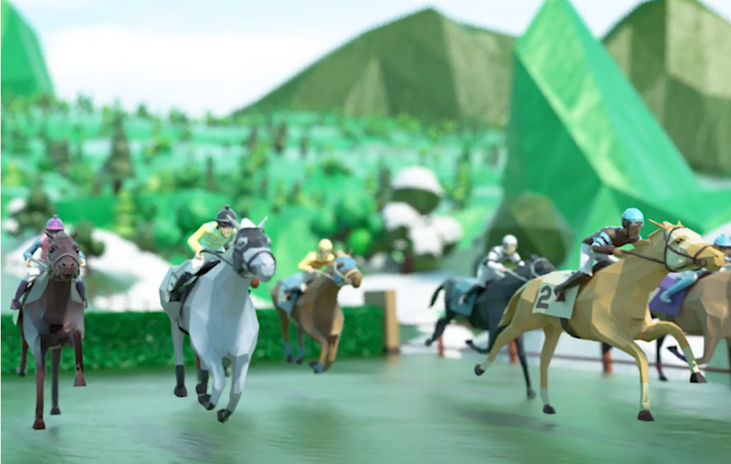 At The Races - Virtual Races
Get your team cheering, placing bets, and training horses with all the excitement you'd find at a horse track!
Activity highlights
Immersive animation of each race
Delivered via Zoom and web
No horse racing experience required
Professional Host to cheer you on
Available for hybrid and in person events
Event description
You've just found your next fun online game for a team bonding activity over Zoom- At the Races! Improve communication skills with a competitive and interactive game. At the Races is like being at the real horse races minus the fear of going broke! Similar to live horse racing, this innovative game features bets, training, and sabotaging horses, as well as a live scoreboard- all the fun you'd want to have with your mates at a real horse racing!

Discuss and plan your strategies with your team to win the game! The game is hosted by a professional facilitator who will set the stage with a two-minute video and provide players with instructions. The game is simple and fantastic for beginners. With three options to choose from, the outcome of the game is never the same, making every race all the more exciting!

Teams are split into smaller groups and sent to breakout rooms where they can plan their moves. Grab a great price early on or wait for others to play their hand and dive in at the last minute! Watch the race from your home and cheer together. Remote teams will enjoy At the Races as it is a stimulating experience that focuses on fun and team collaboration. This virtual game is full of cheers, taunts, and unique moments.

Quick to learn and fun to play, the game requires team coordination and planning for teams to make it to the first place. Time to devise your strategies and win it all with your team!
What's included
Energetic Event Host
6 races
Zoom link
What you need
Latest version of Google Chrome
Reliable Internet connection
Zoom (preferably opened in an app)
---
---
Reviews
J
Jon, Catalyst
Booked on 20th January 2022
Continue to be amazed to find ways to have fun as a team virtually. Thanks for a fun session!
A
Angela, Golden Gate Capital
Booked on 23rd December 2021
Had a great time! Highly recommended
N
Nevarda, Magmutual
Booked on 15th September 2021
FUN! Thank you all
J
James, ASA
Booked on 30th July 2021
We had good fun on Thursday and our team really enjoyed it – something a bit different!
M
Michele, Rivet Games
Booked on 27th July 2021
It all worked out great and everyone had a great time!
---
Cancellation policy
RESCHEDULING POLICY:
After a booking has been made, Client rescheduling within 2 weeks or less of the event date is subject to a fee equal to 25% of the total fee.
After a booking has been made, Client rescheduling within 72 hours or less of the event date is subject to a fee equal to £150 or 50% of the total fee whichever is greater will be applied at the time of your re-booking. Your event must be rescheduled within 365 days of your original event date.

CANCELLATION, LOW-SHOW, AND NO-SHOW POLICY: No refunds will be issued for reduced event participant headcount turnout at an event ("Low-Show"), zero participant turnout at an event ("No-Show"), and/or event cancellation. If you provide notice at least 72 hours in advance of the event for a Low-Show, No-Show, or cancellation then credit towards a future event may be issued in accordance to the rescheduling policy above. Any credit issued will be in accordance with the rescheduling policy above and must be utilized within 365 days of your original event date.
FAQs
What is the At The Races virtual horse racing?
The game consists of 6 races, each with a different set of conditions and an overview of the track. To win, teams need to strategize together and cooperate during the decision-making process. The game typically lasts for 75 minutes but can be adjusted according to your needs. At the Races does not involve real gambling. The game starts with a 2-minute instruction video that sets the stage. The game is ideal for players with little to no experience in online activities. During the game, players have a choice of three actions and their actions affect the outcome of the race. Ideal for larger groups of 50+.
Is this virtual game effective for corporate team building?
If your online team is getting bored with the daily hustle, it's time for a real morale boost. There's nothing more engaging than a virtual game. New and existing team members will soon be talking, joking, and laughing together. The team will also get to celebrate their wins and poke fun at each other right after every game. It's a great option for employees to actively engage with their peers and contribute to team wins through simple strategies!
Does At the Races require previous virtual horse racing experience?
Not at all! This game is quick and easy to learn. Teams simply need to plan and coordinate their actions to score the highest number of points. It's an inclusive virtual activity that won't make anyone feel like they've been left behind.
Does my team need to download an app to play At the Races?
No! There's no need to download anything to take part in this activity. However, we do recommend joining the virtual event on the Zoom app for a better experience. Other than that, to join the event you'll simply need your PC/laptop with a stable internet connection and headphones. We recommend turning on your webcams throughout the event as it makes the team-building activity a lot more interactive and fun! Once you've gotten online, our host will take care of the rest, so just sit back and enjoy!
How do I book a virtual horse racing activity?
Simply enquire via our platform or send us an email at events@tagvenue.com if you require further assistance. We will then confirm the availability of the activity along with the price for your chosen number of participants. Once these are confirmed, you can make a payment by providing the company billing details i.e. the address, and VAT number (for non-UK customers only). We'll then send you a booking confirmation with the details and an invoice. A payment link will be provided where you can securely pay with your CC ( Visa, MasterCard, Amex). We accept CAD, GBP, USD, SGD, AUD, and EUR.
Other popular activities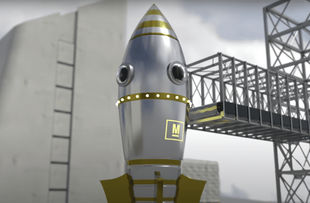 Mars Conquest
Get a taste of Mars with our virtual team building activity - Mars Conquest! Bring animals to the planet and work together to achieve success. Easy to learn and perfect for beginners. Game on!
Around the World - Virtual Icebreaker
Around the World is a fun and lighthearted team-building game that promotes networking and cultural learning. Ideal for collaboration, culture-building, and more. Suitable for everyone!