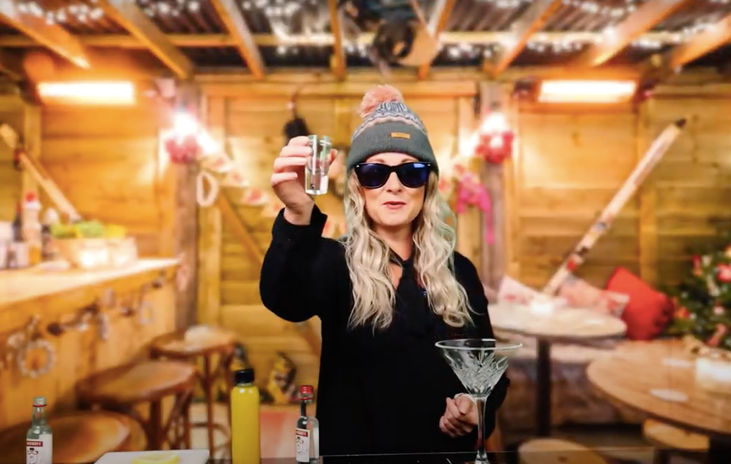 Apres Ski Cocktail Masterclass
Fun and colourful virtual drinks making experience with a hint of rivalry!
Availability
Any day or time
Activity highlights
Broadcasted from state of the art studio
Everything delivered to your doorstep
We ship all over the world
Event description
Nothing warms your bones quite like a delicious apres-ski cocktail! Imagine being in a cosy chalet and sipping on your favourite cocktail. Luckily, you won't have to endure the cold to enjoy some drinks with our cocktail-making class.

The Apres Ski virtual mixology class is perfect for the holiday season and for rewarding your team at any time of the year. Meet your Ski Host over Zoom and get ready for some banter, laughter, and the most delicious homemade cocktails or mocktails.

Participants will virtually visit 4 different pubs inside the Alpine Party Lodge where they will shake a unique cocktail/mocktail in each bar. Interact with the mixologist and compete with your colleagues to win drink vouchers! After a quick wrap-up, everyone reconvenes at the pool area where the drink vouchers are given out.

How it works:

A cocktail box will be sent to every participant before the date of the event. The cocktail box will contain the following:
- A cocktail shaker
- All Alcohol & Ingredients for Four Cocktails (This can be replaced with Seedlip - a non-alcoholic spirit)
- Cocktail Garnishes
- Apple & Elderflower Martini,
- Passion Star Martini
- Raspberry Mojito
- Salted Caramel Espresso Martini
- UK delivery is included in the cost.

Note that everyone will get the chance to prepare the same cocktails regardless of whether or not they consume alcohol as a premium non-alcoholic spirit, Seedlip will be provided for non-drinkers.

We recommend throwing this virtual event for an online happy hour, or summer party with your team, and friends!

What's included
Hamper box with ingredients for 4 cocktails, garnishes and a shaker
Mixology hosts and tech support
Digital HD studios
UK shipping
What you need
Glassware
PC/ laptop / tablet with a camera
Reliable Internet connection
Zoom
List of all participants with addresses
---
Pricing and capacity
10-15 people
from £54 per box + £119 masterclass fee
15 and above
from £54 per box +no masterclass fee
---
Cancellation policy
All sales are final and non-refundable.
One-time courtesy reschedule possible up to 10 days (UK-based participants)/20 days (outside of the UK-based participants) before the event date.
No rescheduling possible for no shows or last-minute cancellations.​
FAQs
What is Apres Ski Virtual Cocktail Making?
Apres Ski Virtual Cocktail Making is an online cocktail-making class with a view overlooking the Alpine village. During the event, participants will visit four different Alpine pubs while crafting delicious cocktails. Our team will arrange the delivery of all the ingredients along with the required tools such as a cocktail shaker, ingredients, and garnishes. All you have to do is get your fanciest glasses out and join your host on Zoom when the time comes.
Do you have any non-alcoholic options?
Yes! To make our virtual cocktail-making experience as inclusive as possible, we can include Seedlip- a non-alcoholic spirit for those who don't drink. The ultimate goal of our virtual masterclass is to get together and have fun!
Do the guests keep their kit and leftover ingredients?
Yes! Everything will be shipped to your team members before the event. Participants get to keep their kits and leftover ingredients after the event so that they can shake cocktails whenever they feel like it.
How many people can join in the fun?
We can host our virtual cocktail-making classes for small family parties of 5 to 10, a gathering of 10 to 15 friends, or a medium-sized happy hour for up to 120 guests. If you're planning an event for anything less than 5 or more than 120 guests, just drop us a line so that we can work out something for you!
Can this virtual cocktail-making class be self-hosted?
No, and we wouldn't recommend it! Hosted by professional hosts/ entertainers, our virtual experience is fully hosted from digital HD studios to ensure that participants can fully relax and enjoy themselves during this virtual class.
Other popular activities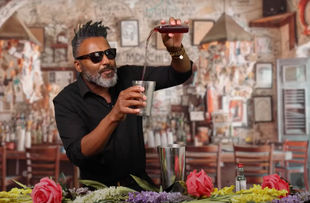 Around The World Mixology Class
Travel the world without leaving your workplace with Cocktails Around the World - a virtual mixology class for your team. Cheaper than a plane ticket! Experience our masterclass with your team!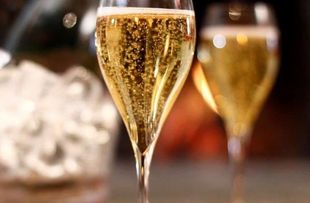 Pop The Bubbles - Virtual Wine Tasting
Want a unique remote party idea? Try our virtual happy hour! Impress coworkers with wine knowledge and delivered hampers. Hosted by a pro sommelier. Customise your package and book now!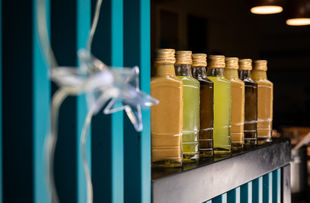 Polish Liqueurs Virtual Workshop
Discover and taste unique liqueurs and learn about the skilled craft of "nalewki" making, a tradition passed down through generations of Polish families. Perfect for winter or summer Friday nights!