On the doorstep of South London, Surrey is England's greenest county, with a huge selection of parks, woodland, and the beautiful Surrey Hills. Offering a leafy retreat from the bustle of the built-up capital, it's still fantastically well-connected with London's city centre. Popular with residents, commuters, and nature-lovers, it's also home to a variety of superb wedding venues in beautiful, historic, and green locations.
Escape the crowds and embrace nature
Many of Surrey's wedding venues are positioned next to large open fields, woods, streams, and hills. This offers a beautifully calm and picture-perfect location for your big day, with loads of great areas to celebrate and take photos.
Here's a list of 8 great venues located in Surrey that could be your ideal space to get hitched.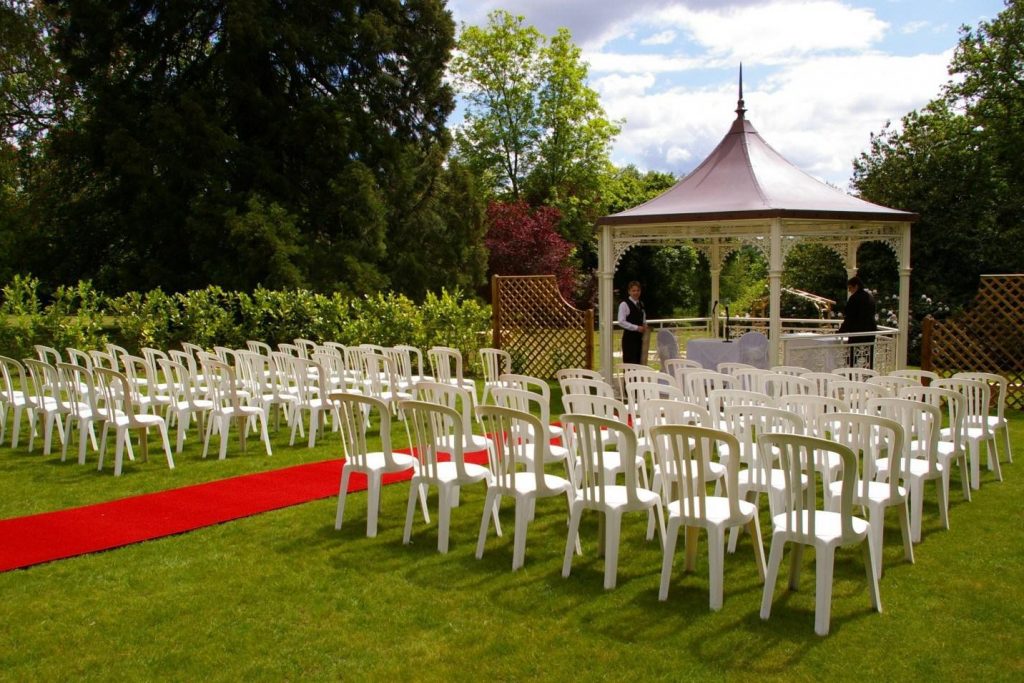 A typically English country house and hotel, Farnham House Hotel is a charming and peaceful spot in which to get married. Just a mile away from Farnham town centre, it's ideally suited to summer weddings, with ceremonies taking place in its beautiful garden area. Complete with a red carpet walkway, pavilion, and blessing area, the scene is perfectly set for a memorable wedding day.
Holding up to 120 people standing, alongside other useful features such as free parking and in-house catering, it also offers plenty of conveniences. In addition, the hotel has its own restaurant and bar, as well as 24 en-suite bedrooms which provide a comfortable and classy place to spend the night.
More information and booking request: Farnham House Hotel
A Queen Anne-style Mansion situated in the heart of the Surrey Hills, Barnett Hill Hotel offers bespoke wedding packages and exclusive professional support. Located just 3 miles from Surrey's county town of Guildford, and 30 minutes from London, the venue is situated within 26 acres of gorgeous gardens in Surrey.
Offering a selection of different wedding suites, two of which are licensed for wedding ceremonies, you can also hold your wedding reception on-site with up to 80 guests. With a whole range of other extras, including WiFi, audio-visual equipment, parking, disabled access, and accommodation, you can be sure that all bases are covered at this grand venue.
On top of that, the outstandingly maintained gardens and lush greenery will allow you to celebrate outside in style and offer opportunities for memorable and beautiful photos to mark the day.
More information and booking request: Barnett Hill Hote
Home of the Epsom Derby, one of the world's greatest and most prestigious flat races, Epsom Downs Racecourse is a historic location for sport and horse racing lovers. Dating back to the 1700s, the venue has evolved over the years and is now able to open its doors to couples looking to tie the knot. Located just 30 minutes from central London, it's not just conveniently located, it's an adaptable venue space teeming with sporting culture and heritage.
The special wedding suite is located on the second floor of the Queen's stand, where you can get a great view of the racing terrain, as well as distant views of the London skyline. Not only that, you can benefit from tailor-made catering packages from the in-house catering team, alongside other services such as parking, accommodation, disabled access and various media equipment.
More information and booking request: Epsom Downs Racecourse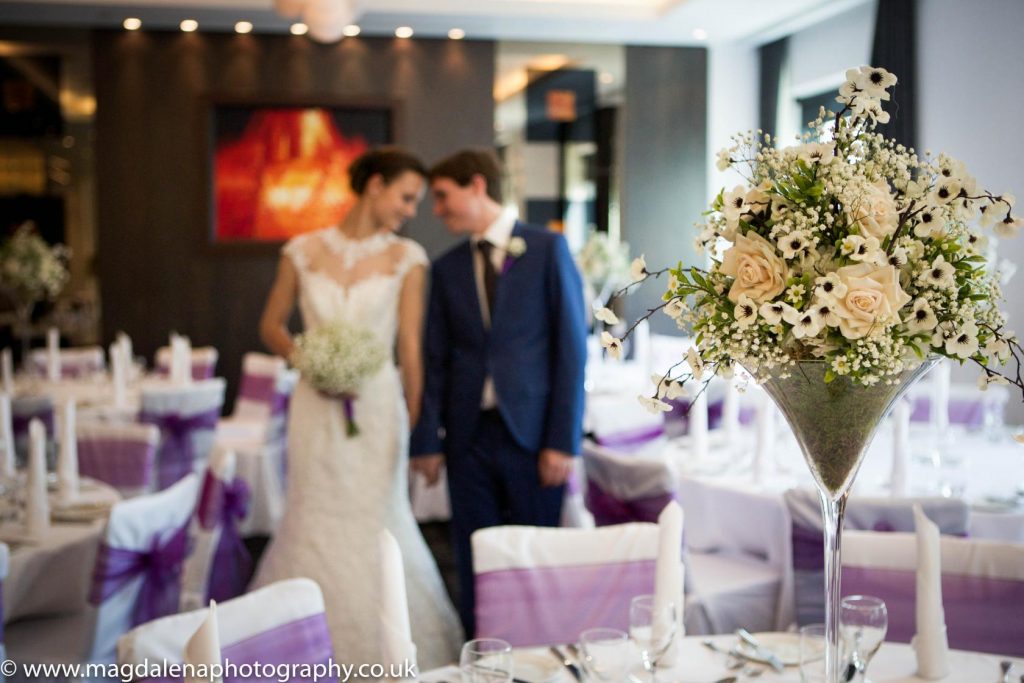 On the doorstep of Brooklands racetrack, one of the world's most historic motor racing tracks, the Brooklands Suite is a beautifully decorated space that's ideally suited for wedding hire. Contemporary in design, advanced in technology, and with a dedicated banqueting team serving up delicious food, you can be sure that all your wedding needs will be stylishly seen to.
Holding up to 175 seats, or 220 for a standing reception, there are dedicated staff on hand to help with all your needs, as well as free parking and disabled access. On top of that, there's also a chance to spend the night at the 4-star Brooklands Hotel and convenient transport links into London and beyond. If you're looking for a chic venue with a tonne of convenience, there are few better spots than here.
More information and booking request: Brooklands Hotel
Located at Sandown Park Racecourse, the Gold Cup Suite is a premier wedding location with fantastic views of the racecourse alongside the London skyline. With an already fantastic reputation as a meeting and conference facility, the suite is also fantastically well-suited to large and small weddings. Offering bespoke catering packages, as well as a range of useful amenities such as WiFi, accommodation, and parking, the room itself is also partitionable, meaning it can take on all different crowd sizes up to 420 people.
The venue itself is also easily navigated by public transport to and from London, as well as the nearby Heathrow Airport. This makes it a prime contender if you're expecting International guests and want an easy-to-reach venue in close proximity to London with suburban serenity.
More information and booking request: Sandown Park Racecourse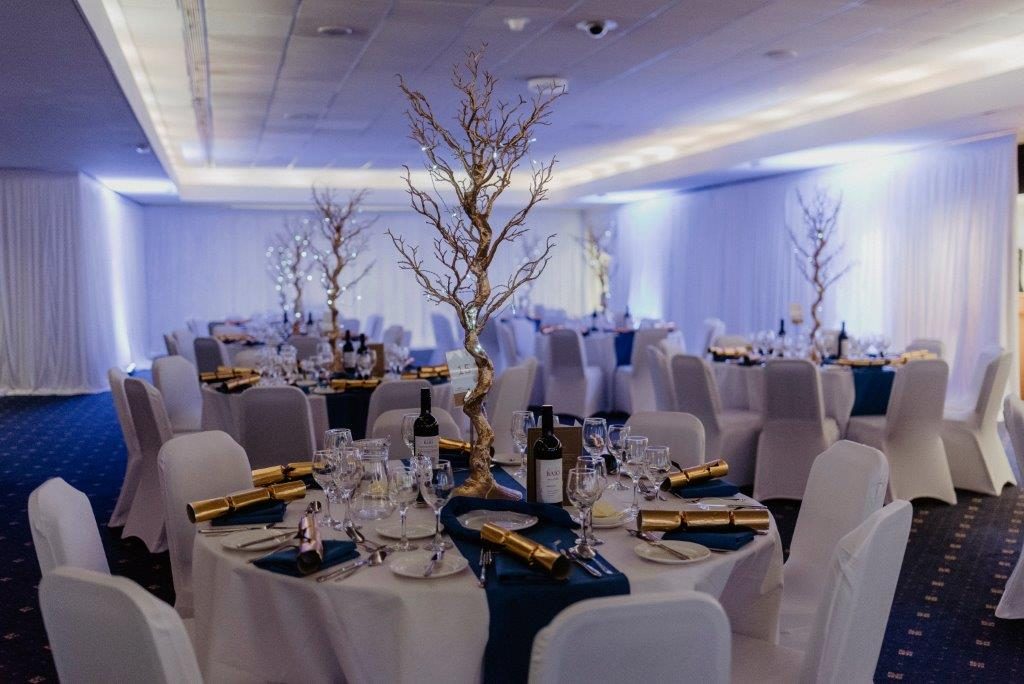 One of Europe's largest and busiest racecourses, Kempton Park hosts a variety of horseracing events almost all year round. It's also emerging as a top event space, with the Premier Suite being particularly well suited for weddings.
With a stellar event management team on hand, a built-in bar, and high-quality audio-visual equipment, it's also located just 16 miles away from London. The room also benefits from an abundance of natural daylight and has memorable views over the Parade Wing and Winner's Enclosure. It can hold huge numbers of guests, including 500 seats and as many as 1500 standing. It also features an amazing in-house catering service.
Kempton Park is an outstanding option for those looking to invite many guests to their wedding while enjoying a smooth experience in a unique venue space.
More information and booking request: Kempton Park Racecourse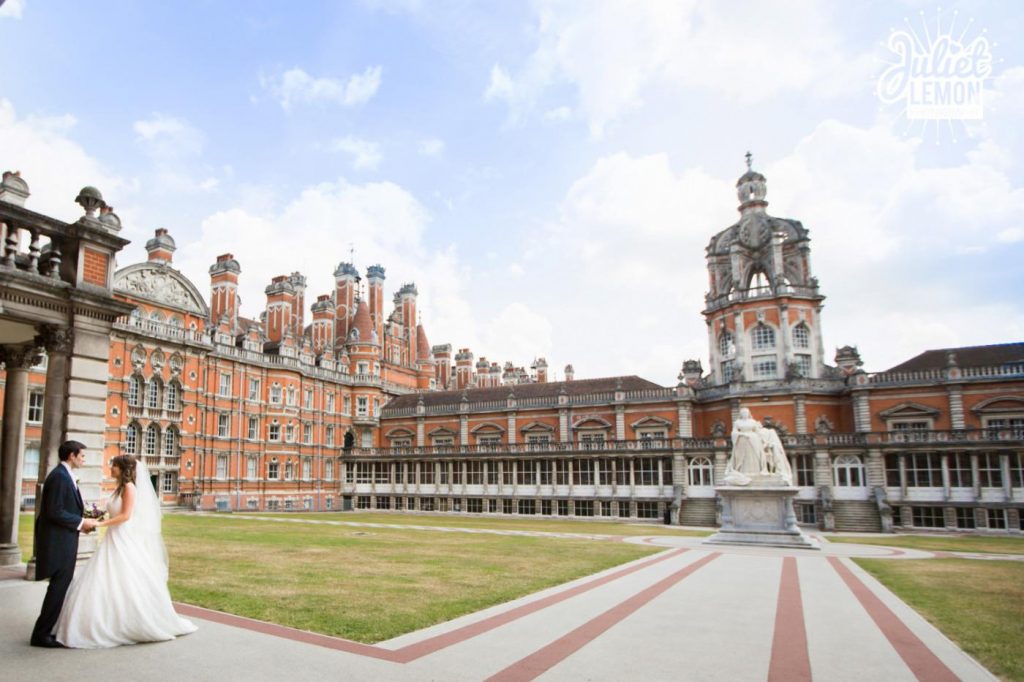 Located in the historic premises of Royal Holloway University, the Picture Gallery holds one of the UK's finest Victorian art collections. By holding your wedding here, you'll not only see these masterpieces up-close but get to experience the lavish design and beautiful decoration of one of Britain's most stunning university buildings.
On top of the ornate surroundings, the venue itself is dedicated to top-level service. Providing in-house catering and extensive menus to cater for all different diets, they also allow you to bring your own alcohol. On top of that, the venue has disabled access, free parking, and all the necessary WiFi and media equipment, as well as accommodation. For those looking for a luxurious and high-level wedding in a stunning and historic location, the Picture Gallery could well be the place.
More information and booking request: Royal Holloway
Spanning 450 acres, Amber Lakes is surrounded by natural beauty, and Amber Lodge is in the perfect location to enjoy it all. A luxury cedar, oak and glass lodge, built in a Scandinavian style, the venue has views of the whole lake and woodland surrounding it, making it a beautiful location for your wedding. Alongside the fantastically designed lodge, there's also an expansive terrace, which extends onto Amber Pier. This is the perfect viewing spot for the rest of the lake and the natural beauty of the area.
The whole space can accommodate up to 500 people with the addition of a marquee or tipi, so enjoy your special day with exclusivity, beauty, and wonder. Providing approved catering packages, as well as disabled access, parking, and WiFi, you can also stay connected and receive Amber Lodge's top-level service while enjoying the natural splendour of the area.
More information and booking request: Amber Lakes
---
---
---
You might also like