More Personalisation, More Control
If you've never had a wedding before, it's hard to imagine the time and money that goes into perfecting every last detail. From the guest list to the catering, to the venue itself, it's a really big deal. Of course, weddings have always been a big deal, but recent data collected by Tagvenue indicates noticeable changes in the way spouses-to-be plan their special day.
Here are 3 key directional markers the wedding industry should watch out for:
Marker 1: People are now booking venues of all shapes and sizes
People are now booking venues of all shapes and sizes. Though luxury ballrooms and historic, 5-star hotels are still popular, couples on a budget are turning to quirkier, more offbeat venues that can accommodate a variety of themes and preferences. Some of the most popular spaces on Tagvenue are railway arches, old chapels and a number of other blank-canvas venues. While locations in the centre of London are still the most popular, there are plenty of hot spots off the beaten path, for example Fulham area or Clapton.
The most popular districts in London for weddings in 2018 were: City of London, Marylebone, Holborn, Fulham, Clapton and Westminster.
The most popular wedding venues in 2018 were:
The most popular wedding venue types in 2018 were: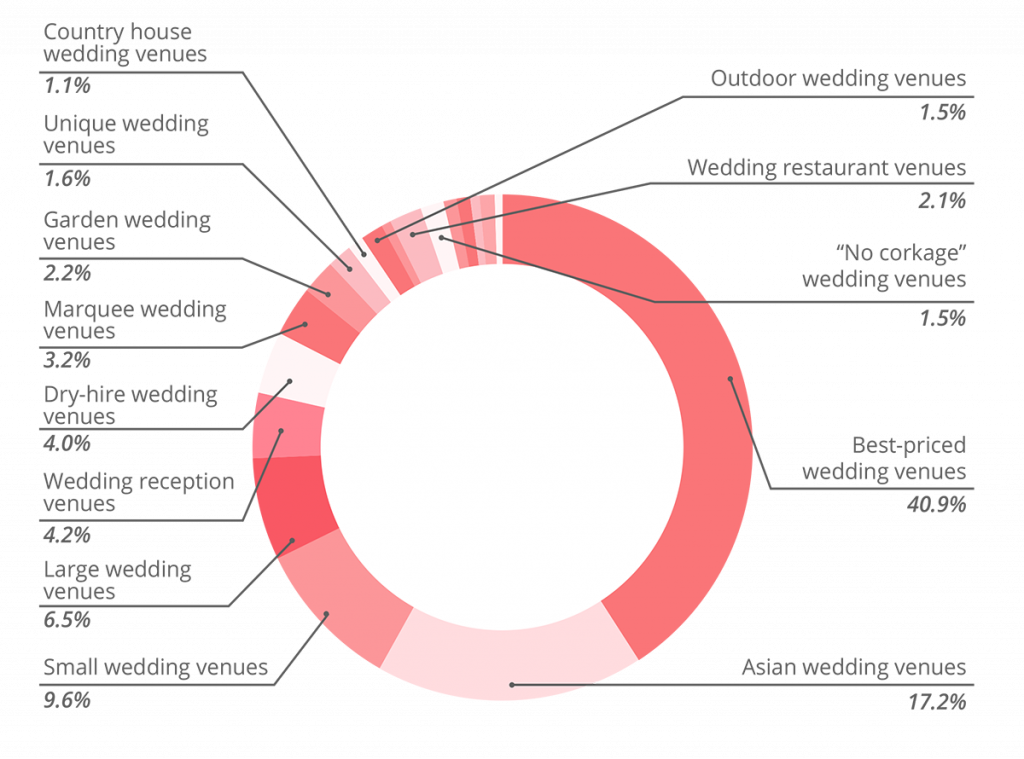 Yet budget is not the only reason people are branching out. According to Max Kondratjuks, co-founder of Tagvenue:
The new generation of bridal couples is all about personalisation. Authenticity is a high value nowadays, and the wedding industry is a clear reflection of that. From the cake, to the attire, to the venue itself, couples want their weddings to be a statement of who they really are.

Max Kondratjuks, CEO & co-founder of Tagvenue
This makes sense, given the trend towards individuality and away from tradition. Indeed, the more specialised needs become, the more couples will diversify their choice of venues. But everything comes at a cost (see Markers No #2 and #3).
Marker 2: More individual expression means more spending
While the average number of guests per wedding in London was just about the same (101 in 2017 and 103 in 2018), the average price per person rose from 66 to 79 GBP. That's 19% in a single year! Once again, Max's words may shed some light on why:
It's nice to see that couples are being so inventive, but anything bespoke entails extra costs, and weddings are no exception. Service providers are keeping pace, offering a richer and broader selection of all wedding items, which is not cheap.

Max Kondratjuks, CEO & co-founder of Tagvenue
More individual expression means more spending, and more spending usually also means more planning. Better get started early – wedding venues on Tagvenue were booked an average of 7.5 and 7.6 months before the event itself in 2017 and 2018, respectively. Planning and funding a wedding is clearly no trivial matter!
Average number of wedding guests 2017 vs 2018
Average price per person per wedding venue 2017 vs 2018
Average time (in months) between venue booking date and wedding date in 2017 vs 2018
Wedding bookings share in 2018 per day of the week
Marker 3: Many couples are taking measures to save, but others are going all out
The average total cost of wedding venues increased by 6% from 5,530 GBP to 5,851 GBP. It seems obvious that prices would rise from year to year, but 6% is a lot for the UK, so there may be more to the picture. "It's likely that this ties in with Marker No #2," says Tagvenue co-founder Arthur Stepaniak.
It's true that many couples are taking measures to save, but others are going all out.

Arthur Stepaniak, CEO & co-founder of Tagvenue
Indeed, a survey by bridebook.co.uk found that average millennial spending on weddings in the UK is as high as it's ever been at 30,335 GBP. This indicates that couples who can afford it are not hesitating to opt for the best.
Average wedding venue cost 2017 vs 2018
Conclusion
To sum up, the needs of individual couples are becoming more unique and average spending is on the rise. People are taking their weddings into their own hands, looking for alternative and unusual venues, new formats. They no longer want templates or recycled designs and are striving to be authentic instead. And since this is 2019, young couples are much more likely to open a browser window to search for their ideal venue, than pick up a phone and turn the dial. Thanks to online platforms like Tagvenue, they can much more easily find a venue that suits their individual budget and style. Tagvenue's bookings in 2018 have increased by 48% compared to 2017. 
In any case, the upward trend in spending and customisation is a good indication of where the industry is headed. Those who prefer traditional methods of wedding organisation must forever hold their peace.
Note on data collection:
All data in this report is for the London area, based on enquiries and bookings for weddings through the Tagvenue platform from 1 January 2017 through 31 December 2017, and from 1 January 2018 through 31 December 2018.
---
You might also like